Sew in weave is another method of installing weave hair extensions. So far, sew-in has become the most versatile method of installing hair extensions. With a sew-in weave, you can enhance and change your look at ease. So, before getting a sew-in weave for yourself, let's take an overall look at it.
What is a sew in weave?
With sew-in weaves, hair wefts are sewn to natural hair to get fuller, longer hairstyles. Sew-ins are made by braiding the natural hair into cornrows and attaching a weft or track of hair extensions using a sewing needle.
It is a method that has been used for many years and has continued to be upgraded through time. When you've determined that sew-ins are the ideal installation technique for you, it's crucial to take into account the kind of hair you'll be using. For the most natural look, we recommend using human hair weaves.
What are the pros and cons of sew in weave?
Pros
Sew-in weaves are an excellent choice of protective style. They enable you to stop constantly manipulating your hair and let it grow out naturally.
With a sew-in weave, there are so many styling options
Sew-ins give minimal damage. They are the most secure way to artificially lengthen your hair to the desired length. Only the hair carrying the weave is impacted because it is essentially woven into the natural hair.
You don't need to worry about hair extensions falling out while you're sleeping.
Cons
It can take you several hours to install a sew in weave, 2-3 times longer than installing a quick weave.
Hair loss can also be caused by wearing tight braids for an extended period of time, however, this only occurs sometimes.
If you style your hair too harshly, you can get discomfort and headaches for a while.
You won't be able to wash or nourish your hair as much if you use a net for additional protection.
Sew-in weaves can be costly, but if you can DIY at home, they won't burn you a hole in the pocket.
How much is a sew in weave?
If you use three bundles of hair, a sew-in can cost anywhere from $20 to $300, depending on the materials, lengths, colors, and textures. Yet, the cost for a sew-in at hair salons is much higher with the installation service falling from $100 to $600.
How long does it take to do a sew in?
It will typically take between three and six hours to install a sew-in weave, depending on your hair's length, texture, and the technique you use. Therefore, if you go to a hair salon, don't forget to bring refreshments.
Sew in vs quick weave? Which one is better?
Sew-in and quick weave are both popular methods of installing weave hair. Sew-ins last longer than quick weaves. Yet, the latter is super quick to install. If you wonder which one is better, check out our blog post: "Quick weave vs sew in, which one is better?" will give you more info.
How to make your own sew in weave at home?
It's not cheap to get a sew-in weave hairstyle at a salon. Hence, to cut the cost, let's learn how to sew in weave and make your own sew-in at home.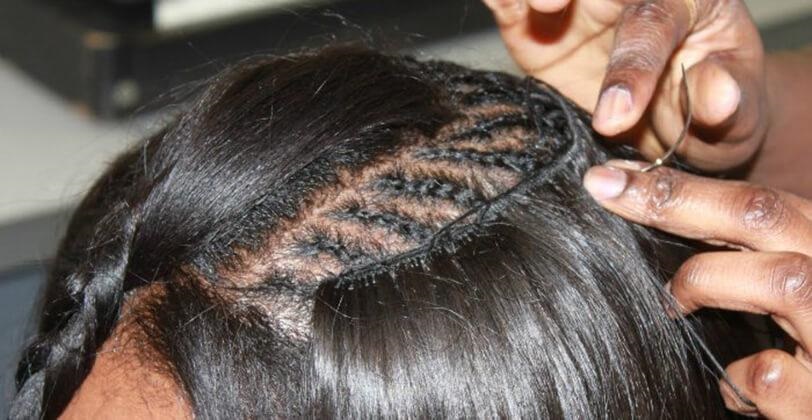 How long does a sew in weave last?
Depending on your hair growth and how you treat your sew-in, a normal sew-in lasts 6–8 weeks. We advise scheduling a visit to a hair salon every two weeks for a shampoo and every four weeks for a shampoo and tightening. If you use lace closure for your sew-in, it's better to have the closure moved at week three. I advise having the closure moved at week three for a lace closure sew-in.
Read more: How long does a sew in weave last?
How to maintain your sew-ins?
Just like other types of hair extensions, sew-ins need to be treated with care since they do not have the natural nutrients from your scalp. Below are some tips you should follow while having a sew-in weave:
Use high-quality products: Use a sulfate-free shampoo and conditioner to wash your sew-ins. It's best to use hair conditioners that keep the hair silky and manageable.
Cover your hair with a satin cap before going to bed
Apply a heat protectant before you style the sew-in weave with heat
Make sure to wear a swim cap if you go swimming with your sew-in weave.
For curly weave, it's better to braid it at night to keep its shape
Visit a hair salon once or twice a month for professional maintenance
Top best sew in weave hairstyles for your look
When it comes to sew-in weave, there are so many mesmerizing hairstyles you can choose to tone up your look.
Check out: 13 mesmerizing sew-in weave hairstyles for ladies for some stunning ideas
What is the best hair for sew-ins?
When it comes to sew-in weaves, there are also two options of hair, human hair, and synthetic hair. Both types of hair come in various lengths and textures. However, to secure a natural look with the hairpieces, we recommend you use human hair bundles.
Although synthetic hair has a cheaper price, it generally does not allow dying and heat styling. Whereas, human hair is so versatile in styling and lasts much longer. So, investing in human hair is just the best bet!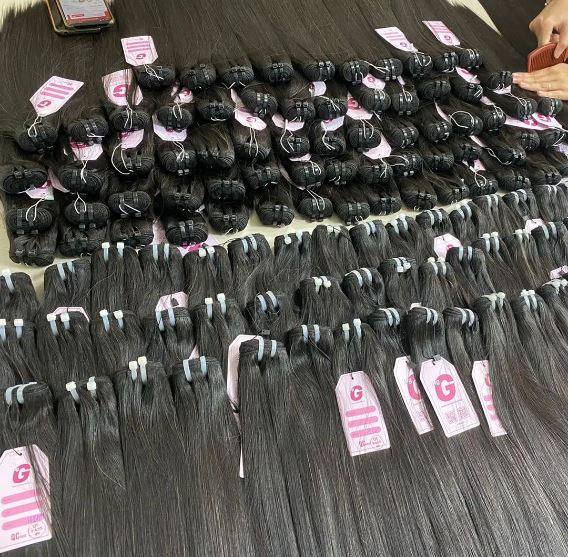 And that's all about sew in weave you should know before getting the style. If you have any questions about sew-ins and weave hair, don't hesitate to contact us. BigG Hair is always around!