Choosing the right hair extension length is extremely important when you want the extension to blend well with your hair and look completely natural. 
To assist you in choosing the best option, we will list the different hair extension length options available in our online store, and how to select the right length for your hair.
We'll also share a few useful tips to help you make the best choice. So, let's start!
What lengths are available?
Have you ever thought about how many lengths hair extensions are? Which length is the minimum and maximum for them? The shortest hair length for extensions fluctuated between 7-8 inches (18-20 centimeters). On anything shorter than that, hair extensions might look unnatural and not easy to blend with your real hair.
The longest hair length available is 30-34 inches (76-86 centimeters). Some hair extensions are 40 inches (100 cm) long, but this is extremely rare due to this hair isn't compatible with everyone.
Understanding the various demands for hair length among customers, BigG Hair has launched a wide range of length options for all our hair items.
Weave hair: 8-28 inches
Wig: 10-34 inches
Closure/frontal: 8-28 inches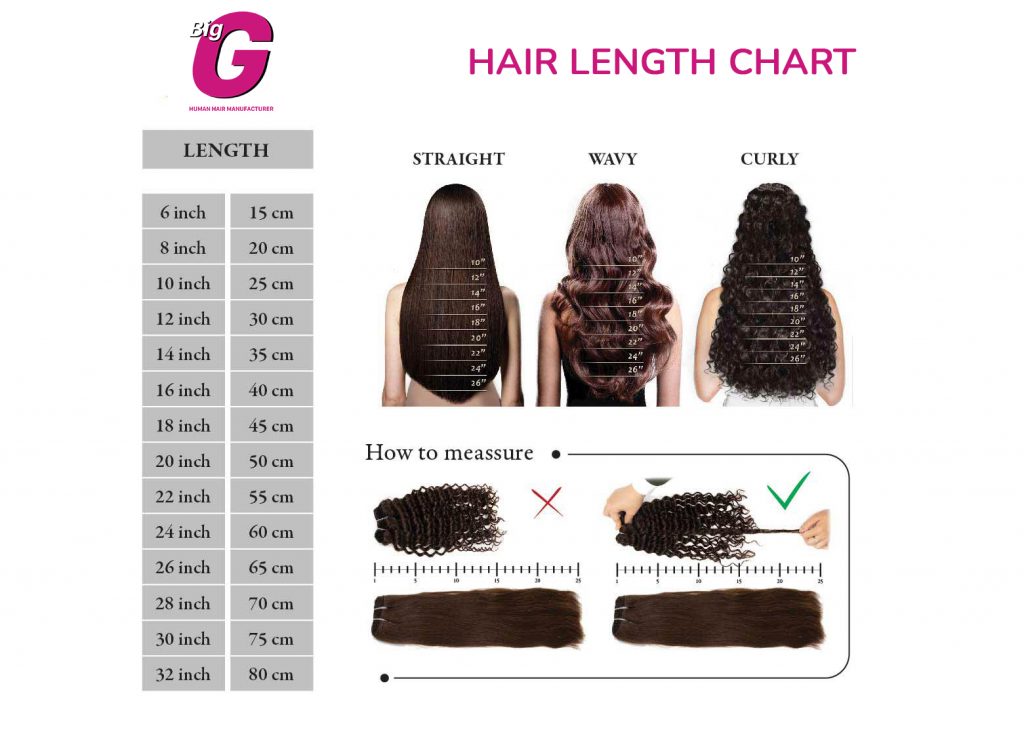 How to measure hair length?
To choose the right hair extensions for you, you need to know how long your hair exactly is. First of all, you need to prepare a mirror and a tape measure. All you have to do is grab a tape measure from the middle of your ear downwards. This way is a simple method and not difficult to do.
Please note that the wavy and curly hair is usually shorter than the straight one. If your hair texture is wavy or curly, you should stretch for the most accurate measurement.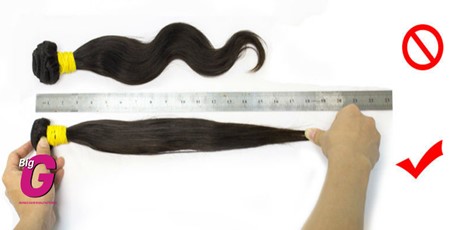 Tips for finding the right extension lengths
Choosing hair extensions is not too much longer than your hair. This means that they're easier to blend and will look more natural. However, it doesn't mean that you can't wear extensions that are quite a bit longer than your hair.
This photo shows you the length of different textures. You can base it on and get the best option for yourself.
Normally, the length of the extension is picked that is equal to or shorter a bit (1-2 inches) compared to real hair. Based on experience as a major supplier of hair extensions. We can say that the most popular hair extension length is 18-20-22 inches (45-50-55cm). Regardless of how tall you are, this length is ideal because the hair runs down from the shoulders to the waist. It looks natural, not too short as well as not too long, so no one will be able to tell that you're wearing hair extensions.
For example, your hair is about shoulder length. So the best suitable length is 16 to 18 inches for wavy hair. If your texture is straight or curly, you can adjust the length, shorter with straight hair and longer with curly hair.
Another tip for you to get the right decision with the length of hair extensions is your height.
Your overall appearance after wearing the extensions depends on how tall you are. The taller you are, the shorter the hair extension will look. If you are tall, you can select a longer size, and if you are petite, a size of 16-18 inches or shorter may be suitable for you. As a result, you must decide what length of hair extension to buy based on your height.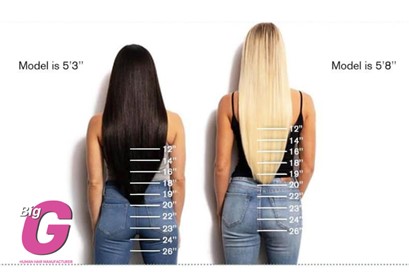 All of the above will assist you to choose the right extension length. The last thing to keep in mind is that no matter what length you choose, the most important thing is to blend perfectly with your hair, look beautiful, and feel confident when you wear it on. If you can't decide which one is best for us, pls don't hesitate to WHATSAPP US NOW and we will recommend the most suitable length for you!