Popular payment method for Nigerian clients:
Payment through the agency. You will transfer the naira to the agency's account and they will convert and transfer it back to the company
Ash how many Naira to send
Don't forget to ask about shipping time, shipping fee, customer fee..
Send Naira to Agency account
Give Agency BigG hair account
Send Naira to Agency account
Give Agency BIGG hair account
The second method: Onepay payment gateway
Customers pay in naira/USD via visa/master card
Give us your full name and email
We will send link you the link to pay
Click to the link and check out to pay
Fill full information with your card and click to Pay now
Wait for confirmation
Inform BIGG hair company
With the remaining methods
Once you have confirmed the price, you can pay for your order by Western Union, Money Gram, transfer (T/T), or Paypal, a +4% extra charge will be applied to your order price if you choose Paypal. Once the payment is completed, we will inform you as soon as possible.
Send deposit or full payment
The payment process will be as follows:
The first case: 50% deposit to make the goods, the remaining amount will be paid after the goods are finished
The second case: 100% payment
Bigghair accept payment from agency, onepay payment gate way, paypal, western union, bank transfer, but the common payment methods is payment by naira to agency and Onepay. Here is step to do it
Firstly, you contact to one of our agency above, (or if you have other agency). If you want to send 1000$ for example, the agency will tell you how much you should send to their naira account and give you the detail of bank account. Don't forget to ask about shipping time, shipping fee, custom fee, or all other fee that may charge in payment and shipping.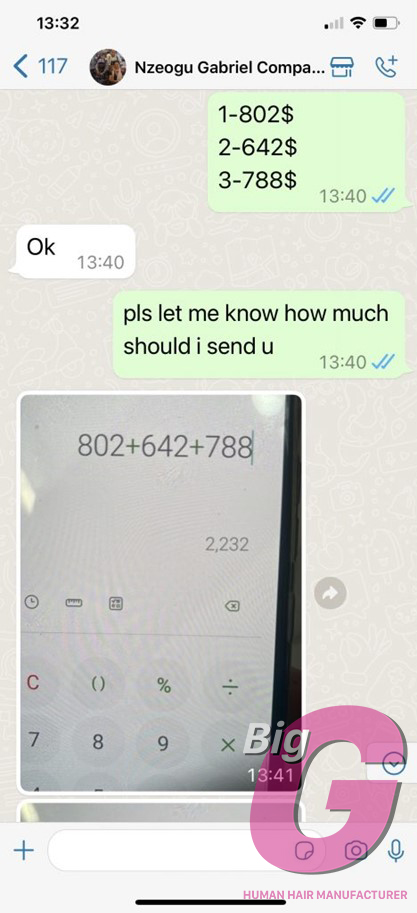 Click image to view detail

Here is our video to give you payment info