Shipping & Delivery
There are many problems encountering foreign Importers who import Vietnam hair. When it comes to shipment, many parcels are recorded to be lost on the shipping way. Then purchasers are those who have to suffer all of the losses and uncertainties. 
The first shipment you can use is Agency. Most of our customers use shipping via agent since the shipping fee is lower than FedEx or DHL. But the lead time is longer from 10 to 12 days from Vietnam to Worldwide. The shipping agent is also very safe so you can also use this for many orders.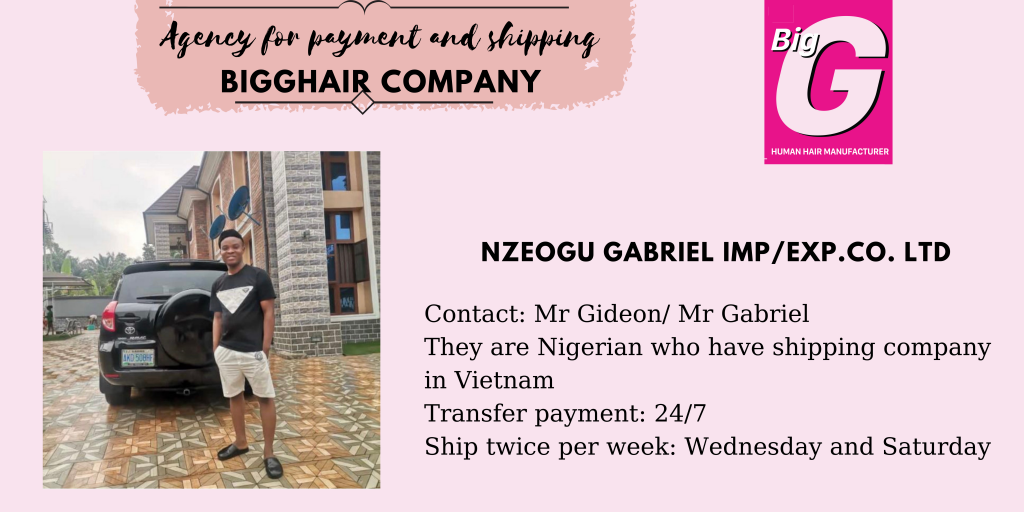 If you choose Gabriel agent
We can ship the hair on Wednesday or Saturday…

The time for the hair to be delivered is about 5-7 days.

After Gabriel agent receives the hair from BIGGHAIR, they will send you a Whatsapp message informing the time of delivery.
If you have your own shipping agent in Vietnam
You just need to send us the address.

Then, we will help you get the hair delivered at normal cost.
You use a Chinese agent which can deliver the hair everyday
The time for the hair to be delivered to China is only about 3-5 days.

However, due to the Covid-19 pandemic and the border closing command, it can take about 12-20 days for the hair to be delivered.
The second shipment is FedEx and DHL. BigG Hair can ship directly via FedEx and DHL. It takes only around 5 – 7 days from Vietnam to Worldwide. However, the fee is higher a little bit. You also need to pay taxes quite high.
how does bigg ship the hair?
Secondly, when agency received the package, they will message you about the time for delivery. The package will be ship to agency's Lagos office then they will inform you again, in order to let you pay for shipping fee and custom fee. This fee will be follow agency's policy. But anyway, it will be so much cheaper than DHL, UPS or other method.
Finally, you paid them all the fee, they ship the hair to your door. Shippment complete.