Hair extensions have become a high-grossing sector as a result of the explosion of hair extensions for beauty needs. You will make a lot of money if you get into this industry. But how to start your hair business? This article will walk you through all about wholesale hair vendors, from the ambiguity in basic knowledge, market, products, customers, and distributors researching to steps to build a real plan!
I. Overview of wholesale hair vendors market
Global hair wig and extension market from 2021 to 2025 grow very fast. Men and women use hair extensions for a variety of reasons, including hair loss and health conditions. But people nowadays wear weave hair as a fashion statement and to protect their hair from chemicals and heat styling. They produce a variety of stylish hairstyles that they couldn't do with their natural hair.
That is to say, if you start a business in the hair extensions industry, you can expect a lucrative career path. As the demand for hair extensions increases, retail businesses will look for a reliable wholesale hair vendor to ensure the supply chain.
1.1. Sources of hair extensions – wholesale hair vendors factories all over the world
Hair extension wholesale is currently a very profitable business. A profession as a wholesale hair suppliers reseller is becoming increasingly popular. One of the most pressing problems is the origin of hair extensions. It takes a long time to find a trustworthy supplier. Knowing this, we've put together a summary of three major hair markets: Asian, European, and American, which are home to the largest wholesale hair vendor manufacturers. The origins of their hair, as well as their talents and flaws, will all be revealed.
1.1.1. Asian wholesale hair vendors suppliers
Hair extensions are unquestionably most popular among Asians. If you're interested in hair and want to start your own salon, you've probably heard of Chinese hair, Indian hair, Vietnamese hair, and so on. But where can you discover detailed information about these wholesale hair suppliers factories that you won't find on the internet? Allow us to give you everything!
1.1.1.1. Chinese wholesale hair vendors factories
China is home to some of the world's largest wholesale hair sellers and hair extension exporters. It is one of the fastest-growing human hair distributors, with an annual growth rate of up to 22.8 percent in the years 2019 and 2020.
So, where do they acquire the ingredients for the hair extensions industry if China has such a large amount of hair exports? Many will think that the huge population of China creates an enormous source for hair extensions, but actually, it is not true. Only mountainous women who are poor will agree to sell their hair for money. The rest of the hair source literally comes from other countries! Chinese wholesale hair vendors factories often have to import low-price hair from their neighbors (especially India) to meet the demand of its giant market. Even worse, the investigation by BBC also finds out that Chinese factories can even mix up human hair and animal hair (goat hair) for a better profit! In the market, you also may see "Brazilian" labeled hair but it is actually Chinese hair instead!
Chinese wholesale hair vendors manufacturers have extreme strength in price due to the use of unqualified sources of hair and the ability to establish industrial-scale hair factories. Their factories are often specialized, which helps save a lot of production costs. So, if you are starting with a small capital, Chinese hair seems to be an appealing option. However, keep in mind that price and quality go hand in hand, so think about it before selecting to go with Chinese hair.
1.1.1.2. Manufacturers of Indian wholesale hair
As mentioned above, Indian wholesale hair vendors are a cheap hair source of China. They also make their own hair extensions and sell them for a reasonable price in a variety of nations. So, what's the deal with their hair extensions being so cheap? The answers can also be found in the hair's origins and manufacture.
Where do Indian wholesale hair dealers get their hair for their factories? According to our research, Indian hair is mostly collected from villages and temples that are in rural areas. In these regions, there is a custom that Hindus women have to go to temples to shave their heads to show their belief and respect for Gods. Then, all the temple hair will be purchased at low prices to make hair extensions. Although it is human hair, it is often mixed up and becomes remy or non-remy hair, whose quality is quite low. Another source is "comb waste". Have you heard of that? It is actually hair collected from salon floors as well as "hair dumps" which can also be considered as wastes. These sources are undoubtedly unqualified. What's more, even natural Indian human hair's characteristics are quite dry and not sleek, so their natural hair is usually not as attractive as the final hair extensions that they call "virgin hair extensions".
What about the production of Indian wholesale hair vendors' factories? The fact that India's hair industry is still so basic and unspecialized cannot be refuted. The majority of the workers in this industry are poor individuals from underdeveloped areas. As a result, wage costs are extremely low. Production expenses are also low due to the lack of modern equipment. All of these factors combine to make Indian hair extensions one of the most cheap hair extensions
So, choosing Indian wholesale hair vendors factories as your suppliers is another economical choice. However, again, price goes together with quality, after all analysis above, make sure that the quality of Indian hair extensions meets your expectation before deciding to import in quantities!
1.1.1.3. Cambodian wholesale hair vendors factories
If you haven't been in the hair industry long enough, Cambodian hair extensions may be unfamiliar to you. The point is that there isn't a lot of research done in Cambodia on this industry. Cambodian wholesale hair vendors' factories are underdeveloped, with small-scale operations and primitive techniques.
1.1.1.4. Vietnamese wholesale hair vendors factories
Despite the fact that Vietnamese wholesale hair vendors factories are new to the hair industry, they have made significant progress. Vietnamese wholesale hair distributors have become the top choice of resellers all over the world, especially for African ones. Giving prominence to 2 most important factors: quality and price, their prestige is more and more known day by day.
So, where do the factories of Vietnamese wholesale hair merchants acquire their hair from? It is similar to many others, Vietnamese wholesale hair suppliers go to rural and mountainous areas to buy women's hair. The special point is that they only buy hair of women aged from 18 to 25, who are still young and have good health and also pay more attention to hair care, too. As a result, the hair source is ensured to be fresh and high-quality. It's usually silky smooth, not knotted, shedding, or split.
Bigghair factory: Drawn hair to make single or double drawn
About the production, actually Vietnamese wholesale hair vendors factories are still working on a household scale. However, this does not prevent them from ensuring the quality of their hair extensions. Usually, the laborers are chosen carefully and they are very skillful. What's more, each process is highly concerned to make sure that the hair still keeps its cuticles and the same direction. For all the quality, Vietnamese hair extensions can't be so cheap as Chinese or Indian ones, but they are definitely not expensive. It can be said that the price is reasonable for such high quality! This is the important demand that almost all the factories above can't meet! You can try and have a confirmation for yourself.
One of four Bigghair store
1.1.2. European wholesale hair vendors suppliers – Russian  wholesale hair factories
European hair extensions are ones that are naturally blond and of good quality. But the point is, they are pretty rare and expensive. The original sellers of these are Russian wholesale hair vendors factories or some suppliers in Northern Europe. And the number of wholesale hair sellers in the market is therefore pretty small. For new wholesale hair resellers, these distributors are not highly recommended, as you'd better find for yourself a long-term and fixed partner.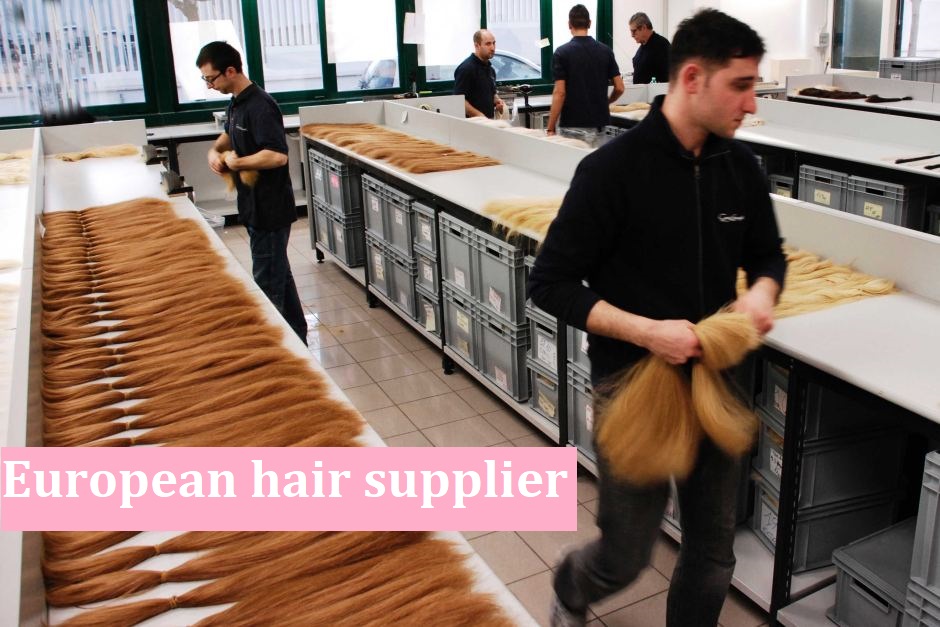 1.1.3. South American wholesale hair vendors suppliers – Brazilian and Peruvian wholesale hair factories
Have you ever heard of Brazilian or Peruvian hair extensions as of top high-quality and then the prices are of topmost expensive? But then, you'll be surprised to learn that actually these hair extensions are just imported from China and India! It is clear that people in these South American countries are not so broke that they have to sell their hair to earn money. Then, to meet the demand of such a big market, South American wholesale hair vendors factories have to import hair from foreign countries.
1.2. Distinguish between the terms "resell wholesale hair vendors" and "wholesale hair vendors factories."
1.2.1. Resell wholesale hair vendors/sellers
What are resell wholesale hair vendors?
They are just sellers who purchase large numbers of hair extensions from factories or merchants in order to resell to other sellers or clients. Although they are unable to create hair, they can still resale it at a profit by importing it at wholesale costs.
You might think of resell wholesale hair merchants as middlemen. They serve as "connectors" between original distributors and small-scale merchants or customers.
Nowadays, many commercial hair companies claim themselves as wholesale factories whereas they are just resellers. They do so to try to get trust from other importers, so be alert and you can recognize them by following tips:
Make video calls to confirm the factories, commercial resell hair companies have no factories!!! They can't call themselves the best wholesale hair vendors factory when they don't even have a factory!
Require a guarantee under ordering time, commercial companies can't meet your requirement as they don't directly manufacture the hair!
Make sure the prices are near to basic prices; otherwise, those companies are just resellers
1.2.2. Wholesale hair vendors factories
Unlike resellers, wholesale hair vendors factories are the ones that directly manufacture hair extension products. They have factories, equipment, technique, and laborers to produce hair. Those factories are where the hair extensions come from.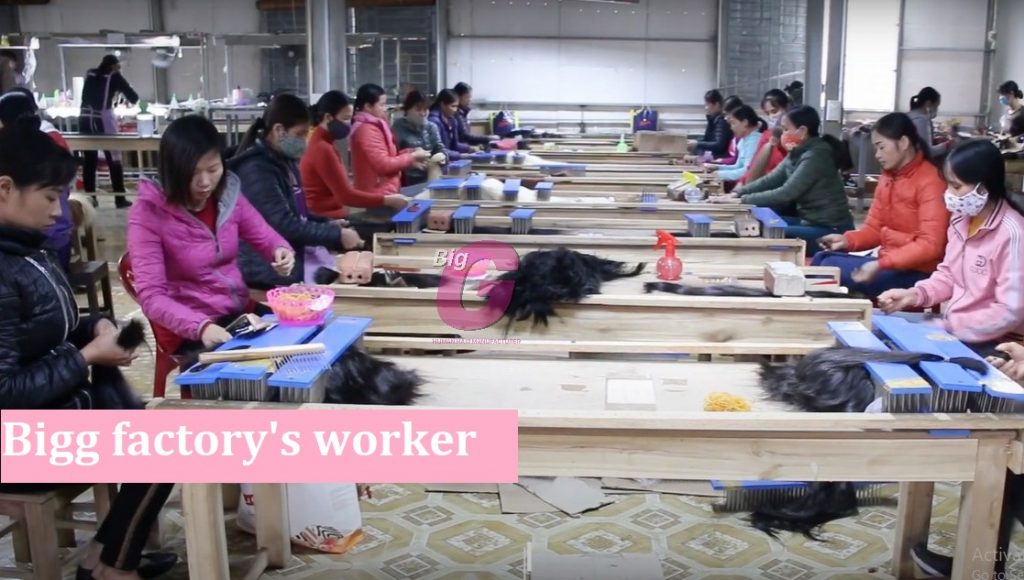 Bigghair wholesale: Worker in factory
If you call the sale of hair a successive range of chains, then hair factories are the first chains. They are the original distributors of hair extensions. They are the suppliers for reselling wholesalers, retailers, or even buyers with personal use (salons, hair stylists…)
1.2.3. When is a vendor considered as a wholesale hair vendor factory?
As we know, both kinds of wholesale hair vendors are wholesalers, but they have different roles. So how to know whether a vendor is a wholesale hair vendor factory or not? The answer is that only when the vendor meets all these demands will it be called a factory:
A factory will have material facilities in appropriate scale, including qualified factory and equipment
A factory has its technique which is modern enough and productivity which is big enough according to the factory's scale
A factory has the ability to confirm the quality of hair at the standard requirements – very easy, reliable wholesale hair vendors factories produce the hair, so quality is in their calculation
A factory has enough human resources (managers and laborers) to run the factor
You can also refer to this post for more information on the distinctions between a wholesale hair factory distributor and a retail hair vendor, as well as a clear table of comparison: Resell wholesale hair vendors vs. wholesale hair factory
The suppliers meet the demand of quality and still have a reasonable time of producing, unbiasedly can be said to be Vietnamese wholesale hair vendors factories. As analyzed a lot above, hair sources of Vietnam are from young women of mountainous areas, which are collected and processed only when there are orders. As a result, the hair is always fresh and keeps its natural high quality. Through the hands of skillful workers, all the hair is treated carefully, which can take a bit of a long time but what you can get is high-quality products. Here is the picture of a Vietnamese wholesale hair vendors factory – BIGG HAIR.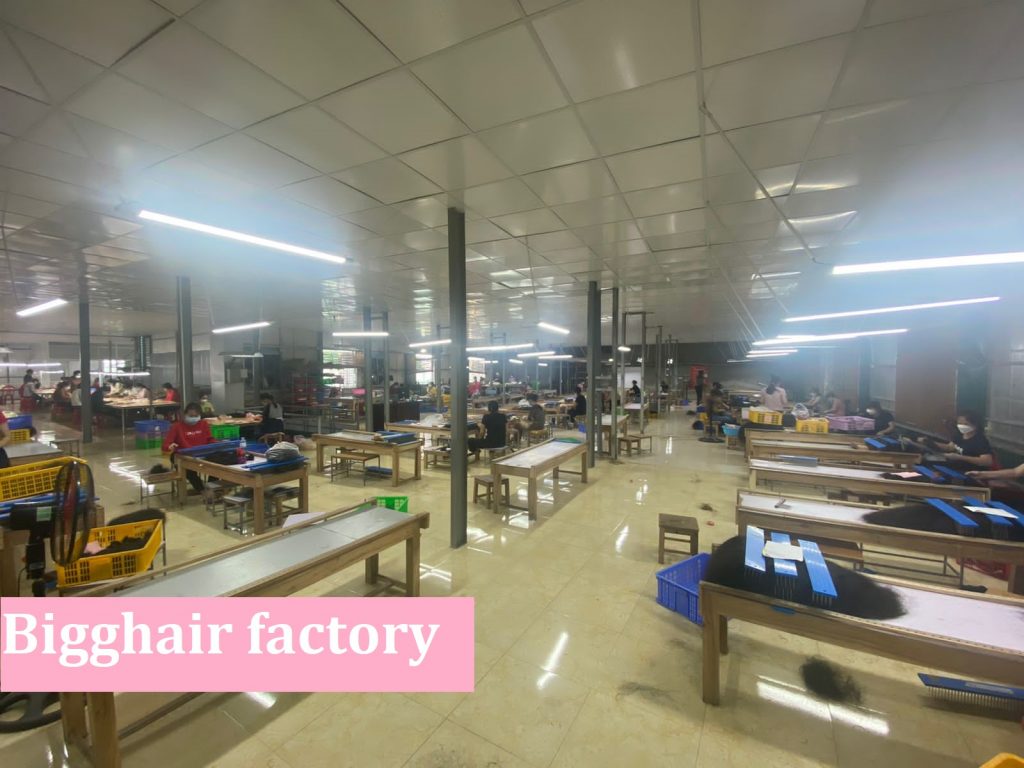 BIGG HAIR wholesale hair vendor factories
A Vietnamese hair factory you can consult is BIGG HAIR factory, which is the top 1 wholesale hair vendors factory in Vietnam. This factory is where high-end hair extensions are produced and exported to many countries in the world. BIGG HAIR is now the prestigious partner of lots of resellers in Africa as well as the US, UK. So, many resellers trust and choose BIGG HAIR, which means the quality is great and the time of producing hair is acceptable.
That's pretty much of our sharing today. Good luck with your business!
BIG G MANUFACTURER, IMPORT EXPORT JOINT STOCK COMPANY (AKA BIG G.,JSC).
Africa Representative Office: 6 Ome close, Canal view layout, off Osolo way, Ajao Estate, Isolo via Airport Rd, Lagos
US Registered Office: 155 Office Plaza Drive, Suite A, Tallahassee, FL 32301, USA.
Asia Registered Office: 9/7 Le Duc Tho street, My Dinh 2 ward, Nam Tu Liem District, Ha Noi, Vietnam.
Contact: (+234) 913 396 5598
Email: bigghairglobal@gmail.com