After long time working in Nigeria market, we understand that, easy to make payment is the most important things for all customer. It is very hard to using US dollar there, and 90% customer do not allow to have paypal account. Beside that, shipment also the big problem for Nigeria customer, because Fedex, UPS charge alot.  Today, Bigghair will let you know about the payment method by naira/shipment through the agency. We hope it will help you easy for you to order from our company
Agency list

Nzeogu gabriel IMP/EXp.Co.Company LTD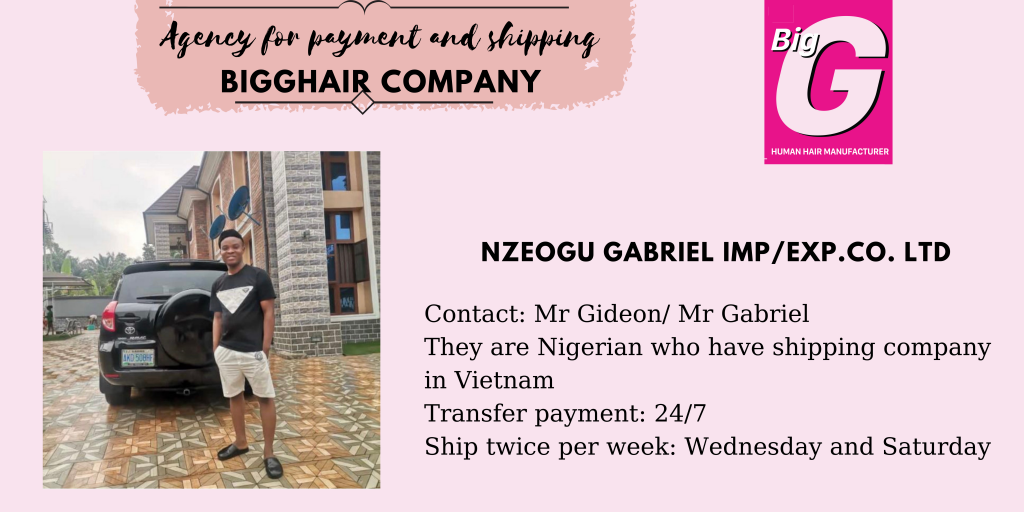 Vietnam office: Phan Huy Ich, P12, Go Vap distric, Ho Chi Minh city, Vietnam
Lagos Office: No 4, Femi Akinsola street off Afariogun straight by charity bus stop, Oshodi, Lagos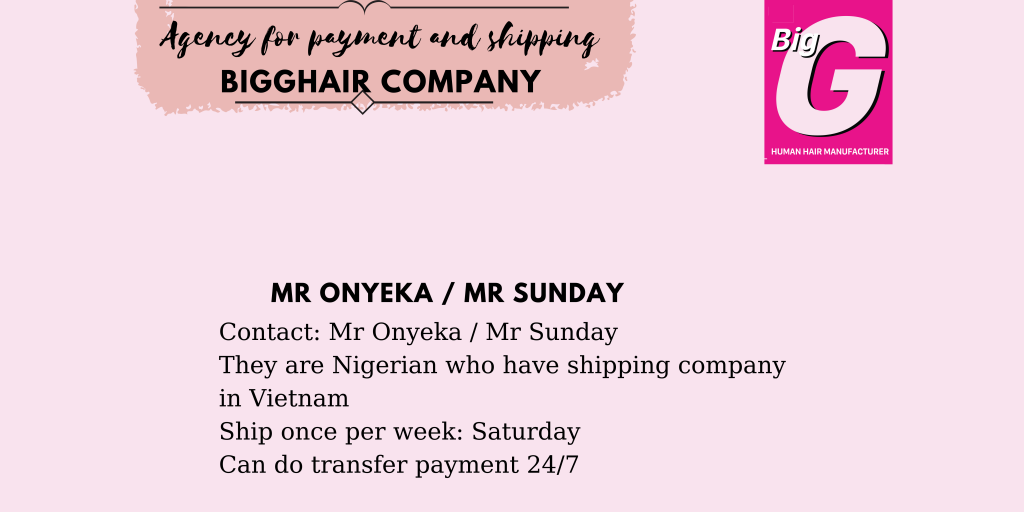 Vietnam office: Bui Quang La, P.12, Go Vap distric, Ho Chi Minh city, Vietnam
Other agency
How it work
2.1. Payment by Naira
When you want to order hair, you have to connect our hotline or sale staff to get quotation about items you need. We will provide you hair cost, shipping fee… then you will see how much should you spend
After that, please follow this step:
Firstly, you contact to one of our agency above, (or if you have other agency). If you want to send 1000$ for example, the agency will tell you how much you should send to their naira account and give you the detail of bank account. Don't forget to ask about shipping time, shipping fee, custom fee, or all other fee that may charge in payment and shipping.
Secondly, you send money to agency's naira account, and inform them the payment bill, along with phone number of saler. Don't forget to give them our account
Here is our account to give to agency
Vietnam dong account: 0239-4855-501
Name: Phan Thi Thuy
Bank: Tien Phong Bank
Branch: My Dinh, Ha Noi
After agency got your payment, they will send to our account. Please ask them when they done, and inform us. The agency sometime also let us know about the payment too.  We will check our account then confirm you the payment when it completed.
When payment done, we will prepare the hair and ship to you
2.2. Shipping by agency
When your order is done, we will inform you and confirm before ship. Here is step to follow the shipment by agency, please take a note to make sure that, you completely understand all process
Firstly, we ship from our company to agency address. It will take 1-2 days, and charge by local logistic company. Normally it is cheap and we already put that fee in the quotation you already paid it. We will always put your address in the box.
Secondly, when agency received the package, they will message you about the time for delivery. The package will be ship to agency's Lagos office then they will inform you again, in order to let you pay for shipping fee and custom fee. This fee will be follow agency's policy. But anyway, it will be so much cheaper than DHL, UPS or other method.
Finally, you paid them all the fee, they ship the hair to your door. Shippment complete.
A short note
Please always make sure that, the bank account correct all the time
Same to us, you should follow payment and shipment too
We hope that with this informations, you can feel easy to make payment by Naira and shipment by agency. 
BIGG HAIR is and always will be the most beloved and trustworthy company by customers due to our full understanding of all the guest's demands and expectations.
"Business is the trust" – With your trust, we will do bigger business!
BIG G MANUFACTURER, IMPORT EXPORT JOINT STOCK COMPANY (AKA BIG G.,JSC)
Registered US Office: 155 Office Plaza Drive, Suite A, Tallahassee, FL 32301, USA
Registered Asia Office: 9/7 Le Duc Tho street, My Dinh 2 ward, Nam Tu Liem District, Ha Noi, Vietnam
Africa Representative Office: 337/339 Old Ojo Road off Badagry Expressway, Lagos
Contact: +84868812379
Email: bigghairglobal@gmail.com