Quick weaves are quick to install, easy to care and light to wear. They are a common option among modern girls who lead a busy life. But, do you need to replace the style frequently? How long does a quick weave last and how to take care of the weave and your natural hair? How to take out a quick weave properly? Scroll down this post and you will find the pieces of info.
How long does a quick weave last?
On average, quick weaves last for about a month. You can have the style on your head between 4 and 5 weeks before taking it out.
If you wonder whether you can keep the style for longer, the answer is No. It's better to take off your quick weave after a month. After this time, the glue will wear off and you may risk falling off the hair extensions when going out.
Furthermore, your hair underneath also needs to be washed and conditioned. Therefore, you need to remove the style so as not to damage your natural hair.
How to maintain a quick weave?
Quick weaves generally require low maintenance. However, to get the best look with the style, it's important to set up a hair care routine for your quick weave as follows:
Wash your quick weave regularly but not too much since too much washing will loosen the glue.
When washing your fast weave, avoid grabbing your hair by the nail. Instead, gently massage the hair extensions and your scalp where the leave out is.
Blow dry the hair with cool heating. Avoid using heat at the bonds.
Comb your quick weave by wide tooth comb to remove tangles and avoid shedding
Before you go to bed, wrap your quick weave with a scarf to prevent your hair from messing up the next morning.
If you have a curly weave, you can also keep the curl by adding rollers or pinning the hair while you sleep.
Avoid using oil-based products since they can make the adhesive slacken and the tracks slide.
How to take a quick weave out?
Even if you install your weave at home, it's better to visit a pro to remove it and have a post-care process for your hair. They can help you to take off the quick weave safely without damaging your hair and give your hair a TLC.
Yet, if you want to do the work at home, you can use oil-based products or warm water for the removal process. To prevent tearing out your hair, you'll need to take your time with each step if you want to remove it at home. However, if a quick weave was installed correctly, removing it should be simple.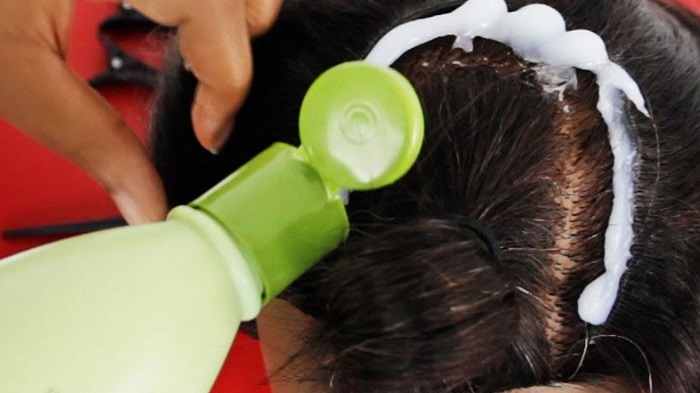 Step 1: Clip your hair out of the way and use an oil-based hair product to break up the glue in your hair. After a few minutes, rinse it off. You can buy a specific glue-removing shampoo or conditioner or use your usual shampoo.
Step 2: Run warm water through your hair. Allow the water to drip down the wig cap's edges as you work to let the glue come loose.
Step 3: Take off the wig cap: Start removing the wig cap slowly by inserting your fingers under it. If it was put correctly, it should just slide off.
Step 4: Massage your hair product in the area of your leave-out. If your quick weave slight gets stuck around your leave out, keep it under warm water, and then massage hair product into the area to break up the glue until you can remove the wig cap completely. Don't be hasty. If you rush to remove the wig cap, you might yank off a few hairs.
Step 5: Remove the wig cap, remove any braids, and start washing the extra glue out of the wig. Use a clarifying shampoo to wash off the excess glue and product from your hair. Follow a wash with a deep condition to restore your natural hair.
So now that you know how long does a quick weave last, how to care for a quick weave and how to take out a quick weave, we hope that you can use the style in the right way to show off your beauty.
And don't forget to visit BigG Hair's store in Nigeria to get the best deal on human hair weave and other stunning hairpieces. Thanks for reading!