Halloween is coming and it's time to prepare for a transformation. To have a perfect Halloween look, don't forget to match your hair with your costume and makeup. So, below are some stunning ideas for Halloween hairstyles to rock this festival.
Evil Queen
With this hairstyle, you will unlock a whole new universe of the best Halloween looks with a genuine black veil on the thick crown of your hairdo and the allure of dramatic red-eye makeup.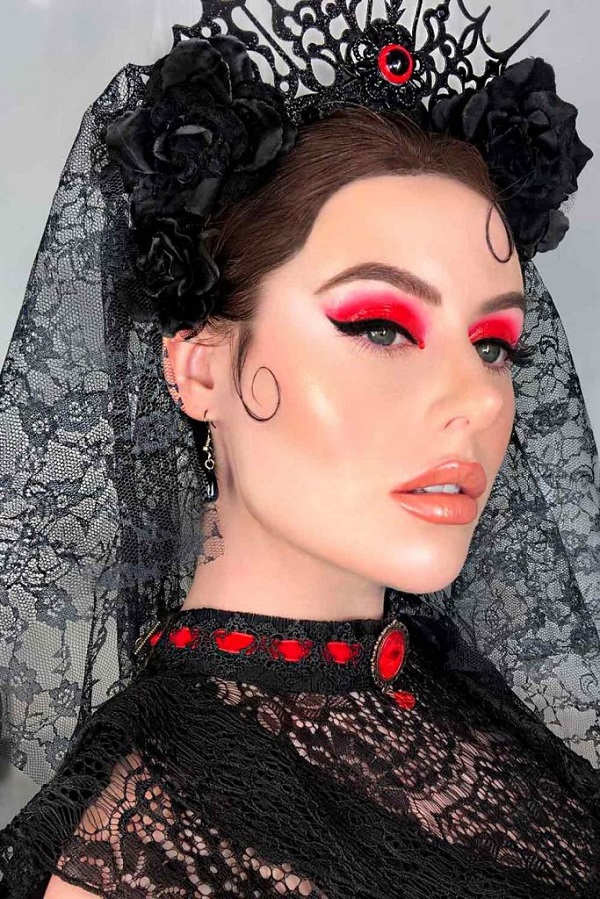 Mermaid look
Mermaid waves is a fantastic option for Halloween and other occasions. It's super easy and quick to do and can make your last-minute transformation so special.
To create the look, apply mousse to your damp hair and blow-dry while tousling the hair using your fingertips. Then, clamp, hold, and release the hair strands to produce the crimpy waves with a 3-barrel curling wand. Finally, split the ringlets into larger waves using your fingers and use some hairspray to keep their shape.
This style goes best with long hair. If you use hair extensions, they should be 18 inches hair and above.
Bubble braid with death skeleton
Skeletons are featured in this adorable haircut, and we really love it. You can easily make this look with loose braids, a bubble ponytail, and some Halloween accessories.
This look is one of the Halloween hairstyles that elevates half-up, half-down, and bubble ponytails to an all-new level. To keep this bad-to-the-bone hairdo in place, spray on some light hairspray at the end of your hair.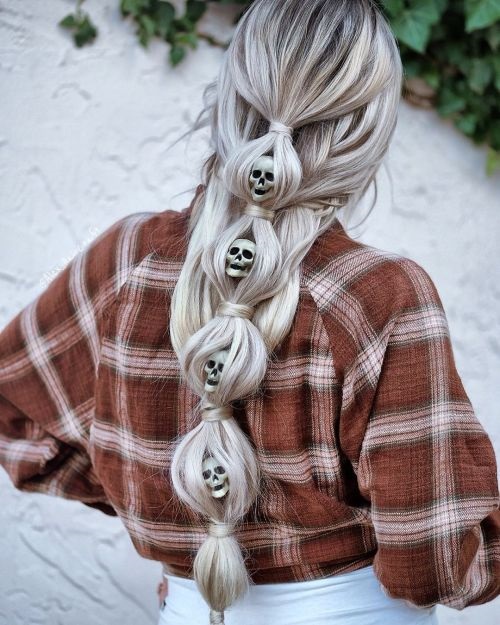 Lion Halloween hairstyles
This bouncy style may be easily duplicated at home if you have a mousse and a curling iron. If you're fortunate enough to have natural curls, all you need to do is fluff them out with a hair pick to show off the lioness vibe.
If you want to get the look with hair extensions, let's opt for bouncy curly hair with the length of your choice. Then, style the hair with some hairspray to achieve the lion hairstyle.
Long fire crow feathers
Halloween hairstyles for long raven black hair with blazing red and navy blue highlights are the best option for truly spooky appearances. You can try a more dramatic look with cat, unicorn, and clown ideas.
Ariel hairstyle for Halloween
Choose this Ariel look if you want a simple, low-maintenance Halloween style. To create the look, let's start with spraying a temporary red color on your hair, parting your hair to the side, and pinning a tiny section of it back with these adorable starfish hair clips.
Unicorn Halloween hairstyles
If you're dreaming of being a unicorn this Halloween, this is the right style for you. What you need to do is to apply some hair chalk to the ends of your mane, tease it, and style it into this explosive ponytail. This look surely gets you to stand out of the mix.
Get more purple hairstyle ideas in 10 ways to style purple hair on dark skin tone.
Low ponytail with a zipper part
A zipper part is a remarkably easy method to give your Halloween haircut a spooky edge. Especially, it has a particularly sophisticated look thanks to the two braids that feed into a low ponytail.
You can make this look by using blonde straight or bone straight hair extensions with the length of your choice.
Butterfly hair
When the hair is the main focus of the mane, you know it's a wonderful costume. For this butterfly Halloween hairstyle, you will first put your hair in a half-up, half-down ponytail and add big curls to achieve the style. Finish it up by evenly placing your favorite butterfly clips throughout and setting them with shine spray to tame flyaways.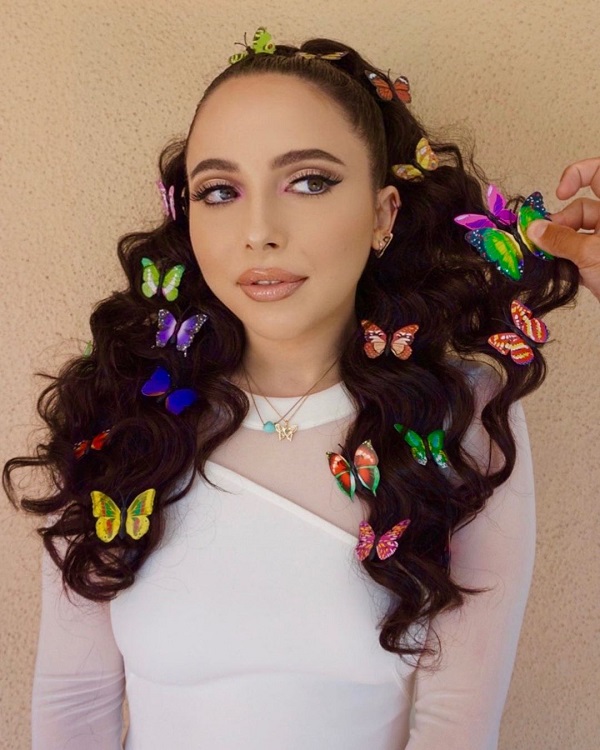 Dragon hairstyle
For brunette gals, this hairstyle is for you. With this sparkly, dragon haircut, you can join in on the Game of Thrones action as well.
To create this look, simply create straight-back cornrows in your hair, and feel free to go with your choice of glitter. You can also use some braid balm to create a long-lasting, structured plait.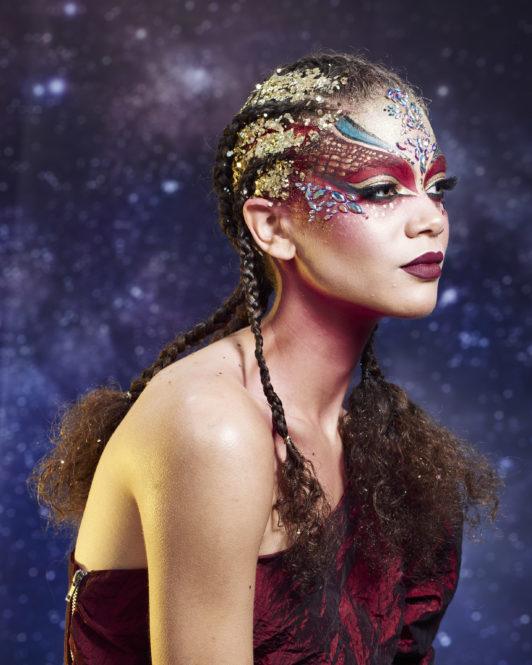 Masquerade waves
Halloween hairstyles do not always need to be horrifying. You can put on a lace Venetian mask for a more sensual, sexual appearance. Then make loose, sensual waves with a large-barrel curling tong. This hairstyle can go with you at any masquerade event.
Vampire hairstyle
The sleek look of this black straight hairstyle can be a stunning option to go with your vampire concept. Installing black straight hair extensions once, and you can style them many ways for other events.
There are so many Halloween styles you can try to enjoy the festival. Whichever of the above styles you choose, this Halloween will sure be your treat!