Each hair length conveys a message about one's personality, and with 18 inches hair, this is no exception. 18 inches of hair is a subtle hint that you care about your appearance as much as yourself. Though 18 inches hair is not really long hair, it takes quite a lot of time for your hair to reach such length. You know what they say: only those who seriously care for their look can find the time and exert the effort necessary to ensure that every strand of hair on their head is in perfect condition.
And to complete your appearance with 18 inches of hair, you surely want to find a flattering hairstyle for your face shape. Recognizing this demand from hair lovers, BigG Hair has summarized a list of 15 hairstyle ideas for 18-inch-hair for you to refresh your look at ease.
How long is 18 inches hair?
You probably think that 18-inch-hair is meant for long hairstyles, but in fact, this hair length is still in the medium range. Just like other hair lengths, 18-inch hair will not look the same on everyone, given the fact that head shape, body structure, and hair texture change from person to person.
Straight hair: With 18 inches straight and bone straight hair, your hair goes over your face, and neck, and tumbling down in a free manner till it reaches the middle of your back.
Wavy hair: Even if they are both the same length, hair with structure bends might be substantially shorter than hair with a straight texture. In this case, 18 inches may appear to be just 16 inches hair.
Curly and coily hair: At 18 inches, curly hair looks 2-3 inches shorter than straight hair. For coily hair, it can be 4 inches shorter.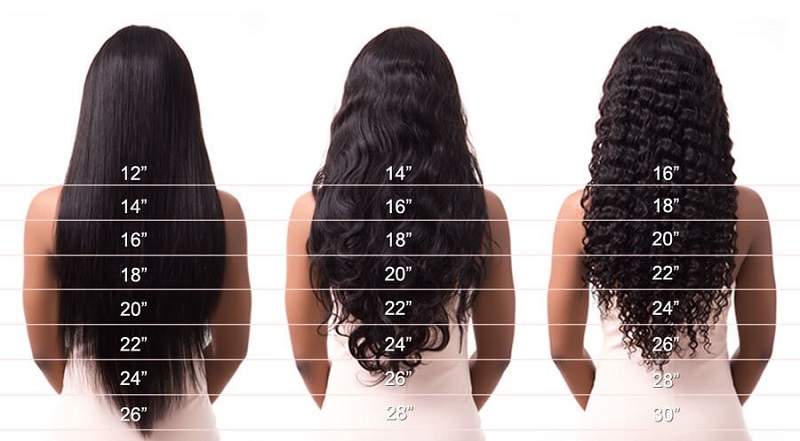 15 inspiring hairstyles for 18 inches hair
Big Beautiful Black Curls
No one can deny that long black hair is beautiful, but it can be difficult to style if your hair is a bit thick. But don't worry, sleeping hairstyles can be your savior. You can head to bed with wet hair on one-inch flexi rods. And the next morning, you can get lovely bouncy spirals like this one.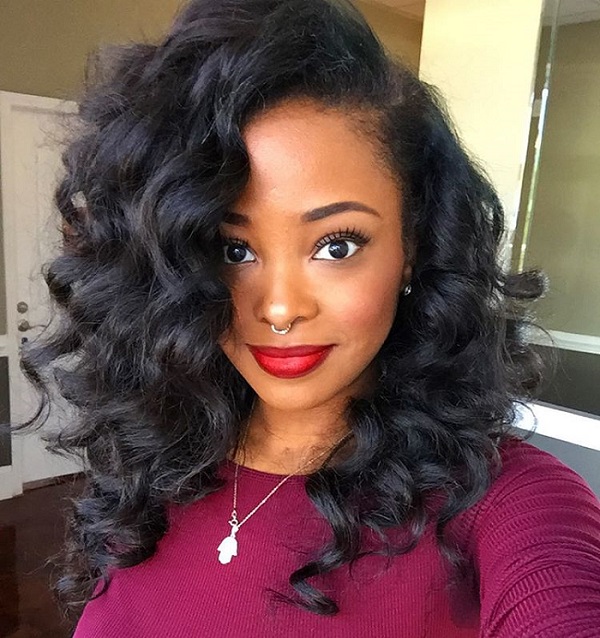 Box Braids Into Space Buns
Who doesn't adore a trendy look like space buns? This is also a fantastic way to experiment with braids. This style is perfect for the gym because it's stylish and keeps your hair out of your face as you work up a sweat.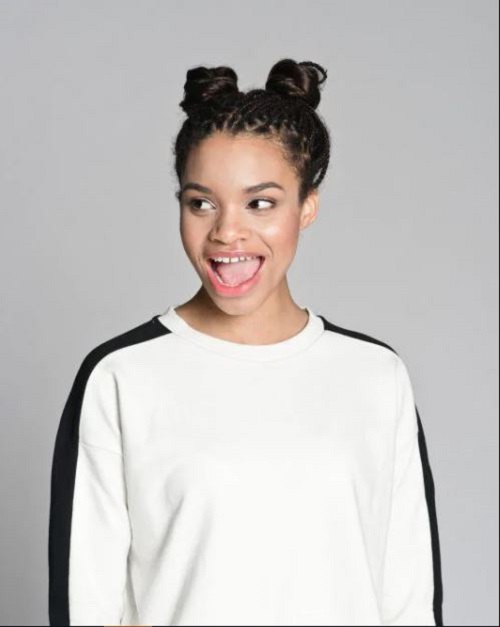 Curly Wolf Cut
The wolf cut is a hybrid of the mullet and shag hairstyles, combining the greatest features of both hairstyles. This style is edgy and cool, making you look younger. It is another highly adaptable haircut that looks excellent on all hair textures and can be worn at various lengths.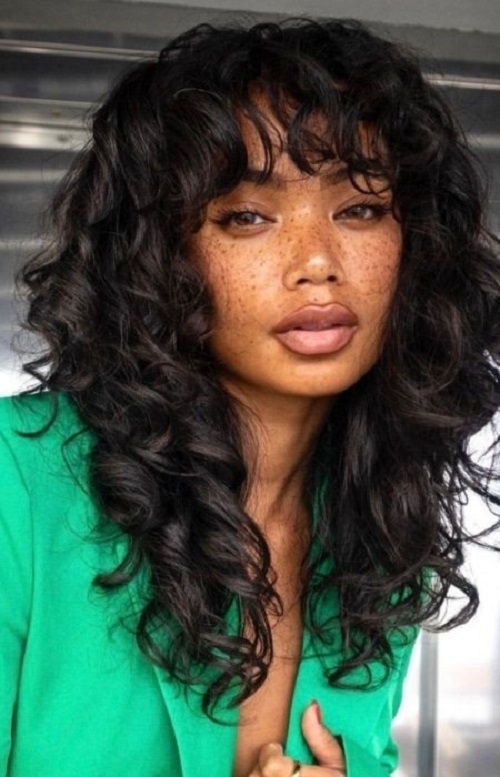 The deep layers in this cut can help to remove some of the mass and weight from naturally curly hair, thereby making it easier to manage. The wolf cut looks great with curls because it's intentionally messy and unstructured.
Black Straight Ponytail
The singer Ariana Grande's straight high ponytail is a popular style these days. To make this style more eye-catching, you can pair the straight tresses with super long bangs and wrapped with gold elastic.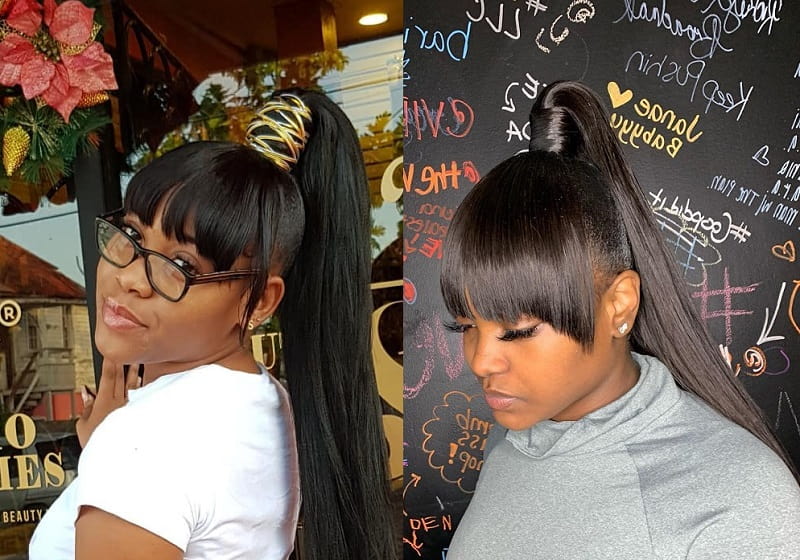 18 Inches Bone Straight Black Weave Hair
Braided Bantu Knots with 18 inches hair
If you like bantu knots, this braided version will give you the inspiration you need to try something new. When you have box braids, cornrows, or twists placed, you can create this charming style.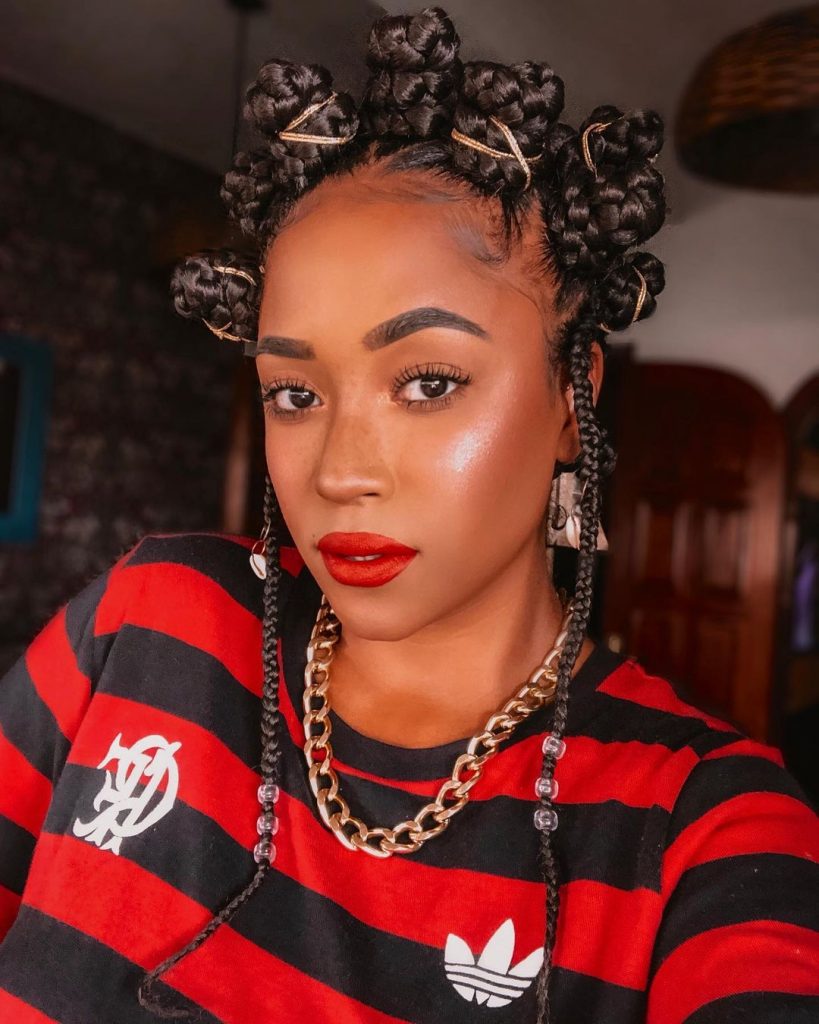 Messy Half Updo
A messy half updo will give you a simple and stylish look for relaxed or sew-in hair. The biggest issue with sew-ins is that you must ensure that your tracks (the area where your weave is sewn into a braid) are hidden. Accordingly, wearing high ponytails or buns can be challenging. Half-updos are ideal choices for sew-in weave since they allow you to draw your hair back without exposing any braided pieces.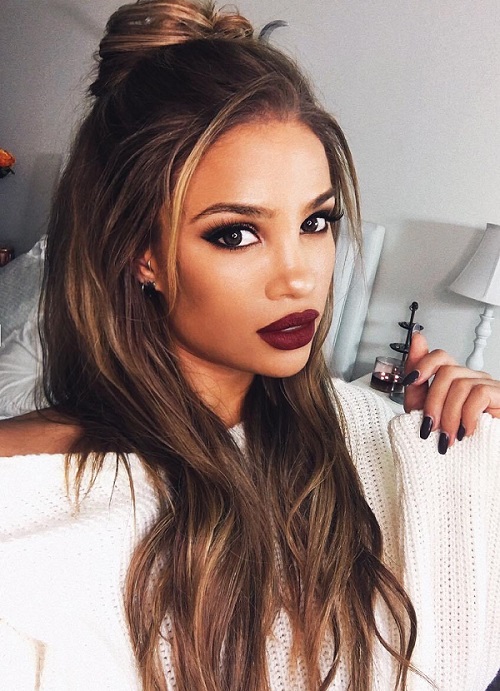 Purple-Toned Long Weave Hairstyle
Justine Skye has styled her interesting weave with a stylish hairdo and a vibrant color. Her hair is parted in the middle and fashioned into enormous loose curls. Her ravishing look is highlighted with purposeful pomposity and exquisite brilliance.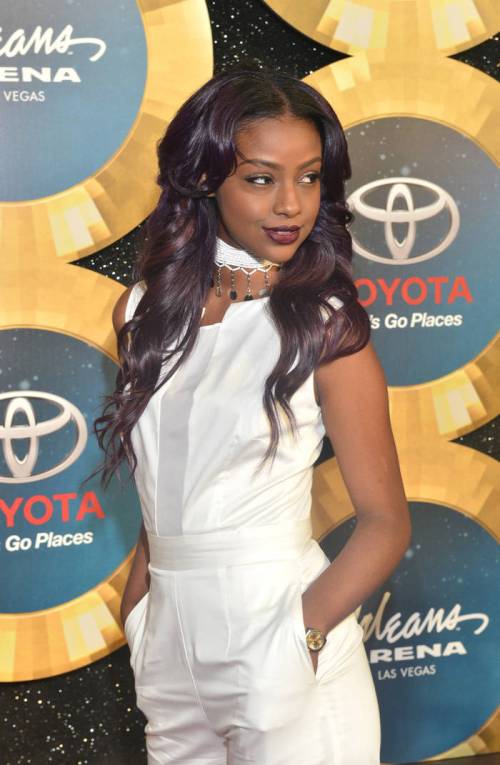 18 Inches Natural Wavy Weave Hair
Crochet Braids With 18 Inches Hair
Crochet braids have been popular for the past 4-5 years and don't appear to be going away anytime soon. They are simple, convenient, and time-saving. With this style, you will use the cornrows as a foundation.
The attachment is attached to the base with a crochet latch hook. This fashionable hairstyle can be worn with either relaxed or braided hair. A new technique can also be used on individual braids.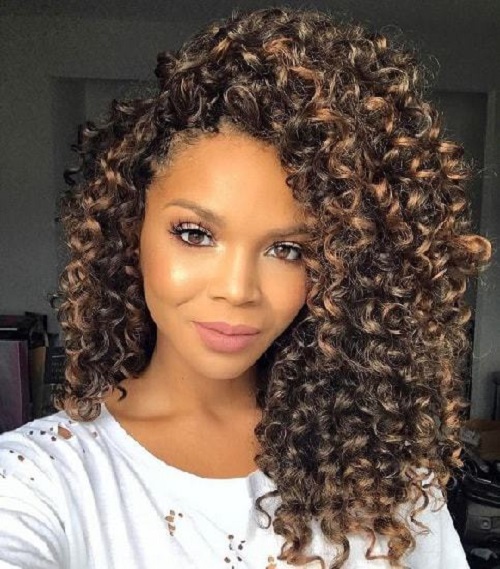 Natural Straight Hair
For girls who are fans of naturally straight hair, you can wear it down and wind-blown like a celeb style. To tone it up, just pair it with a lovely fedora or comb in the messy center part.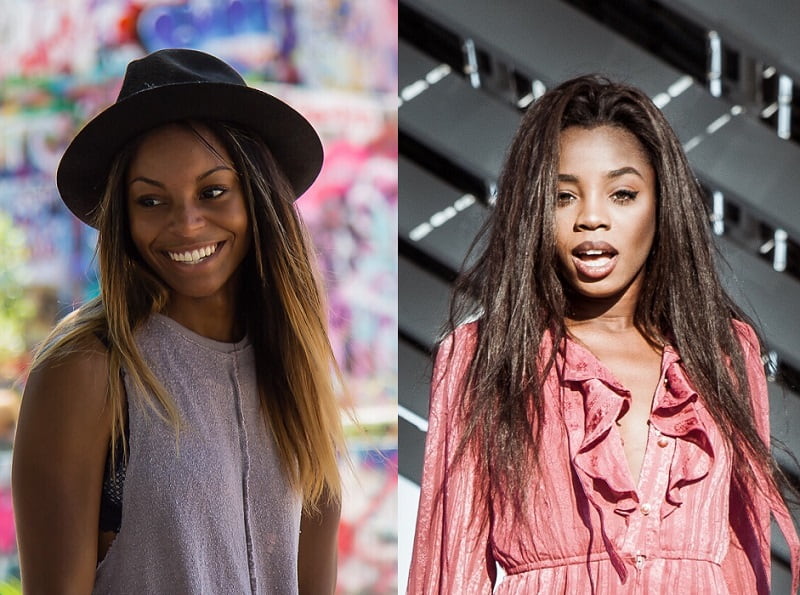 18 Inches Natural Straight Weave Hair
Medium Black Curly Hair with Bangs
Curly hair looks great in this shaggy medium hairstyle with bangs. Have your stylist cut your fringe after it's dry to ensure you get the length you want and keep the length long for glam.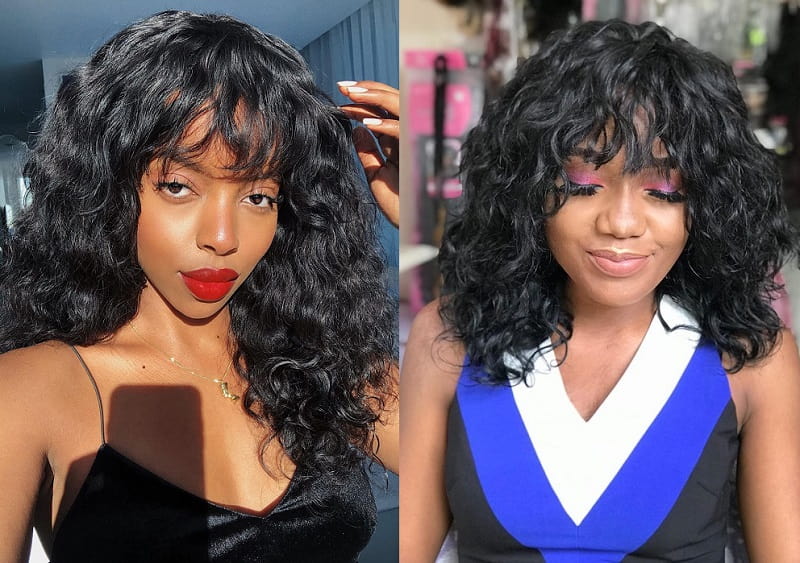 Braids with Design
Braiding little cornrow knits with jumbo hair can be a marvelous choice for 18 inches hair. Just Make sure you don't braid your hair too tightly, or else they may hurt your scalp. You can also knit the cornrows in a wave to spice things up.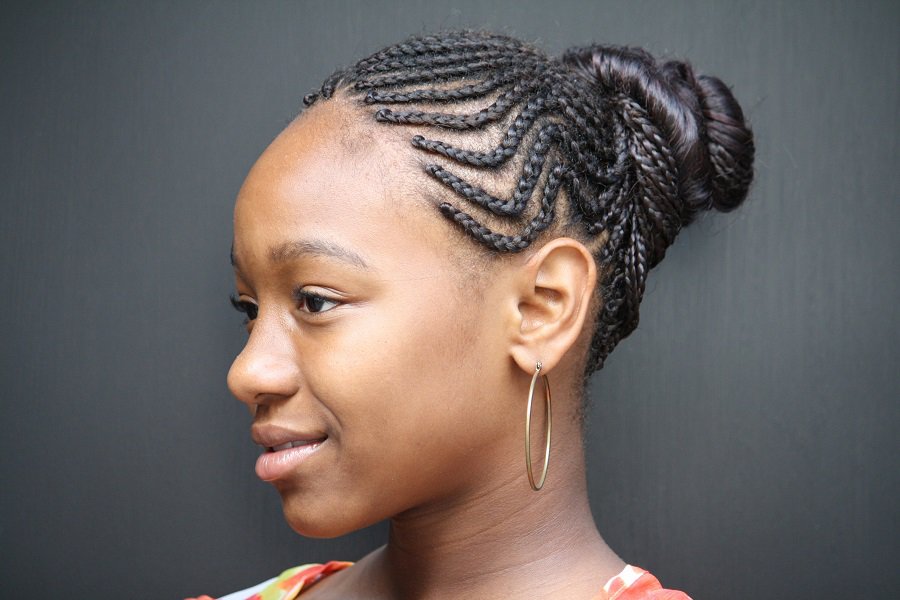 Prom Hairstyle For 18 Inches Hair
This adorable hairdo is ideal for proms, but you can also wear it to parties. Brushing the hair with the left parting is the first step. Then, brush your hair to one side and neatly fold it into a medium bun.
This hairstyle looks more special with a bang created by sweeping a strand of hair over the forehead. Make sure you add some lovely accessories to complete the appearance.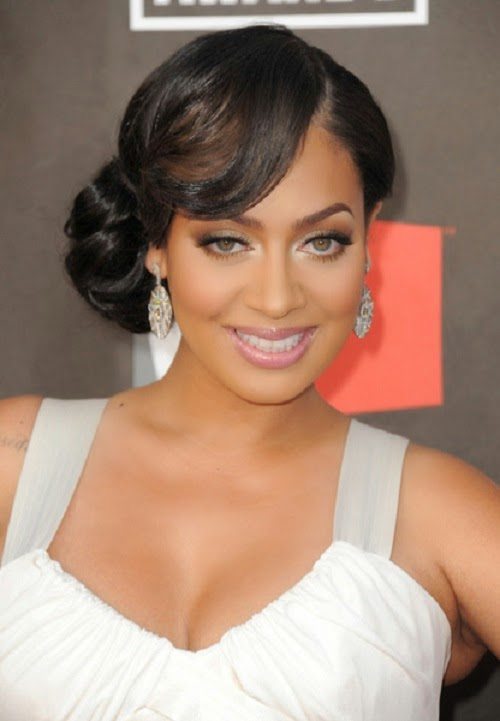 Long Layered Caramel Locks
Christina Milian enchants with her natural beauty. Christina has a basic hairdo that highlights the layering of her long locks, but it's her subtle hair color that has us envious. Those most desired caramel and chocolate shades are fascinating!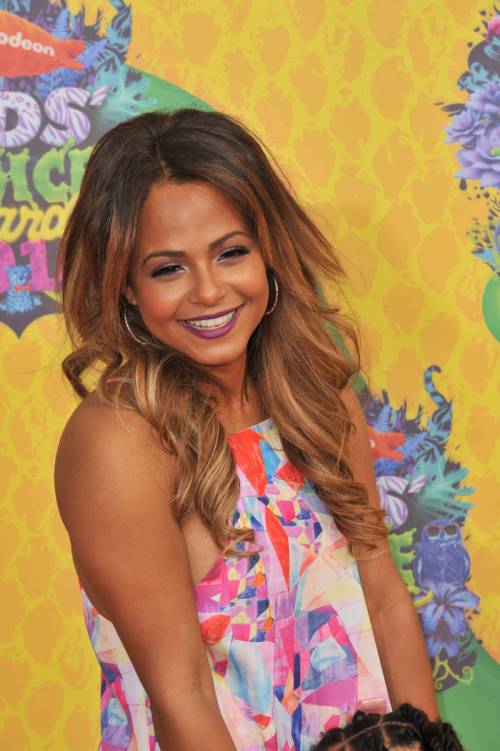 Blunt and Neat
For black ladies whose natural hair is not too curly, a blunt and neat mane can be a good option. Blunt bangs are striking, but they necessitate careful hair care. If you enjoy this hairstyle, you'll have to put in some effort to learn how to do it. This blunt bang is a perfect match for bone straight hairstyle and brings you a totally sleek look.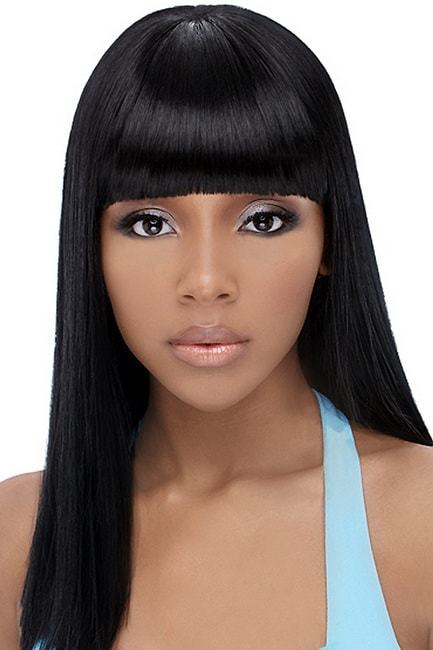 18 Inches Bone Straight Black Weave Hair
High Bangs
If you straighten your hair, you can achieve the popular high bangs with the least amount of work. Make a side part and use the blow dryer to elevate your bangs. To keep it intact, use a lot of gel. With the rest part of your hair, let's create some soft waves to finalize your look.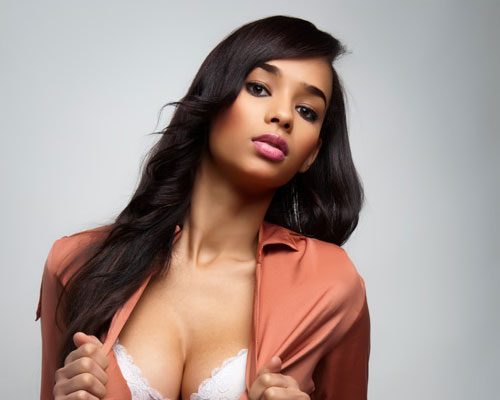 Above are 15 inspiring hairstyle ideas for 18 inches hair from BigG Hair. With 18-inch hair length, you can create numerous beautiful hairstyles to refresh your look. So, are you ready for a new alluring look?