16 inches hair lies between long hair and short hair. It's the right option if you want to rock a mid-length hairstyle. So in this post, we will go through how 16 inches hair look, the time you need for growing 16 inches with your hair and some chill ideas for a brand-new look with 16 inches hair.
How long is 16 inches hair?
Just like 14 inches hair, 16 inches hair also belongs to medium hair length. This hair length is neither too short nor too long. It is just right and perfect for mid-length hairstyles.
16 inches bone straight hair: With straight texture, 16 inches hair reaches the middle of your armpit and upper back.
16 inches wavy hair: 16 inches wavy hair is about 1-2 inches shorter than the straight one. It looks like the length of 14 inches straight hair.
16 inches curly hair: In curly texture, 16 inches hair is 2-3 inches shorter than straight hair. It falls on your shoulders.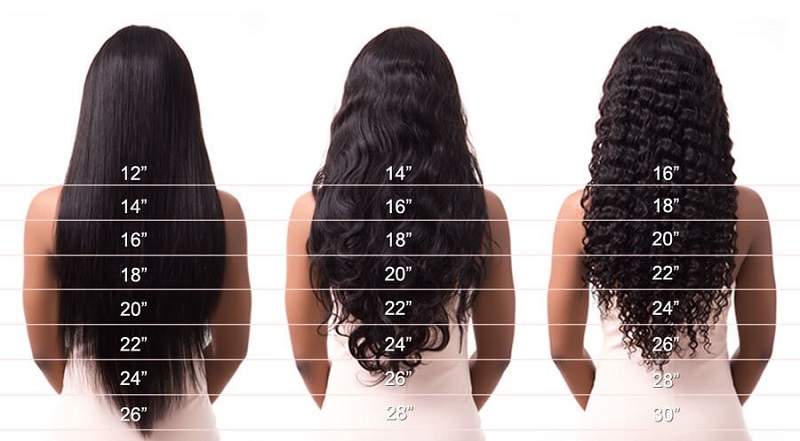 How long does it take to grow 16 inches hair?
Many elements influence the hair growth stimulation process, as well as the hair's strength and gloss. As reported, the average woman's hair will grow 1/2 inch each month if she follows a standard haircare routine and a healthy diet. That means it will take about 32 months to get 16 inches hair.
However, without any trims in between, you are likely to have terrible split ends and damaged hair. To remain a good look for your hair, you will need light trims twice a year. So overall, you will have to wait for 36 months or 3 years for your hair to grow 16 inches.
That's totally not a short time. So, how to achieve the ideal length for the medium hairstyles you are looking for?
There are a variety of shampoo and hair growth supplement tablets out there. Yet, it cannot bring you the instant length you want, not to mention that you don't really know if those tablets are good for your health.
Hair extensions is a much better solution in this case. Not only does it add length to your hair, but it also protects your hair from heat styling and harsh chemicals, enabling your hair to grow and recover from damage.
So, how to style your 16 inches hair with or without hair extensions? Let's check some ideas for marvelous mid-length hairstyles below.
Top 7 hairstyle ideas for 16 inches hair
Choppy Wavy Lob
If you want to keep your look low-key but still stylish, this choppy lob style is just for you. The shoulder-length bob hairstyle looks great on both long and short hair. And it can be one of the best choices for 16 inches hair.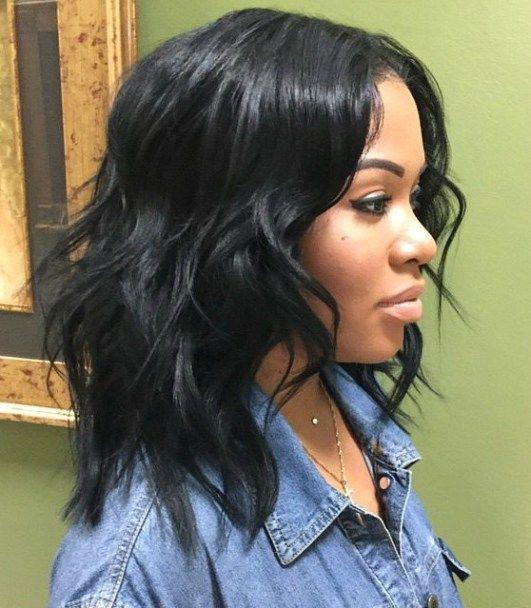 The hairstyle was formed with layers and modest waves like a natural wavy texture, making it carefree and suited to any occasion. Although it's simple to put this hair together, if you're not handy, you can visit a salon to get the exact look. Another way is to opt for a 16 inches natural wavy wig, so you can skip the styling process that may harm your hair.
16 Inches Natural Wavy Black Full Lace Wig
Medium length hair with bangs
To liven things up, you can get the shoulder-length waves and a forehead bang like this hairstyle. It also has a high shine finish, which implies you should keep the color consistent.
Side Part Natural Hair Bob
If you have naturally curly hair, you can always embrace the curls and make them more special by wearing them in a side-parted bob. Just make sure that you cover your hair with a scarf while sleeping. In this way, your curls can keep their perfect shape like this for a week. After waking up, you can dampen your hair and shake it out to refresh its look.
But how to get this look if your hair is not naturally curly or does not have the needed length?
You can always try this mid-length curly look with 16 inches curly human hair weave and a closure/frontal. Just make sure you restore the curls after washing.
Pineapple Up Do
The pineapple updo is another basic hairstyle to master. It will take you less than 10 minutes to make and will look fantastic. All of the hair strands should be piled up in the crown area of the head.
This style can also be used to protect curls and twist-outs when going to bed for anyone who isn't familiar with the sleeping routine.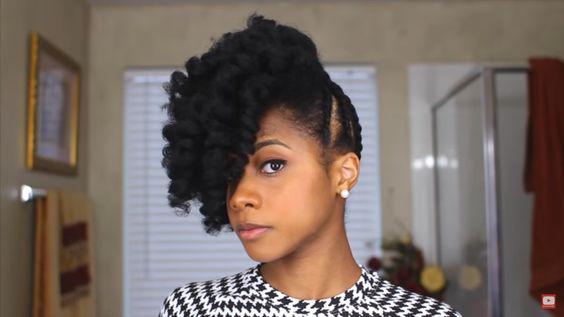 Zendaya Bone Straight Hairstyle
A silk press is an excellent alternative to a relaxer if you prefer a sleek straight hairstyle. Zendaya wears her bone straight style on the red carpet and really caught people's attention with her look.
Although this heat styling technique works on all curl patterns, your hair may become dry after the styling process. So, make sure you treat the hair well with conditioner and oils. Using bone straight weave hair rather than straightening your real hair is also a great option.
16 Inches Bone Straight Chest nut (G2) Weave Hair
Sleek Ponytail
Ponytails do not necessarily mean for gym sessions, so don't just see them as last-ditch efforts. Since it looks simple and easy to do, people often neglect it. But when you start thinking of ponytails as an actual style, you will see how great they can be. To dress it up, let's add a deep side part like Chanel Iman, and with some edge control and a satin scarf, you can make get your desired sleek look.
Bouncy Curls With Braids
We know how to make braids work every time and how stunning curls look. So, why not put them on at the same time?
Simply take some inspiration from the haircut shown here. It has bouncy curls as well as cornrow braids. The tight braids on one side contrast beautifully with the remainder of the hair left to cascade. Short curly hairstyles are always flattering your face and have never been out of trend.
Conclusion
Now that you know how 16 inches hair looks, how long it takes to grow 16 inches hair, and some hairstyle ideas you can make with such hair length, it's time to refresh your look now and enjoy the new season. If you need any help with hair extensions to add length to your hair, don't hesitate to drop a comment below or Whatsapp us for instant support.
BigG Hair is here to bring you the latest hair trends with our wide range of premium human hair extensions!