Whether a small girl, a teen, or an aged woman, you can still adorn your beauty with medium hairstyles. Another great thing about medium-length haircuts is that they suit all face shapes, hair types, and personalities. So, which length is the best for medium hair? We have asked many hairstylists from our famous partnered salons across the globe. And 14 inches hair is one the best length you can get to style your hair in various mid-length hairstyles. So now, let's figure out why 14 inches hair is a must choice for medium-length styles and some 10 hairstyles ideas you can create with your 14-inch-hair.a
How long is 14 inches hair?
Overall, 14 inches hair is an ideal length for a mid-length hairstyle. With14 inches bone straight hair, the hair falls below your shoulder and almost reaches your armpit. Whereas, at 14 inches, wavy hair reaches your shoulder and curly hair looks a bit shorter, just a little bit above your shoulder.
Why should we opt for medium hairstyles with 14 inches hair?
14 inches hair flattering on all face shapes
A medium cut to 14 inches hair flatters all facial shapes, including oval, heart, square, round, and long. It effectively frames the face while not concealing or overexposing any features. The most difficult part is finding the perfect length. A slightly longer midi cut that barely hits the collarbone can flatter a round face, while a shorter design that hovers just a little above the shoulders will help balance out the proportions if you have an elongated facial structure. And 14-inch-length is just a perfect choice for this.
It's not too extreme
Going for a mid-length haircut at 14-inch-length won't feel too drastic if you're the proud owner of exceptionally long tresses and feel worried about going short hair. If you've stayed a long time with your hair, the idea of having medium hair will be easier to grasp emotionally and psychologically.
A healthier-looking hair
Mid-length hair requires less maintenance than long one. You can simply keep track of the state of your hair ends if you go a little shorter like choosing 14 inches hair. Because there will be less friction, your hair ends will be unlikely to split or break. And as a result, you'll have more beautiful, happier-looking hair!
Less hair products
With medium-length hair, you don't need as much hair washing and conditioning as to how you should do with long hair. Therefore, your shampoo and conditioner will last longer.
And if you had short hair before, you were certainly used to using styling products every day to keep your hairstyle looking fresh. Yet, with mid-length hair, you can use these products less frequently. Overall, you can save some money by buying such products.
Easier to make updos
You can create a variety of lovely updos with 14 inches of hair, and the greatest part is that they'll weigh a lot less than if you have long hair. Plus, you won't need hundreds of bobby pins and dozens of hairbands to keep it all in place (like what you need with short hair).
The most versatile cut out there
Medium-length hair allows for a wide range of styling possibilities. You will be not limited to which hairstyle to do. Mid-length hair can make it all, whether it's up, down, braided, or twisted hair.
10 eye-catching hairstyle ideas for 14 inches hair
Cool Asymmetrical Comb Over Lob
With a full set of peek-a-boo bangs, you'll catch everyone's attention while keeping your eyes covered. The asymmetrical shoulder-length cut is a great illustration of today's contemporary black bob hairstyles. It has an edgy, urban vibe because of the extra-long jagged ends in the front and the deep side part. The jet-black hair appears to be healthy and lustrous.
Bold color mid-length hair
Regina Hall's Met Gala outfit mirrored her mood. Not only because of the velvety texture in the center but also because of the unexpected splash of color. When trying to achieve pastel pink tones by bleaching dark roots, you run the danger of damaging your curls. That doesn't mean we can't play around with these looks—all you need is a good wig or some bundles of human hair extensions and a big dose of confidence.
Instead of the pink pastel colors, you can try many other bold colors for this hairstyle like orange or yellow color.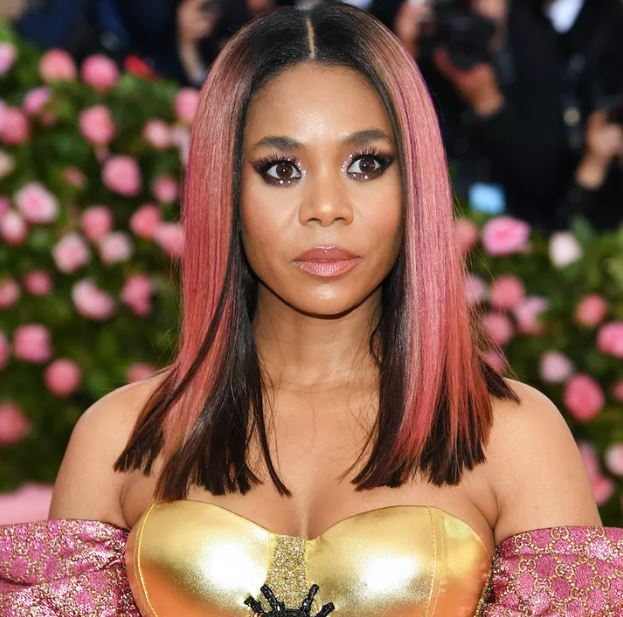 14 Inches Bone Straight Orange (G8) Weave Hair
Medium Length Straight Hairstyle
Feathered side bangs add a charming touch of facial framing to a medium straight hairdo. Layer your hair for an effortless look that makes you vibrant in the morning.
If your natural hair texture is not straight, you can get the style by using a natural straight human hair weave.
14 Inches Hair Natural Straight Black Weave Hair 
Medium Black Hair Bun
A bun at the crown of your head can be a choice for causal days. You can wrap the hair with a bright elastic band or coil and hold it in place with a strand of your own hair. To complete this elegant look, let's choose a bold red lipstick.
Blonde Hair
Going blonde is a marvelous way to refresh your look. Whether it's platinum or dark blonde, it can shape up your straight or bone straight hair.
If you are afraid that dying your hair to this bright color can damage your hair, we recommend you use blonde straight and blonde bone straight human hair extensions to get this stunning look.
14 Inches Bone Straight Blond (G12) Weave Hair 
Black Space Buns
If you want a funnier way to style your hair instead of the classic ponytail, space buns can be a brilliant choice. Space bun is cute, funky, and easy to replicate. It can be your hairstyle for every occasion.
To get the look, let's wrap your hair up tightly or leave them loose if you want a relaxed vibe. After that, smooth your baby hairs or some strands out for a carefree look.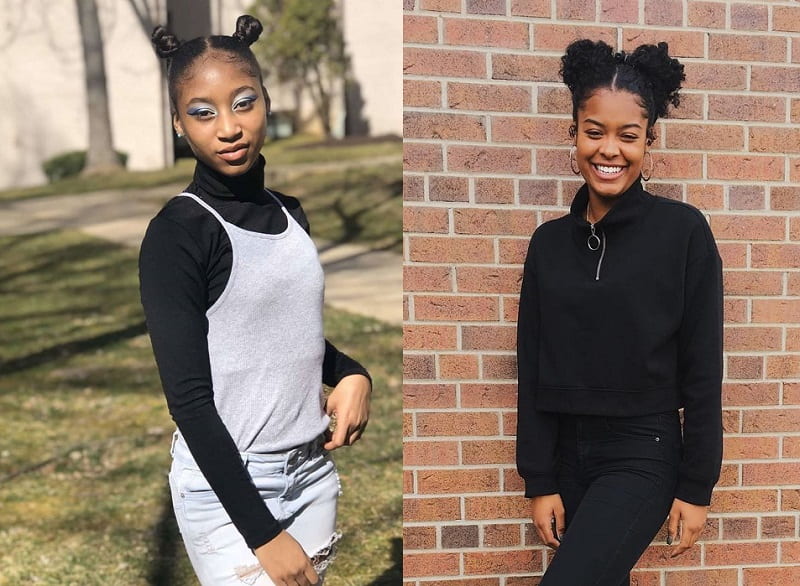 Curly Blonde Bob
Curls provide you with the texture you may be missing. You can style your hair with tight or loose curls. Whichever way you like, it's better to combine your curls with a bright blonde color that contrasts beautifully with your skin tone.
If you hesitate to go blonde, for the chemicals will dry out your hair and cause split ends, you can opt for several curly human hair weave bundles to get the style. Dying your hair extensions will save your real hair from damage. And you can also save time for the hair care process.
Red Flowy Bob with 14 inches hair
This hairstyle looks like a waterfall with longer layers and a sleek finish of medium bob. And the red color highlights the long layers even more. You can also try pastel tones to create dimension for your hair.
Bantu Knots for Medium Hair
Bantu knots is a popular hairstyle among African women. It has been around for years and comes in a variety of sizes. The best thing about Bantu knots is that you can wear them with a variety of hair textures.
And with your 14 inches hair, you can easily create cool Bantu knots. To add a highlight to your style, you can wrap them in shiny or gold elastic with beads and place them strategically around your head.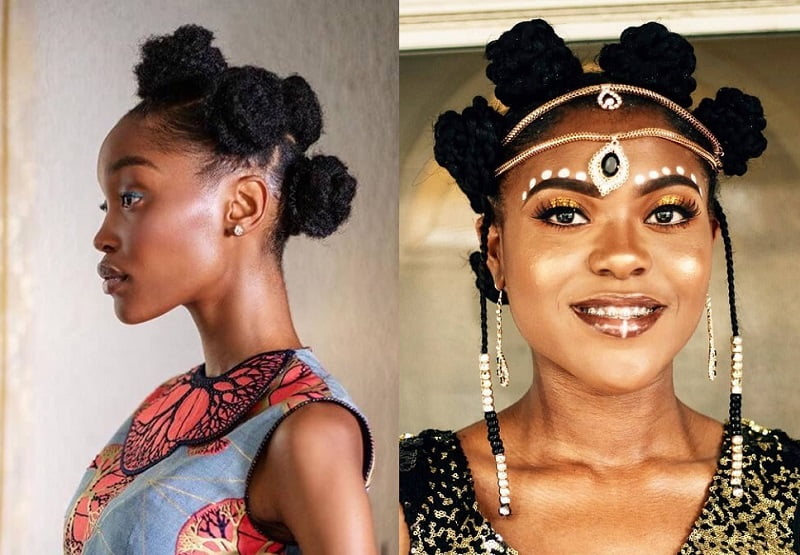 Rihanna Hairstyles with 14 inches hair
Rihanna loves to experiment with her hair, which she presently wears in this medium, sleek black style. With Rihanna, there are countless ways to have fun, from crops to updos and everything in between.
A bone straight version of this hairstyle will keep you up-to-trend and classier thanks to the sleek and shiny straight locks.
14 Inches Bone Straight Natural Black (1B) Weave Hair
So, have you fallen in love with 14 inches hair length and styles? Although it does not take too long for your hair to reach this length, once you want to have the style, you may still need to wait for some time or trim off the hair. And to help hair lovers get the most accurate length for hairstyling, BigG Hair has been offering various length options for our human hair weave and other items in the range. So, let's check it out now and prepare for your new look.
Thanks for reading!