Purple hair isn't a hair color for everyone, but it's a wonderful choice for anyone seeking a total transformation. Purple hair with a dark complexion is an unappreciated look, yet it rarely disappoints. That's why purple is one of the trending hair colors across Africa. So, today we are sharing with you some great ideas of styles and shades for purple hair on dark skin tone.
A small tip before going purple
If you're just getting started with turning purple, it's better to try out temporary hairstyles like purple box braids, purple wigs, and purple extensions. That way, you can figure out what purple hue you like best without the pressure of making a permanent decision. And you can also see how you look with purple hair color.
Yet, please don't let that put you off. Purple hair slays. And there are various purple hair color shades, so you should be able to choose one that suits you. Below are some of the most popular purple hair colors and styles for dark complexion.
10 ideas for purple hair on dark skin
Straight purple hair
This deep, rich hue of purple is one of the most popular purple hair colors. It's a lot more wearable than the other hues in this palette, which are a little too bright for work or school.
And on a dark complexion, straight, sleek, and long dark purple hair looks regal, as evidenced by this photo!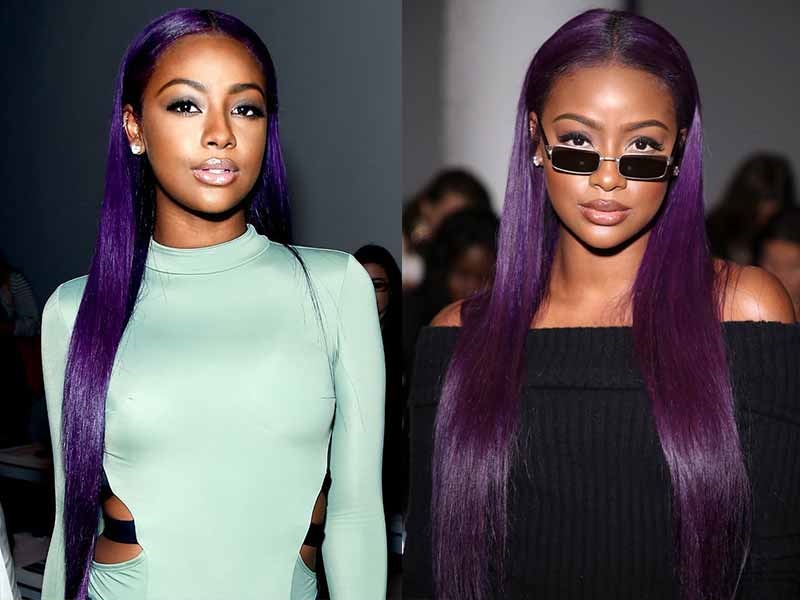 Bone Straight Purple (G5) Weave hair
Shoulder-length purple bob
Justine demonstrates that purple hair on black women can be so stylish with a hairstyle like a bob. This gorgeous bob almost reaches the shoulders and can instantly refresh your look.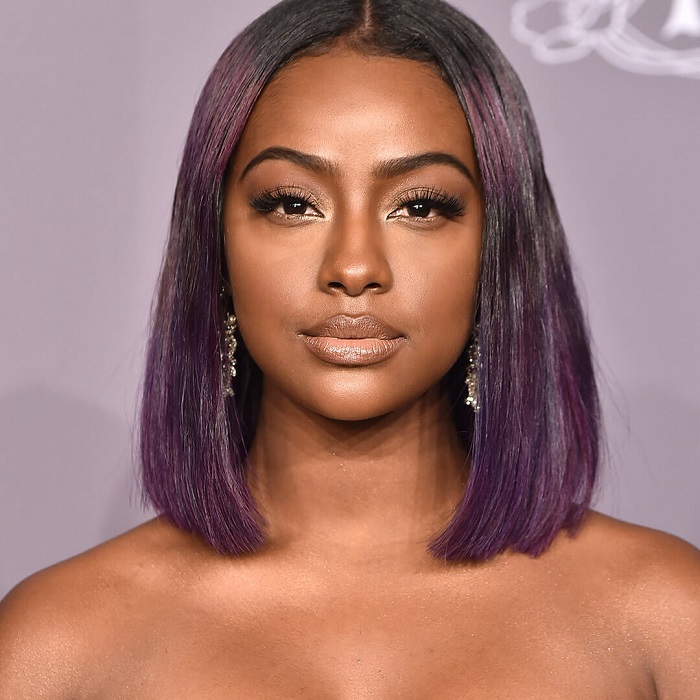 Purple afro-textured hair
Why not bring your natural hair to life with a lovely new color after you've patiently waited for it to grow out? This rich purple is an excellent choice for dark skin tones because it contrasts beautifully.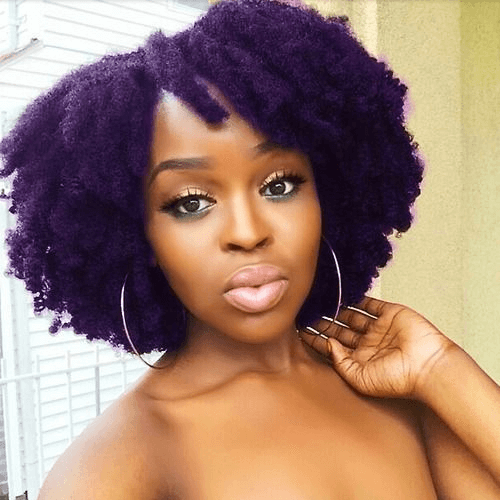 Dark purple braids
If you enjoy wearing braids all over, try integrating purple into them next time. Consider keeping at least a portion of them the same color as your root hair for a more natural look.
Purple ombre
Purple ombre hair is a good choice if you want something a little more contrasted. When combined with black or dark brown, it looks the most natural.
Purple flat twist-out curls
Another eye-catching idea for purple natural hair is to use a traditional technique: flat twist-out curls.
We wanted to highlight how lovely these corkscrews appear when dyed purple, even though most ladies with afro-textured hair already know how to do them.
Big curls and purple hairstyle
Were you born with thick, curly locks? Try to make it purple! This combination of dark and light violet tones looks stunning against any skin tone, as well as curly hair.
Purple braided ponytail
If you have long braids, a high ponytail is a great way to show them off. It's not only beautiful, but it's also a practical solution for really long braids. They won't obstruct your vision, and you'll look fantastic!
Half up, half down
Another gorgeous purple hairstyle idea is the ever-popular half-up, half-down look. One of the best things about this hairstyle is that it can be worn with any hair texture as long as the hair is at least shoulder length.
Pastel purple color
The dark skin looks stunning with this ombre pastel purple hair. And you can try switching things up with double buns. This look is considerably better with bangs, but it'll look nice even without them.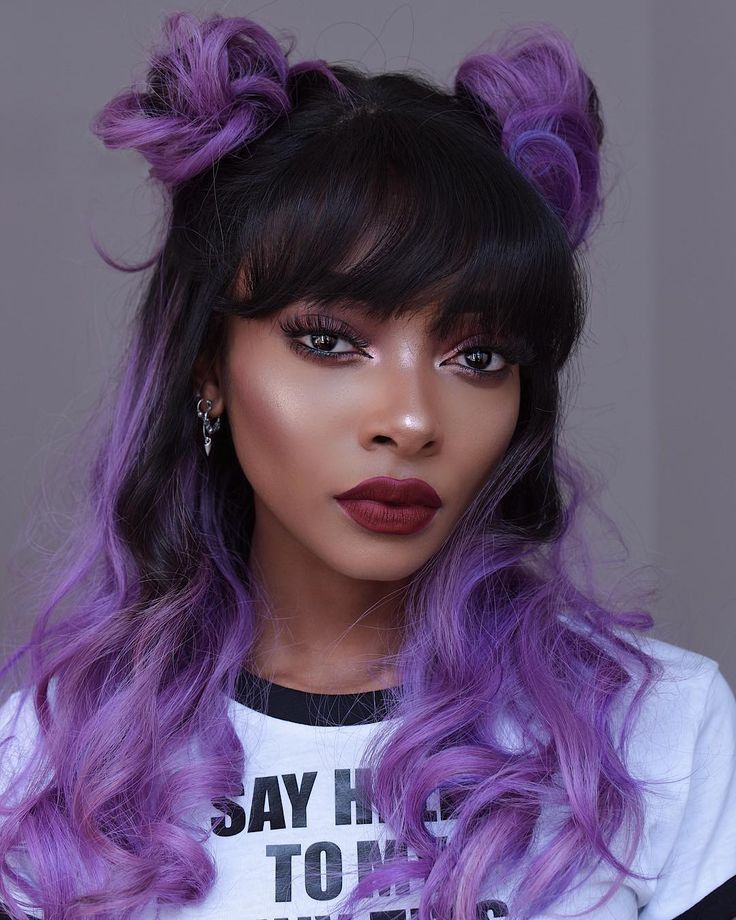 Purple mohawk
This isn't your typical outfit for going to a corporate job, but it's a great option for our punk ladies out there.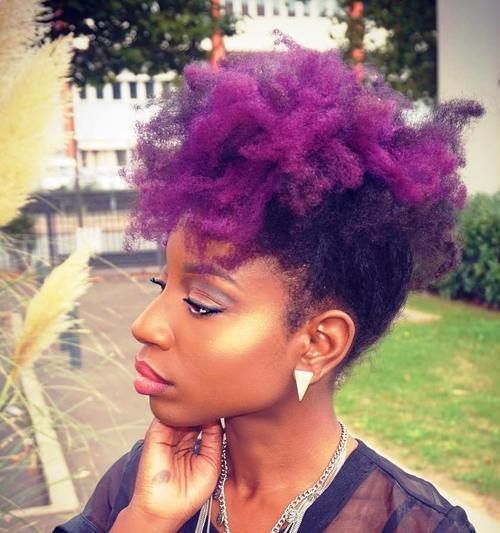 Blue and purple hair
If your hair is already dyed blue or is a blend of different tones of blue, this works well. To add a delightful touch, sprinkling a little purple on top is all that's required.
Light purple hue
Black ladies, especially those with darker skin and a cool skin tone, look great with light purple hair. This is an example of wearing light purple hair with dark skin.
Dreamy lavender
This dreamy lavender hair color is ideal for bringing out your inner fairy. It's both feminine and edgy while still keeping an elegant presence.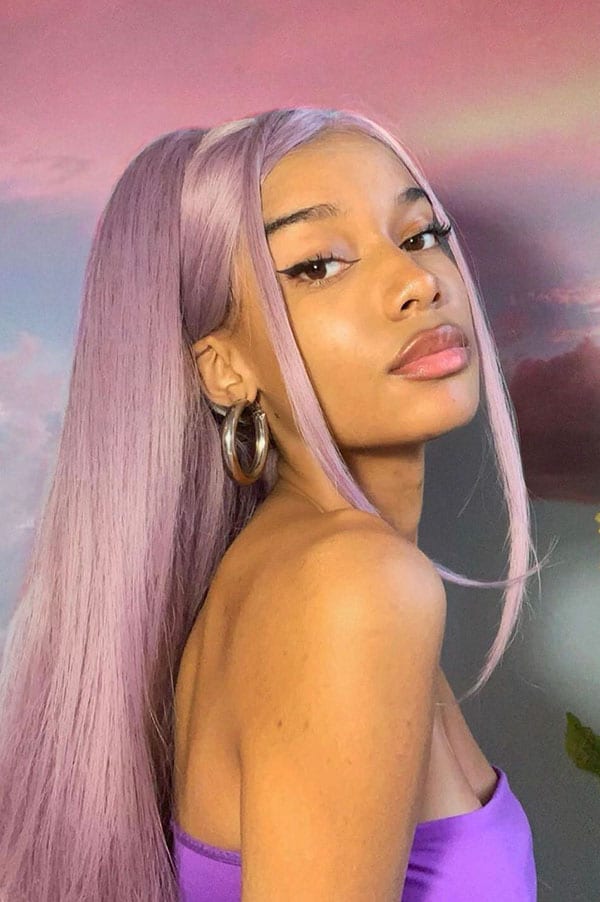 Short tapered hair
Purple can also look stunning on a short haircut. If you don't want it to be permanent, this tapered look can be created with hair wax.
And you, which purple hair color and style do you like? Let tell us in the comment section below!