When it comes to African hair texture, afro style was known as a legendary look that has been worn with confidence by celebrities, politicians, musicians, and other icons. This texture is versatile and able to be braided into different styles. Check out some ideas of the afro hairstyles from BigG Hair for a little inspiration if you would like to wear this textured style!
1. Full Afro Hairstyle
A full natural afro hairstyle is the easiest hairstyle that you can try. This hair allows you wash-and-go – you just wash it and go about your day. The good thing about a natural hairstyle is that it is very convenient for you and saves time. 
2. Cornrow Afro Hairstyles
Cornrow is an awesome trendy afro hairstyle that looks great on natural afro hair. They're made for African hair and for women that love to protect their short hair. This hairstyle is not complicated to make but need great care when making it to achieve the best results. The design is sleek and the simple but tight braids look as if they've been plastered into the hair. This is trendy hairstyle that looks classy and is highly recommended for women with triangular face shapes.
3. Medium Afro
If you are growing out straight hair or just want a closer cut buzz, a medium-length is perfect for you.
4. Center Part Afro Hairstyles
Changing the way your hair fall is great way to get more interest. The best thing is you don't have a haircut to achieve this style. All you need to do is separate your hair along a part line and style to either side.
5. Defined Curls and Side Part
Changing up the way your hair falls is quite interesting. Instead of separating your hair into two apart equal, you can freely divide your hair. This is a style that is not difficult to perform and brings ease.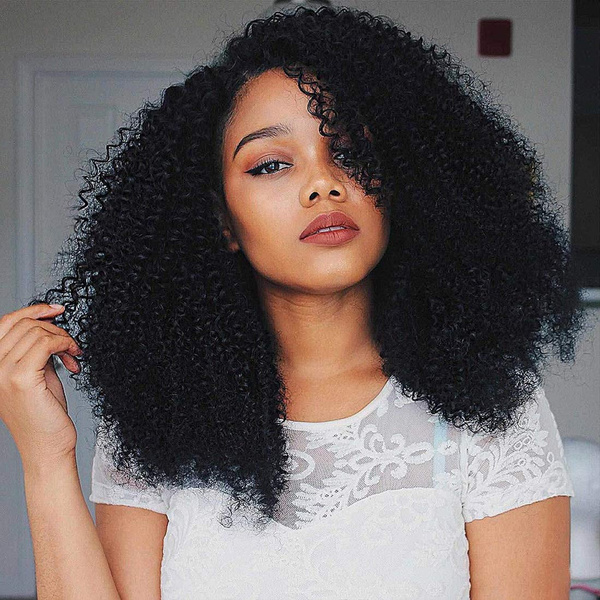 6. Blonde Ombré Afro Hairstyle
Are you too familiar with classic afro hairstyles and want something new? Blonde ombré afro hairstyle is spent for you. The style is not complicated. Change a bit of color at the end of the hair that is all things you need to do to get this style.
7. Afro Mohawk
If you're getting tired of your everyday hair looks, then switch it up to Mohawk hairstyle. With many Mohawk options for both long and short hair, confidence is the most important ingredient for pulling off this style. You can be glam or edgy depending on your personal style. Making this hairstyle is not easy but it does not look complicated. Moreover, this hairstyle will garner tons of attention. Don't be afraid to be different! And let's step outside your comfort zone!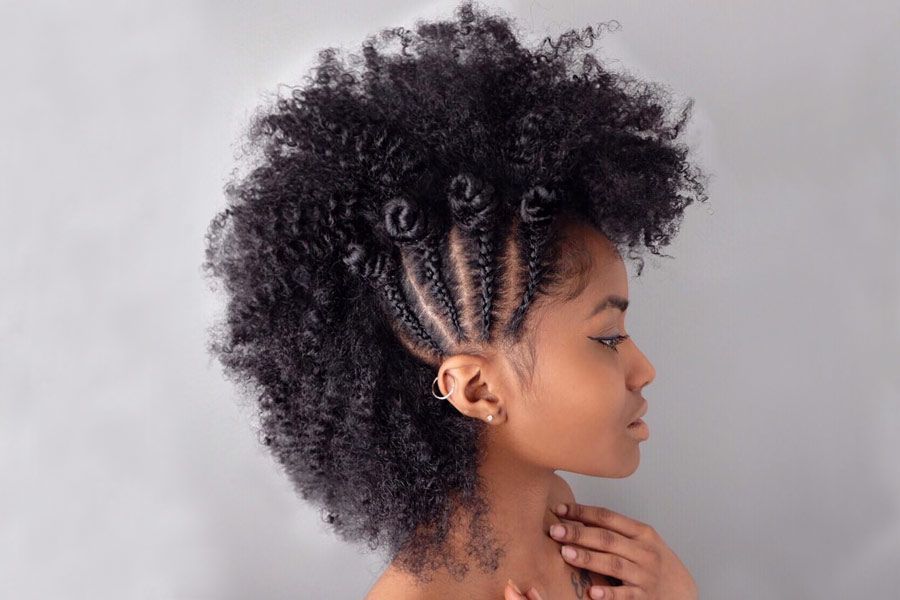 8. Natural Short Afro Hairstyle
The days are long gone when short hair was considered boring. Having short hair now means you can do a whole lot more. Lots of women look amazing with short haircuts or no hair at all, and haircare is a breeze.
9. Super Long Afro Hairstyle
Let your hair grow long in nature and you have a super afro hairstyle. This hairstyle come in an awesome curl that is suitable for all occasions. This is a good hairstyle that becomes popular at the time. Women have started embracing their natural hair and it has always been in vogue.
10.Half-Up Afro Style
Half-up afro hairstyle is one of our favorite looks. This style allows you to get both individual seriously stylish looks at the same time.
11. Color Afro Hairstyle
Bleaching natural hair is always an option that deserves to consider. It will take extra time to get black hair but it's worth it to not excessive damage your hair in one sitting. However, be sure to treat your hair well in-between the bleaching sessions to maintain your hair.
12. Space Puffs Afro Hairstyle
Space puffs afro is a hairstyle that makes you come back to childhood time when your mom created it for school every morning back in your elementary school days. To be honest, this hairstyle isn't practical. You probably won't be able to pull space puff off at the office. However, this hairstyle does have a time and a place. For the summer season, we suggest trying this look out for beach outings, festivals, or summer parties. It's a cool, funky, and easy look to create for natural hair. Making this style with some accessories that help you more attractiveness!
13. Hair Puff afro hairstyle
You are a big fan of ponytails, but the afro texture is not allowed to do this. You can definitely wear an afro puff hairstyle, which non-afro hair textures cannot achieve. The thing that I love about afro puffs is that it's such an easy hairstyle that any naturalist can wear. You can perform an instant hairstyle in 5 seconds perfectly. Not wasting too much of your time, but it is enough to shine!
14. Bubble Afro Ponytail Style
Ponytail hairstyles are the favorite ones of many people for being the easiest hairdos to achieve and extremely versatile.. A regular ponytail just requires pulling the hair up and securing it on the top of the head. But there are so many types of ponytails that are more than a traditional up style. The bubble afro hairstyle is one of them. You just need to smoothen your hair, gather all the strands together in a regular ponytail, and use black or color ribbon to get a sectioned effect. Bubble afro is very easy to do and you still gather everyone's attention like another complicated hairstyle.
15. Braid Afro Hairstyles
This is a hairstyle that has been made for ladies with round-shape faces to show the craft that comes with the braid. Making this  hairstyle may seem complicated but it's quite easy.
Whether you are a beginner or an expert in trying different hairstyles, save these options to get inspired. Have fun and experiment daily! Do not forget to follow BigG website to get useful information!
Read more:
15 curly weavon styles to try now.