The ponytail is one of the most versatile and popular hairstyles today. The look requires minimal styling, equipment, or special techniques, and you can dress it up or down with ease. A ponytail – whether high, mid-height, low, or on the side – suits every face shape and hair texture and can be the perfect hairstyle to make you look your best. Let's follow me with 10 easy ponytail styles for diverse hairstyles!
1. Straight High Ponytail Styles
Known as the classic ponytail styles, a straight high ponytail is very easy to perform and draws others' eyes, instantly creating the illusion of a different face shape.

2. Wavy Ponytail
Ponytail wearer looks attractive and sexy with this wavy ponytail. Although this style is not too complicated to do, it can perfectly help you shine!

3. High Ponytail Styles with Flipped Ends
To make your classic high ponytail less boring, the high ponytail with flipped ends is a great idea for individual girls. Don't need impossibly long locks to rock a high ponytail. To enhance a pony at the crown of your head, wrap some of your hair around the elastic, and flip out the ends.

4. The Bubble-Ponytail
If you have long hair and want something unique, try the bubble-ponytail style. That is the kind of hairstyle Carrie Bradshaw would wear in Sex and the City.
5. The messy low ponytail
The messy low ponytail that they look like they're almost falling out, but aren't. A messy ponytail hairstyle is perfect for your everyday look or even for a special event. The key to a messy ponytail is to embrace imperfections. Finding easy hairstyles will not only make your life easier but will give you an edge on your overall look.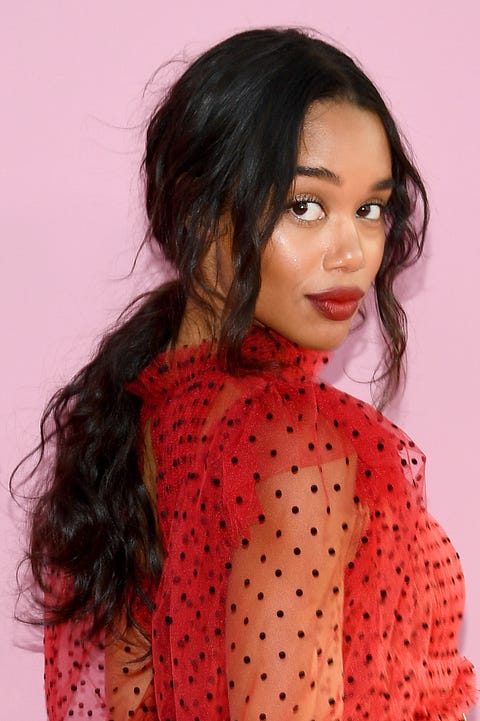 6. Low ponytail style
A simple ponytail is made with aside parts or not. There's also a surprise detail: from the back, you can see that her hair stylist placed a delicate in the center.
7. The Braided Ponytail
The ponytail is taken to the next level with braids on top of the head.  And the sleek, long pony is beyond glam.
8. Ponytail With Bangs
The ponytail style with bang is the hair that is pulled back from the face. This style is no longer strange to us, but it is not old. With this hairstyle, you'll make a very casual look catch everyone's eyes!
9. Bohemian Braid Ponytail
A little liberal and wild, bohemian braid ponytail hairstyles give you a flashy and neat braid. The hair has a mix of small braids with tiny ones and the curls are quite subtle. This style is easy-to-wear.
10. Double ponytails hairstyle
Double ponytail hairstyle will look gorgeous on any girl that wants a simple childish look. One of the best things about this hairstyle is that it instantly erases a few years and makes you look a lot younger.
With 10 easy ponytail styles, BigG hopes that our customers have more choices to transform their appearance flexibly. Contact us via BigG WhatsApp if you need any help!