Using wigs is a great way to enhance your look. They also allow you to change the style whenever you want. And straightening your wavy and curly wig is one of the first moves to restyle your wig. If you have a human hair wig or a heat-resistant synthetic wig, you can straighten it much like how you do with your natural hair. Yet, with synthetic wigs, you will need gentler methods. So, how to straighten a wig correctly? In this blog post, we will find out how to straighten a wig correctly, both human hair and synthetic wig.
How to straighten a human hair wig?
Using hair straighteners or flat iron
With this method, you need to make sure the flat iron or hair straightener you are using has a temperature control feature. This allows you to apply a suitable heat mode for the hairstyling process. Below is how you should do:
Step 1: Put your human hair wig on the mannequin head or a tripod and pin down the wig so that it won't move while you work on it.
Step 2: Gently detangle your wig with a comb, then apply heat protectant all over it, root to end. This will aid in keeping moisture inside the wig and guard against heat damage.
Step 3: Divide the hair into smaller sections. Use some clips to separate each part.
Step 4: Set your flat iron to the lowest heat mode and preheat. It's better to keep the temperature between 223°F to 250° F (110-121°C). If your wig is thick, then iron it anywhere between 250-270°F.
Step 5: Start straightening each section from top to bottom. Make sure that your wig is completely dry before you start straightening.
Step 6: Use a wide-tooth comb to detangle your wig again and spray some thermal styling spray (if you have one) so that your wig will keep the style longer.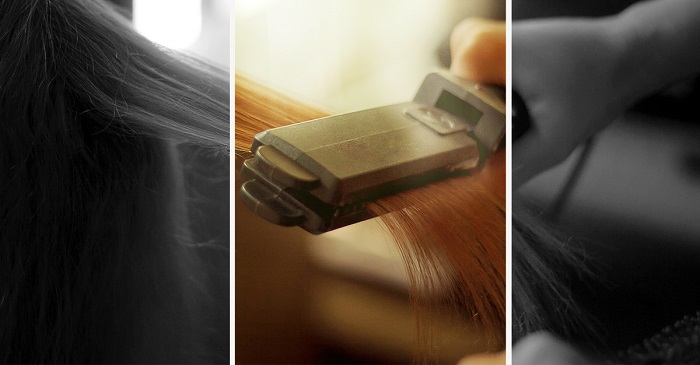 Please note that it's better to test heating some hair strands before you work with the whole section. You can see if the hair fibers can really endure heat as the hair vendors advertise.
Using blow-dryer
This technique is often used at hair salons. After washing your wig, you should blow-dry it until it is 90% dry. The hair should then be clipped into pieces and straightened with a round brush and hairdryer. For an even more smooth finish, you can softly curve the hair inward.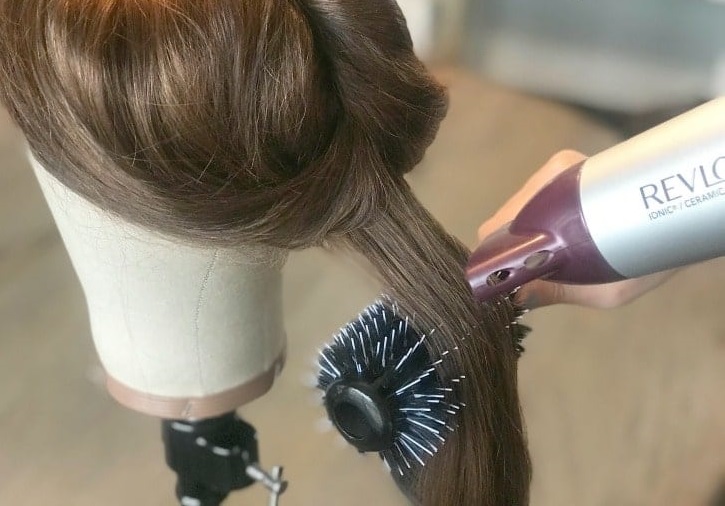 How to straighten a synthetic wig?
Using hot water
This method can also be used on human hair wigs, but we recommend you not use it. If you cannot do it properly, your human hair wig will be ruined. For synthetic wigs, you should do as below:
Boil some water. The amount of water you need to use depends on the length of your wig. Boil the water until you see the bubbles inside the pot.
Put your wig into the wig stand and pin it to secure it in place
Detangle your synthetic wig to make sure there are no knots and tangles.
Dip the ends of the wig into the boiled water and then pour the hot water over the top of your wig.
Wear heat-resistant gloves and use your fingers to comb through the wet hair. The weight of the water will loosen the curls.
Air dry your wig for 6-8 hours and you can see your synthetic wig now get a straight look.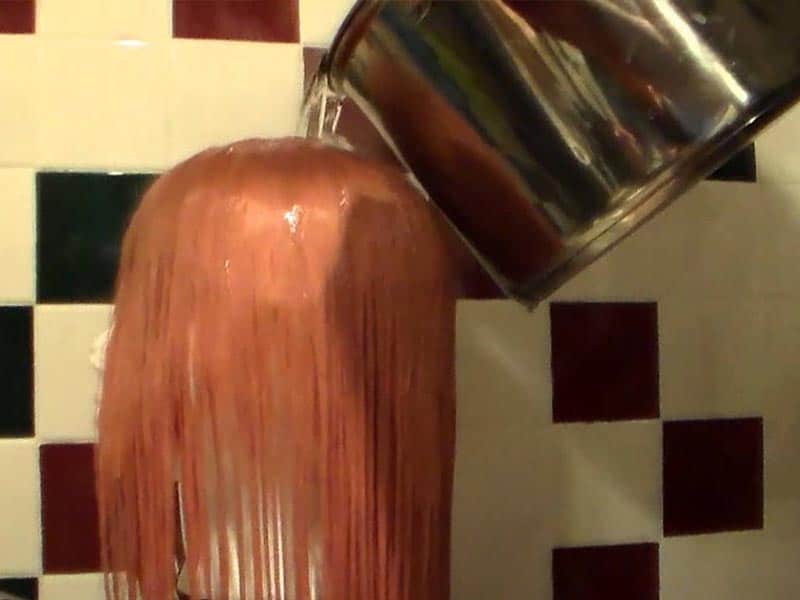 Steam method
With this method, you will need a portable steamer. And please note that this method should only be used on a synthetic wig.
Step 1: Place your wig on the stand and detangle any tangles and frizzy ends
Step 2: Plug your portable steamer and preheat it. You can do this while detangling your wig
Step 3: Take the steamer in one hand and the wig brush in the other. Then, start steaming each section of your wig while brushing it.
To protect the fibers from damage, do not hold the steam too closely to the wig and avoid keeping the steamer in one direction for too long.
Step 4: Run the steamer through each section 2-3 times to make sure it's totally straightened. Repeat the same process for the rest sections.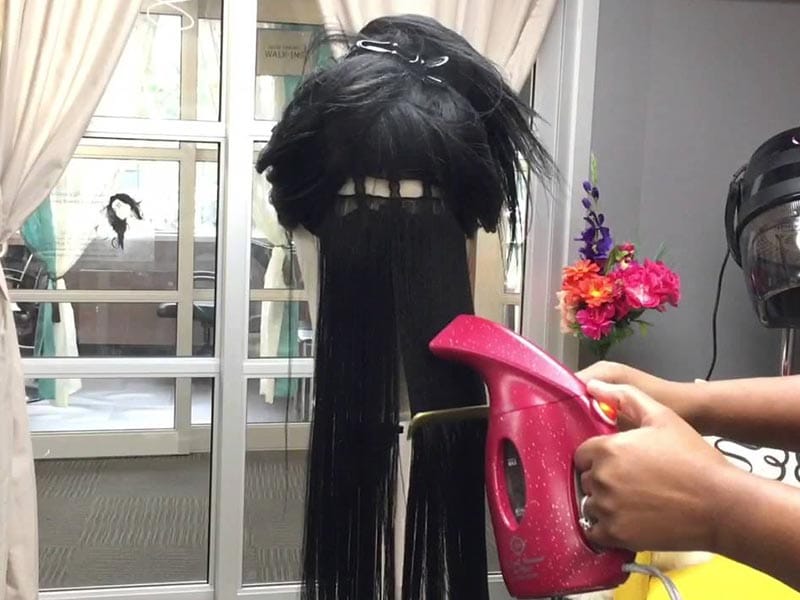 Straightening your wig will give it some extra shine and length while giving it a brand new look to your wig. And now with our guide on how to straighten a wig, you can easily do it at home. Enjoy your new look!