Swimming is a popular activity in summer. However, with hair extensions users, it may not always be a great option for keeping fit. They fear that the hair will be damaged after exposing to salt and chlorine. But that will not be the case if you take the right hair care process. So, can you swim with hair extensions? The answer is right below.
How can your swimming habit harm your hair extensions?
Whether you're swimming in the ocean or a swimming pool, salt and chlorine in the water will negatively affect your hair extensions, causing them to knot and matted.
Because chlorine and salt water are so harsh on natural hair, they cause it to dry out faster than usual. So you can imagine how they affect hair extensions that lack natural sebum.
Tips to protect hair extensions
If you take good care of your hair extensions, they will look wonderful and you can enjoy your swimming time with your friends. Below are the tips for using hair extensions for swimming.
Before swimming
Before you go to the pool or enjoy your vacation at the beach, make sure to prep your hair extensions first. By prepping the hair, you can prevent them from being damaged.
Wet your hair
Before diving into the pool, let's moisten your hair with normal water first. If your hair is dry, it absorbs salt and chlorine from water more easily. Therefore, it's better to you wash your hair before your swimming time. Since your hair is already damp, it will not absorb chlorine or saltwater.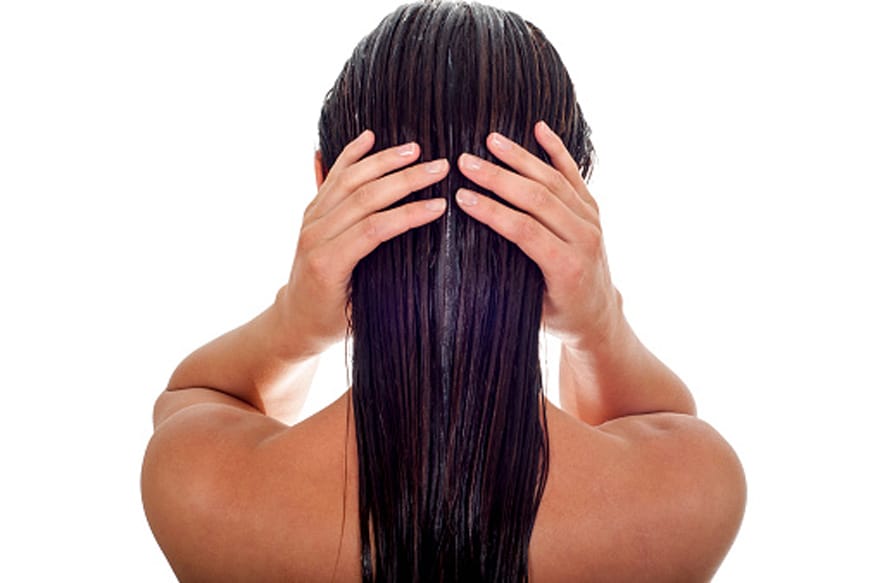 Use some oil
You can use any nourishing oil to restore the lost moisture in your hair extensions. Oil also serves as a barrier, keeping chlorine from leaking into the wefts.
Pre-shampoo treatment
Another way to protect your hair before swimming is by using a pre-shampoo treatment. Products created with organic materials, like coconut oil, olive oil, and almond oil, are great for hair extensions. They maintain your hair soft and silky, so you can keep your stunning look with hair extensions without putting much effort.
Tie your hair extensions
Always keeping your hair tied up is a good way to prevent damage from chlorine or salt water. It's also great to wear a swimming cap to protect your hair extensions.
You can tie your hair in different ways to make your tresses look ultra-chic while splashing around. You can braid them and put them in a bun, or make a high bun with slicked back hair to make an ultra-glam statement. Consider an updated version of a traditional style with an upside-down braid that ends in a bun.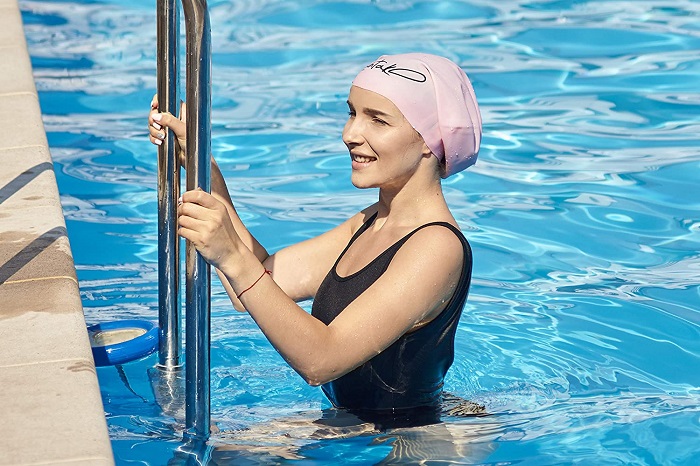 After swimming
After you spend a lot of time in the pool, your hair extensions will get matted. You will also find them knotty. Therefore, after going out of the water, it's important to follow these tips:
Wash and dry your hair
To remove chlorine and salt from your hair extensions after swimming, you need to wash your hair. Remember to use a mild shampoo and be kind to your hair extensions. If you have time, we recommend you use a conditioner to restore the lost moisture.
To seal the cuticle and keep the moisture in, thoroughly rinse your hair with cold water. A thorough shampooing and conditioning routine will lengthen the lifespan and make your hair extensions silky and smooth.
With glued hair extensions, you must take extra caution since the glue may come off. Hence, go for a wash right away after getting out of the water, and then allow your hair extensions to dry completely.
Read more: Salon tips: How to wash human hair weavon at home
Comb your hair extensions
After a swimming session, you might not have enough time to fully wash your hair. But remember to comb your hair to remove the tangles. It's best to use a detangling brush to get rid of the knots. And avoid rubbing or scrubbing your hair extensions while combing.
Conclusion
So, can you swim with hair extensions? The answer is yes.
Swimming is definitely OK, but don't let your extensions soak in the water for too long, dry and comb them as soon as you exit the pool or the ocean. Also, don't forget to tie up your hair or cover your hair with a swimming cap before you enjoy your swimming time.
Follow BigG Hair for more hair care tips and styles!