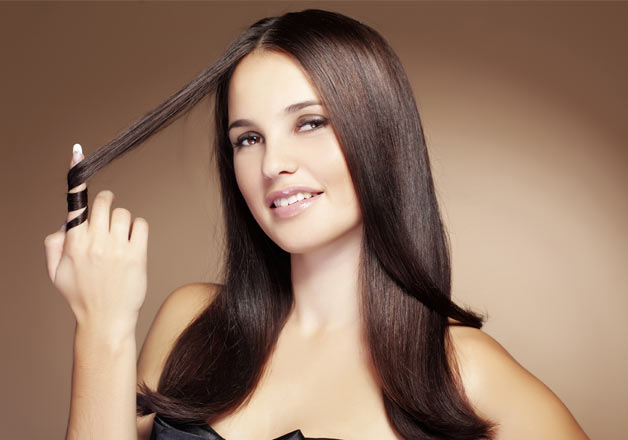 3 easy ways to know the length of hair
There are a 3 ways in which you can know your hair length. Bear in mind that this will give you an average hair length, as the distance between the top of the head and a waist of a tall and a petite woman are difference.
Using a Tape Measure
When you want to get the most accurate measurement of your hair, use a tape measure. Use the tape as the scale. With this method, you can detect the slightest change with your hair length. The secret to accurately measuring hair length is straightening the hair. Part a small section of your hair sideways and comb the entire head thoroughly. Place the tip of the measuring tape at the front hairline and lead the measuring tape to the back of your head. Straighten the hair using your hand while it is against the measuring tape. Run your hand through the hair to the hair tip without letting go of the tape. Hold the tape where you felt the last hair and read the measurements. This way help you get the accurate hair length in inches, track your growth progress and calculate your hair's average growth rate. However, this method is a little bit complex. You will need the help of a friend to get accurate results. It is also a tricky process getting the measurements at the back of your head, especially when your hair is long.
Length Checking Shirts
The length checking shirts is good method to calibrate at the back. All you need to do is wear the shirt and stretch a few strands of hair to check the length. The lengths you can measure with the shirt are armpit length (APL), mid-back length (MBL), Bra-strap Length (BSL), and waist-length (WL). The shirts are readily available in the market. They are also very affordable.
You can accurately track your hair growth with this method and easy to do. The shirts are readily available in the market. However, the calibrations are not globally accurate. Body shape are difference with each person and it will affect the calibrations  and measurement
Take comparison Shots
This is the easiest method of checking your hair length progress. You need to take photos of you at different times. Make sure you take the shots at regular intervals, for instance monthly or after every three months. When you are looking at your hair at the mirror, you may not notice any change, but documenting the length in the form of a photo, it makes it easier to detect the length. Taking shot is suitable for people who want to embrace the extra-long hairstyles.
Hair Textures
Remember that not all hairdos suit every hair texture. Straight and wavy texture can easily choose the length of hair. You can go for very short or long and medium hair. However, curly texture is seemingly limited in length due to the characteristics of hair. Short and medium length are perfect for curly texture.
Facial Shapes
Not only hair textures, but your face shape also plays an important role. Some certain haircuts and lengths are more flattering on square faces but they don't work on round faces, etc.
Oval shape if you were born with an oval face shape, it is your lucky as suits most of the length of hair. If ladies like short hair, opt for a bob wig 8-10 inches . If you love long hair 18-32 inches, select style your hair with minimal layers, create waves or curls so that it makes you look gorgeous.
Square face shapes may consider softening the edges around the forehead and strong jawlines, so wavy shags with wispy fringe, soft side-swept bangs, or long layers with fringe work best. The length is the most suitable 16-24 inches.
Round face shapes works well with a long bob. Heart shapes look best with blunt bangs and wavy layers or a chin-length bob with bangs.
Oblong/Rectangle face shapes take a similar approach to square faces and suitable with long hair 18-24 inches.
Diamond shapes can show off their high cheekbones with short-cropped hair, or keep it long with face-framing layers
In the nutshell, there is no standard length to tell which length is better for you. Different women look fabulous in various lengths. Choose the length that suits your desires and looks best on you. Your hair should look sassy and healthy. As long as you can take care of that length, be free to keep it!