It's chill to try different colors for your hair. You can get a new color to refresh your look while finding the best hair color. In the search for a suitable hair color, going blonde to black is surely a great option. Going from a bright to a dark shade will indeed create a dramatic change in your look. And since it does not involve bleaching, whether your hair is blonde or dyed blonde, you can also minimize damage to your hair. So, below is our tutorial on how to dye your hair from blonde to black.
How to dye your hair blonde to black?
Step 1: Choose the black shade you want
There are many different black hues available, including jet black (#1 color), off-black (1b color), and brown-black.
Jet black is the deepest black shade. It has a less natural look and may have tints of other colors, such as blue or even purple.
Off-black is the best black for a more natural look. This shade lies between jet black and dark brown color. Your hair will look more brown than black if you use off-black color. This is also the best black shade to start with since you can always dye your hair darker if you decide you prefer a darker shade later.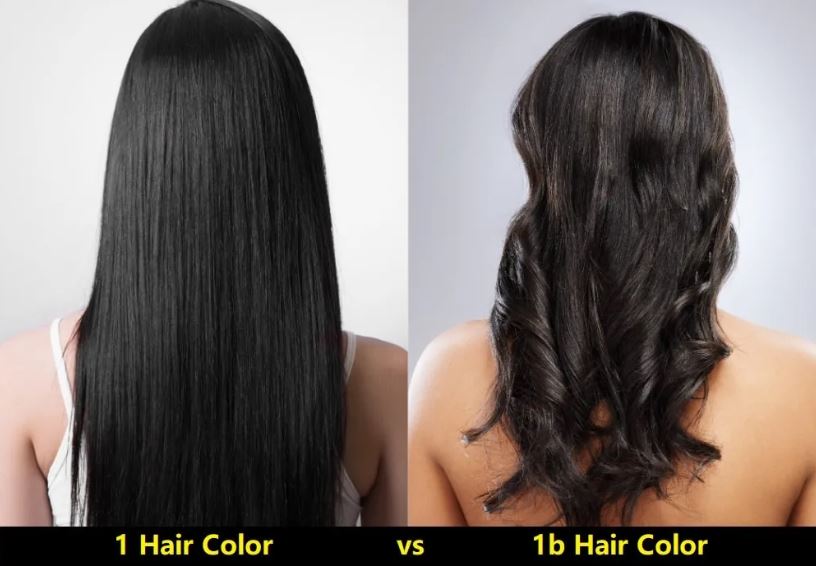 Step 2: Gather everything you need
If you are using a box kit to color your hair, it will come with everything you need. Yet, if you are not using the box kit, you will need a hair dye, volume 10 developer, gloves, tinting brush, dye mixing bowl, protein filler or color filler (for bleached hair), shower hat, and color-treating conditioner. If your hair is long, we recommend buying more than one box of hair dye and developer.
Step 3: Prepare hair dye
If you are using a box kit
Normally, dye kits will come with instructions, but if you can't find them, here is the guide. Pour the dye into the bottle of developer (which is usually the larger bottle). Close the bottle and shake it well to mix the hair dye. There will be a plug on the bottle that you must either break or cut it off.
If you are not using a box kit
If you are not using a box kit, you will need to mix the hair dye and developer at a ratio of 1:1.
Firstly, pour 2 ounces of 10-volume developer into the dye mixing bowl. If you have lengthy hair, you need to pour 4 ounces instead. Then, add an equal amount of hair dye into the mixing bowl. Use your tinting brush to mix the dye and developer until the hair dye is fully mixed into the developer.
Please note that you must use a non-metal mixing bowl since metal can react to hair dye and change the color.
Step 4: Apply protein filler (or color filler)
If you have bleached hair and want to go blonde to black, you must start with a color filler to not get the unwanted green. If your hair is not bleached, you can skip this step.
What you need to do is apply permanent dye of an intermediate shade without using peroxide to your hair. Then, wait for 30 minutes, and don't rinse your hair at this stage.
Step 5: Apply the dye
It's important to protect your skin and clothes when applying hair dye. So, while dying your hair, you should wear an old T-shirt and an old towel. You can also use petroleum jelly to protect the skin near your ears and hairline. Put on gloves and place the mixing bowl and tinting brush on an old towel.
Then, divide your hair into four sections and clip away three sections, so you can have more space to work with each section.
Dip the tinting brush into the hair dye mixture and start dying your hair from the roots. Make sure to color the hair down toward the ends and that there is enough dye on each strand.
Repeat the process for the rest sections.
Step 6: Cover your head
Use a shower cap to cover your hair. Make sure all of your hair fits inside the cap. If it's long, bun it to make room for it all. You can find out from the hair dye box kit how long to keep it on, which can be anything between 20 and 45 minutes.
Step 7: Rinse the hair
You should rinse your hair with cool water. Make sure you thoroughly rinse the dye away until you see the water is running clear. Please note that you just need to rinse the hair in this step. Don't use any shampoo.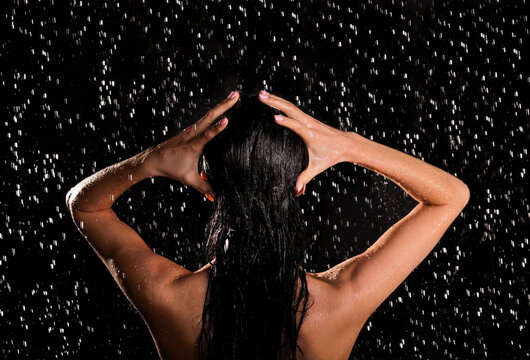 Step 8: Condition your hair
Your hair will be a little harsh after the dying process. Therefore, it's important to condition your hair to keep its lovely and silky look.
If you are using a dye box kit, they frequently include conditioner for you to use. Yet, if you are not using a box kit, make sure the conditioner you use is for color-treated hair or you may also use sulfate-free conditioner.
And don't forget to give the conditioner two to three minutes to work on your hair. After that, rinse the conditioner off your hair using cool water.
Step 9: Dry your hair
It's best to let your hair air dry since it has just undergone a harsh chemical process. Further heat exposure may make it brittle.  If you can't let it air dry, though, be sure to use a heat-protectant product on your hair and apply it before blow-drying it. Dry it on low heat.
Step 10: Wash your hair after 72 hours
Wait for another 72 hours before shampooing your hair again. You need to give enough time for the color to set and your hair cuticles to close. Besides, be sure to use a color-safe shampoo and conditioner to keep the color stay longer on your hair.
How to maintain black hair after dying?
To maintain the black shade in your hair while keeping its healthy look, we recommend you follow these haircare tips:
Don't wash your hair too frequently. 2 to 3 washes per week are ideal.
It's better to use cool water when washing your hair
Use color-treated or sulfate-free shampoo and conditioner
Use a leave-in conditioner and a deep conditioner at least once a week or every 2 weeks to keep your hair healthy
Limit heat exposure on your hair and use a heat protectant product on your hair before you use heat tools
Stay away from the pool for a few weeks after dying your hair since chlorine might fade the color.
Retouch the roots of your hair every 3-4 weeks
If you want to go blonde to black without a chemical process, consider using hair extensions like weave hair or clip-in, tape-in, etc. What you need to do is choose the shade and length you wish and apply it to your head.
Going blonde to black is a great process to bring you a new transition in life. It will be a great experience when you follow the right steps to achieve the look. So, try it out now and enjoy your time with it!