Frontal is in trend right now. This is because of their versatility and how it blends into your own scalp. So, in this blog post, we will include everything about this stunning hairpiece, what is a frontal, its type, price, benefits, and more.
What is a frontal?
Frontal is a type of hairpiece similar to closure. It is a strip of material running from ear to ear. A lace frontal is a frontal that uses a lace base to blend into the natural skin and hairline.
Wearing a frontal protects the hairline and gives you the most style options when it comes to hair extensions. A frontal would be a brilliant option if you like your hair pushed back and away from your face.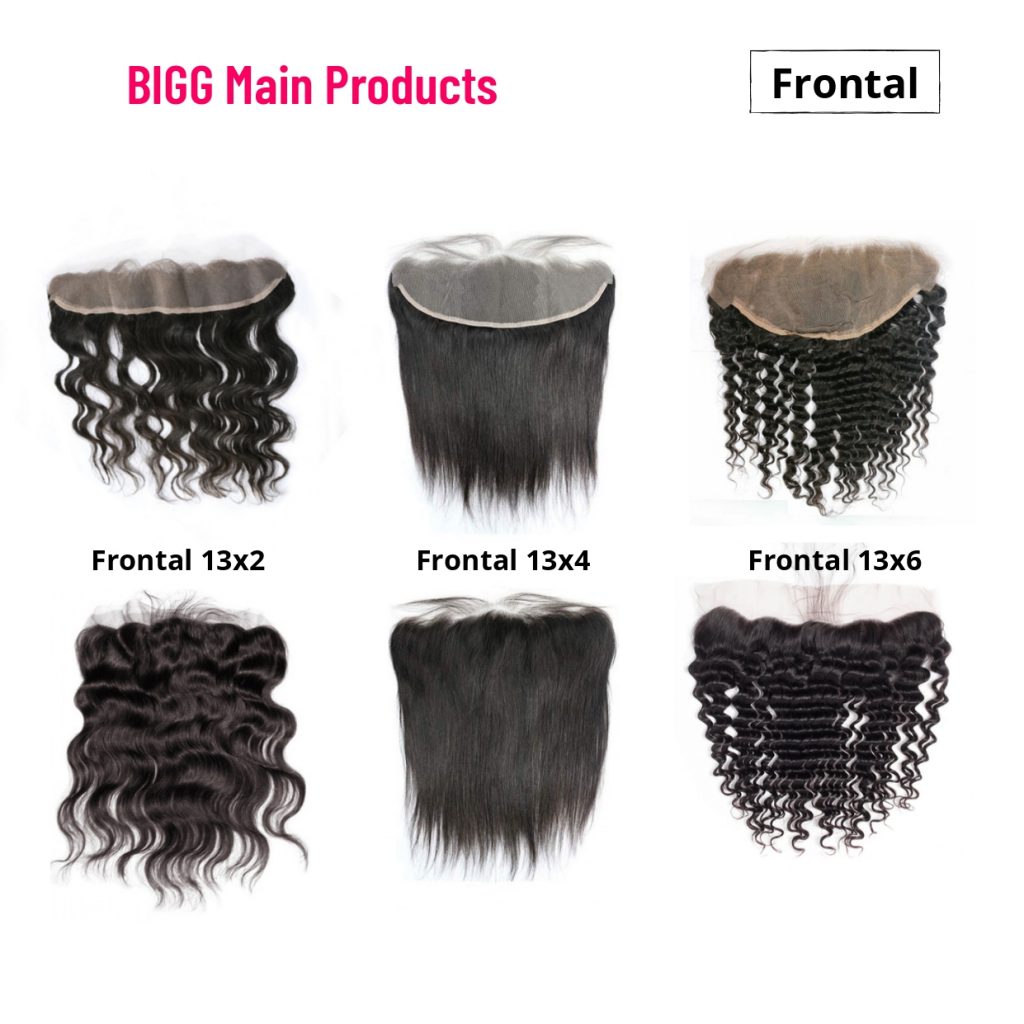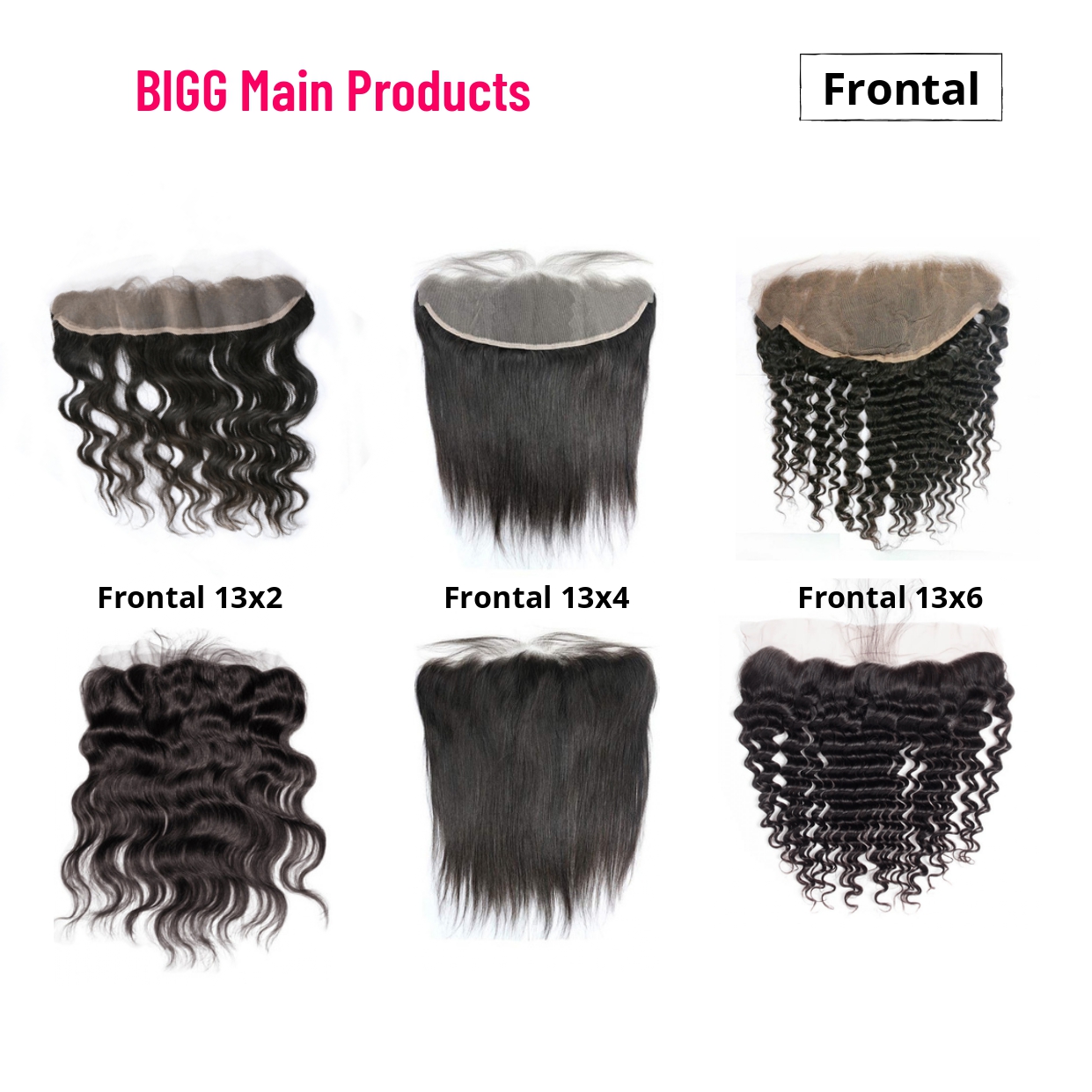 Types of frontal and how much is frontal in naira?
Just like closures, there are several ways to categorize frontals like types of base and size of the base.
Types of base: There are also two types of base for frontal, namely silk base, and lace base. Yet, unlike closures, silk frontals are not as popular as lace frontals. Lace frontals are designed to look like your natural scalp. Silk base frontals are less natural-looking and need more customization and adjustment to achieve a more natural and realistic appearance.
Size of lace base: Based on the size of the lace base, there are 3 common types of lace frontal, namely 13×2 lace frontal, 13×4 lace frontal, and 13×6 lace frontal. Among these types, lace frontal 13×4 is the most popular size of the frontal.
So, how much is frontal in naira?
Depending on the hair color, length, texture, and type of frontal you are going to purchase, it will cost you more or less. For example, a black natural straight 13×4 lace frontal will be lower in price than a black bone straight 13×4 lace frontal.
At BigG Hair, lace frontal starts at 22.000 Naira. So you can see that, compared to closure, frontal is more expensive. However, it is worth it to get a natural and seamless look.
Why should we use lace frontal?
Save more time on installation
Lace frontals are simple to apply and take less time to do so than sew-in natural hair extensions. Lace frontal wigs take less than an hour to install on average, while extensions with frontals take an hour and a half. Sew-in natural hair extensions, such as fusion hair extensions, normally take 2 to 4 hours to install, depending on the desired style. Lace frontals are the go-to trend for modern women who wish to protect their natural curls while also spending less time getting dressed every day.
Versatility
One of the most appealing aspects of wearing a lace frontal is the flexibility it provides, allowing you to arrange your wigs or extensions in any way you like, from ponytails to the middle or side part. Lace frontals give you a natural hairline and almost as if you're styling your own hair!
Comfortable to wear
We've all had the experience of having to wear our wigs or sewn-in extensions and being really uncomfortable in extremely hot weather. Yet, with lace frontal, you can forget that circumstance. Lace frontals are light and airy. It allows a steady flow of air to your scalp and hair, so you will be more comfortable wearing the hairpiece.
What is the difference between frontal and closure?
Just like closures, frontals are used for wearing wigs, weaves, or hair extension pieces. However, a frontal covers the full front area of your head from temple to temple right at the hairline, whereas a closure simply encloses a small area at the top of your head. Accordingly, lace frontals secure a more natural hairline while allowing users to have more options when it comes to hairstyling.
See more: The truth about the difference between frontal and closure
How to use frontal?
A lace frontal is a basic item in the hair extensions industry. It can be used to make a frontal wig and a sew-in weave with a frontal and some hair bundles.
You can easily buy a lace front wig online or have a frontal sew-in done at a hair salon. But if you want to cut some costs and do the work on your own, let's follow our guide on How to make a frontal wig. If you master the wig-making skills well, you can even start selling your own wigs.
How to install frontals?
Although a frontal is designed to be glued down, it can also be placed in various ways. It can be sewed onto an anchor braid in your own hair, attached at the hairline with an elastic band, or fixed across the hairline using lace wig tape. Some folks even don't use any glue or other products to keep their frontals in place.
Installing a lace frontal with hair extensions can dramatically reduce the time required to complete a full head of extensions. It takes around an hour to install a full head of extensions with a lace frontal.
Read more: How to install frontal?
How to maintain frontals?
Lace frontals are quite fragile and require TLC from time to time. You can't treat them the same way you'd treat your scalp. And since a lace frontal is not cheap, you should handle it cautiously. Below are some tips to take care of your lace frontal:
It's better to avoid scratching, intense scrubbing, harsh combing, and low-quality hair products.
Use proper hair care products: To keep your hair looking beautiful, luscious, and hydrated, use sulfate-free hair care filled with safe and effective ingredients.
Don't overuse heat styling: Extreme heat will damage your hairpiece and shorten its life. So, reduce the number of times involving heat styling on your lace frontals, and don't forget to apply heat protectant before you start styling the hair.
What styles can we do with a frontal?
Since lace frontal cover the entire hairline, it gives you the freedom to try so many different hairstyles with a natural-looking result. You can have half up, half down, braided styles, bangs, low buns, and many more styles to diversify your look.
Read more: Frontal styles – Tips and styles for a stunning look
So now you've got a full understanding of frontal. If you are not sure where to buy this item to make wigs or buy in bulk for your business, let's make a visit to BigG Hair's website and official store in Lagos. You can see and experience the best human hair lace frontal that comes at an unbeatable price!