No one can deny the increasing popularity of bone straight hair. It's classy, fashionable, and can go with every setting. The hair is stunning itself with the basic black color and silky tresses. Yet, if you want to look more special with your hair, you can always get another style. And below are the best bone straight hairstyles that BigG recommends you try and rock this summer.
Can we restyle bone straight hair?
As a user of bone straight hair weave, you are probably advised not to change the style of bone straight hair. As the hair cannot be curled, for it will not hold the style and can get damaged due to heat styling, people often think that bone straight hair lacks versatility. But in fact, you can still diversify your bone straight hair with many styles like opt for a ponytail style, go ombre, or choose a lovely haircut.
For bone straight hair weave, although it is not advisable to change its color, you can still recolor the hair. Just make sure that it's not a bright blonde one.
So what are the best styles we can make with bone straight hair?
Top 5 best bone straight hairstyles for this summer
Short bone straight bob hairstyle
Bone straight hair does not necessarily involve long tresses. Short and medium lengths can be very sexy if you go for the right haircut. And opt for a short bob hairstyle can be a fantastic way to tone up your bone straight hair.
With this bone straight haircut, you'll be on-trend right now. And since the short bob hairstyle never goes out of style, you may retain it and style it to look elegant, casual, or edgy with just a few styling methods.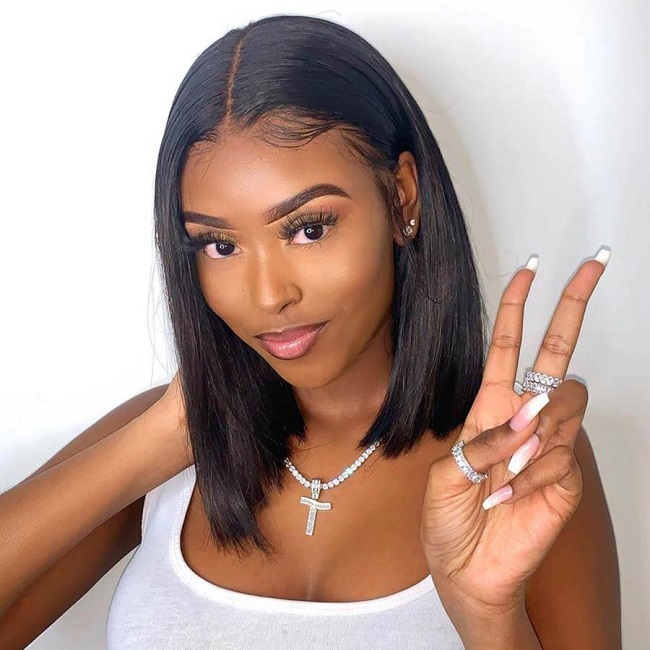 Especially, this short bob is a great choice for ladies who love short hairstyles but are a bit cringe at a pixie cut. You can still shake your head and feel the smoothness of your bone straight hair. Its length is full enough to make you feel flirty and confident while showing your earrings.
Sleek high ponytail bone straight hair
This look will give you an Ariana Grande's vibe.
Bone straight hair and super high ponytail can be a killer combo for every lady who is seeking a hairstyle to join a long gown event. Putting your hair into a high ponytail can highlight the long silky tresses of your bone straight hair in your every move.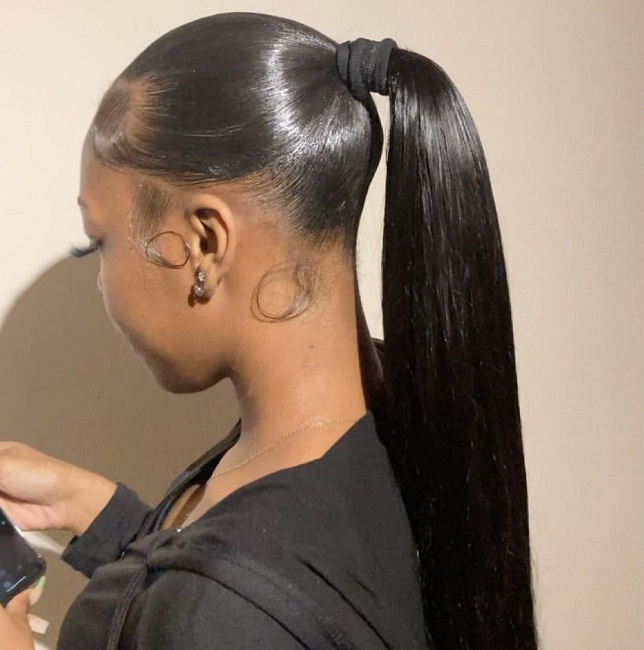 This sleek simple updo will come in useful on those lazy days. You'll look great and be ready to go in minutes with a little product for hold, gloss, or volume. Though easy to do, this sleek and versatile high ponytail is a perfect hairstyle that adds a classy and fierce look to any outfit.
You can part your hair into two sections, one at the front and one at the back. After that, pull them together at the crown.
Bone straight hair with blunt bang
Blunt bangs have always been a very popular method to wear bangs. When going with the right hairstyle, it does not only appear fashionable, but it can also offer you a very stunning and effective appeal. The finest thing about blunt-cut bangs is that they provide a sense of certainty. Its bold look like showing the world what you want and you are not afraid to pursue it.
And that's blunt bang is a perfect match for bone straight hair. It highlights the sleek look of the hair and reflects your personality.
The blunt bang on bone straight hair will have the best look for people with oval, round or long face shapes.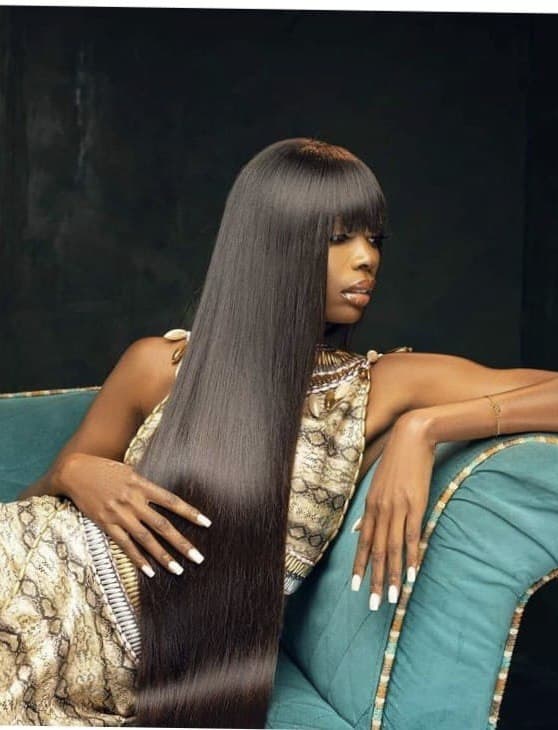 Special ombre bone straight hair
Do you want to shake things up? Then ombre should be on your list of hairstyles to do with bone straight hair. It's bold and fun at the same time, but still subtle enough. Going ombre is a great way to show off your adventurous side within your comfort zone. It's also a marvelous way to add a little flair to your hairdo and show off your personality because it's so versatile.
You may think that ombre is not meant for straight hair since it looks flat and cannot have the dimension like that of curly and wavy hair. However, let's switch things up like this ombre hair weave from BigG Hair.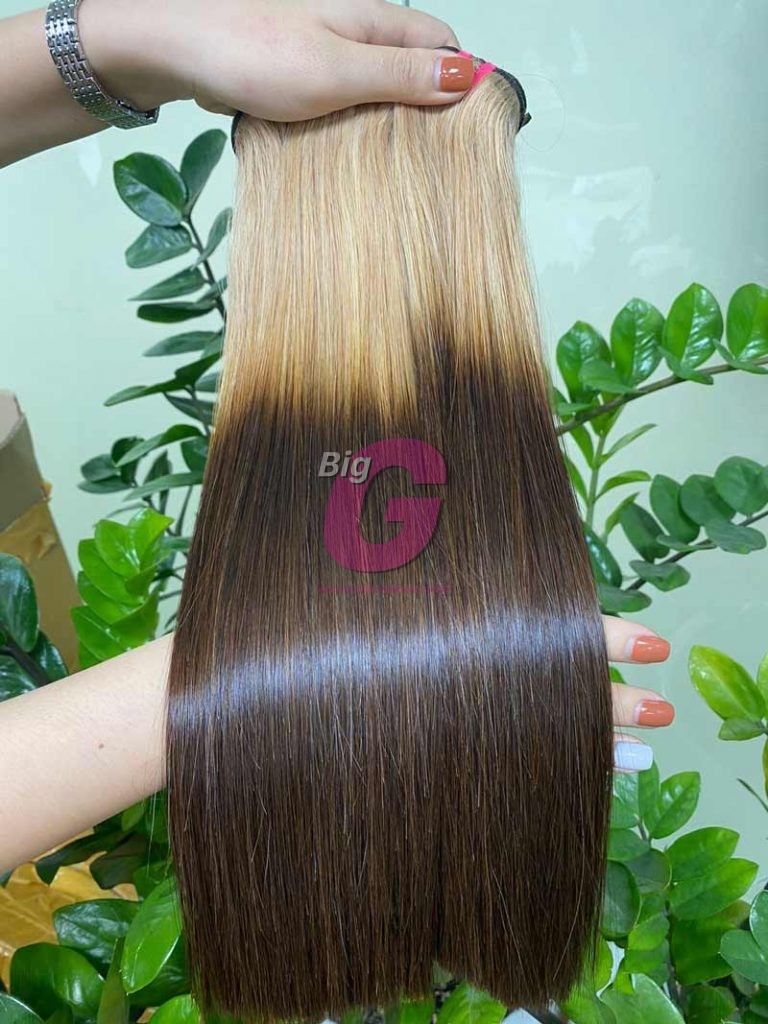 Instead of going "dark to light" like normal ombre hair, we choose the light blonde color at the top part and brown for the rest part. This hair can absolutely highlight your look with color blending.
Piano bone straight hair
What to do to color up your days? Let's try piano color bone straight hair to boost your mood.
As its name states, piano hair color typically intertwines like the keys of a piano. This beautiful color blending is achieved by vertically combining two or more separate hues or tones. And thanks to its uniqueness, piano color has never been out of fashion.
While it's not a great idea to re-dye the hair weave, you can always opt for a piano color bone straight hair weave like this G14 from BigG Hair. The color can be a really great way to brighten up your mood and enjoy the day.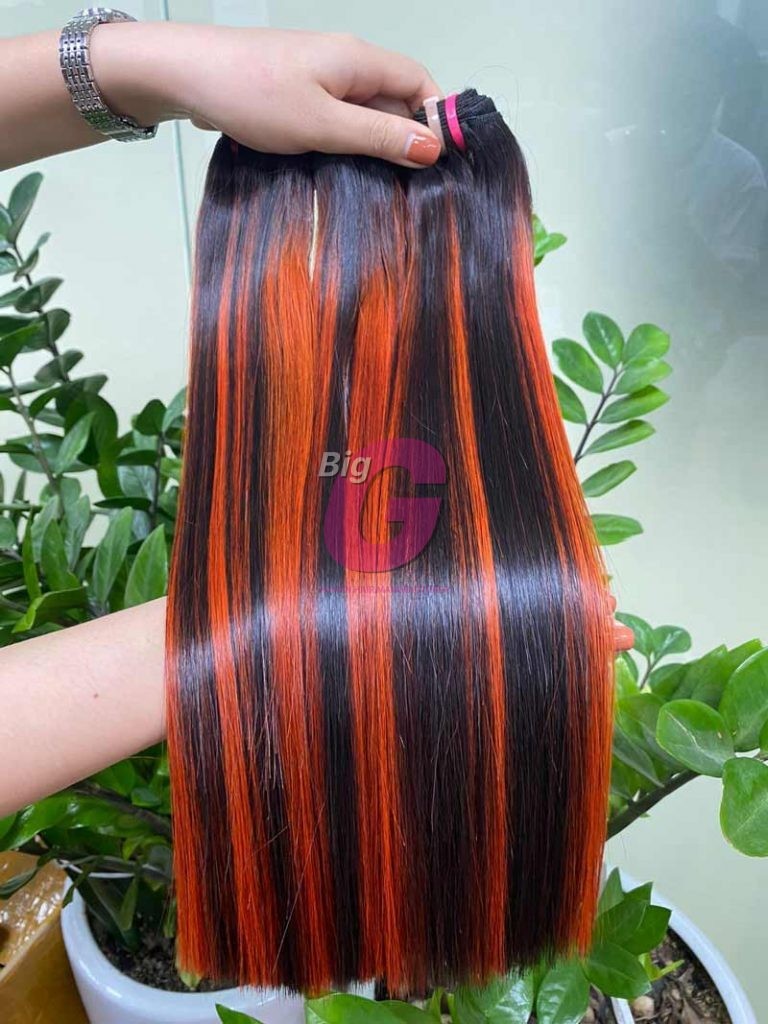 BigG Hair also has many other piano color options and trendy hues for bone straight hair for you to diversify your style with the hairpiece. Let's check it out on page BIGG HAIR COLOR CHART. We are sure you can choose a lovely color for your bone straight hair weave.
So above are the 5 best bone straight hairstyles you can try to change your look and be brighter this summer. Bone straight hair is not just about straight and black hair. You have many ways to make it more special with your creativeness.
And don't forget to follow BigG Hair's blog for more news, useful tips, and updated hair items.