Hair extensions, especially human hair ones, require maintenance just like your natural hair. And using oils is a part of the haircare process for your hair extensions since the hair does not get the natural oil from the scalp just like your bio hair. But can we use the same oils that we use for our natural hair? Below are the top 4 best oils for hair extensions that any hair user should have.
Coconut oil
Most of us probably already know a little bit about the wonderful advantages of coconut oil. Coconut oil can be found in various cosmetics products. It hydrates and restores tresses that have been harmed. Additionally, coconut oil can help our strands become thicker and stop hair loss.
Coconut oil could give you the softer hair extensions you crave. Apply it to your hair and give it at least 30 minutes to absorb before rinsing. You should warm the oil just a little bit before using it for the greatest results. Since this oil is thicker than others, thoroughly rinse it after use. Otherwise, your hair extensions may become greasy.
Pros
Cons

Strong coconut scent
Increase hair radiance

May cause greasy hair
Argan oil
Argan oil works well to prevent dryness and improve shine. It can work as UV radiant protection while restoring hair elasticity. Argan oil can be used as a finishing oil after styling because it is less greasy than coconut oil.
Pros
Cons

Protect the hair from UV radiation
Can be applied directly to the hairs
Restore the hair elasticity

Many argan oil products sold on the market are diluted for a lower price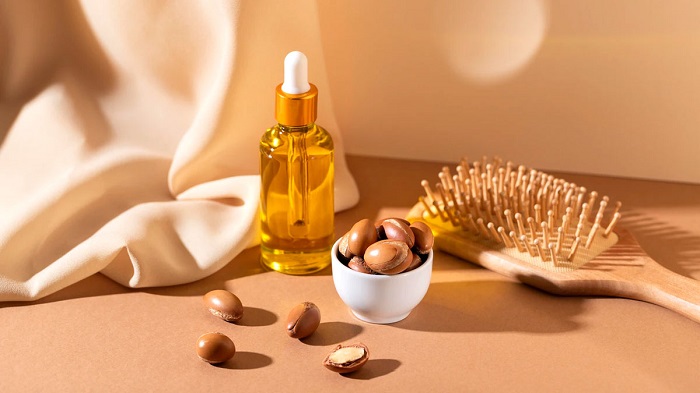 Jojoba Oil
Jojoba oil, which is obtained from the jojoba plant, has a chemical composition similar to the oil that is naturally produced on our scalps (sebum). Jojoba oil is therefore safe for all hair types. It moisturizes hair strands from the inside out, providing luster and softness to hair extensions, much like how coconut oil does. It's better to apply jojoba oil as a hair mask the night before washing.
Pros
Cons

Safe for all types of hair
Lessen hair shedding
Increase the natural oil in hair
Castor oil
Castor oil is the solution for hair extensions that need some serious TLC.  It helps to create a better environment on the dry scalp for stronger hair extensions.
Castor oil strengthens the hair's strands against breaking and gives the texture luster and gloss. Because of its thick nature, you should mix castor oil with another oil if you want to get the best results. Additionally, this makes your hair appear healthier and more natural. So, try to use it on your hair extensions at least once per month.
Pros
Cons

Hydrate dry scalp
Remove dark circles

Thick formula
Cause matting if frequent used
Hair extensions often do not come cheap, so treat it well just like your natural hair to keep its shine and lust. Don't forget to add the above four best oils for hair extensions to your list of hair care products. And visit BigG Hair's website for frequent updates. Thanks!