A flattering hairstyle can make all the difference when it comes to looking your best on your Big Day. Especially, if you are granted 24 inches hair, you are surely not limited to what style you can do. So, we've compiled a list of 10 bridal hairstyle ideas you can try for a flawless look at your wedding. Let's scroll down!  
How long is 24 inches hair?
In general, 24 inches hair can reach over your ribs, but this estimate is not fixed since it depends on how tall you are. 24 inches straight and bone straight hair can even reach down to the waist of a small-framed person.
In wavy and curly texture, 24-inch hair looks a bit shorter. 24-inch wavy hair falls at your middle back while the curly one just reaches the bra-strap length.
At this length, you can have a wide range of choices to style your hair, especially for a special day like your wedding ceremony. So, let's check out the top 10 wedding hairstyle ideas below to get some inspiration.
Top 10 wedding hairstyles with 24 inches hair for black women
Twisted Braids
Braids are more than just a feature of African hairstyles. They are an integral part. Since most black women have thick, textured, and curly hair, braids are essential for providing the best protective solution for hair.
And simple tweaks to this braided hairstyle can transform it into a bridal hairdo. Firstly, braid your hair in large chunky braids using the twisted braid technique. After that, lift the hair really high and then arrange it on top like a bun once it's all knotted up. And finally, let's complete your look with a few accessories that will complement your wedding gown.
Halo Braid with a Bun
Another bridal hairstyle with 24 inches hair you can consider for a classic look that can be worn with any hair type is a halo braid with a bun. Halo braid is a fantastic bridal hairstyle since it neatens up all of your hair, so you don't have to worry about the texture of your hair changing throughout the day.
Afraid that your hair is not long enough for this look? Don't worry. If your hair hasn't achieved the desired length or volume by the time your wedding day arrives, you can add hair extensions that match your hair's texture to make the braid. Then, with a few lovely hair accessories, you've got yourself a lovely, romantic bridal hairdo that's tailored to your hair texture.
24 Inches Human Hair Weave for Halo Braiding 
Pompadour and Double Chignon
This beautiful pompadour hairdo with a double chignon is sure to attract attention. It's not your typical appearance, and it's a terrific choice for the bride who wants to make a statement during her wedding in every manner possible.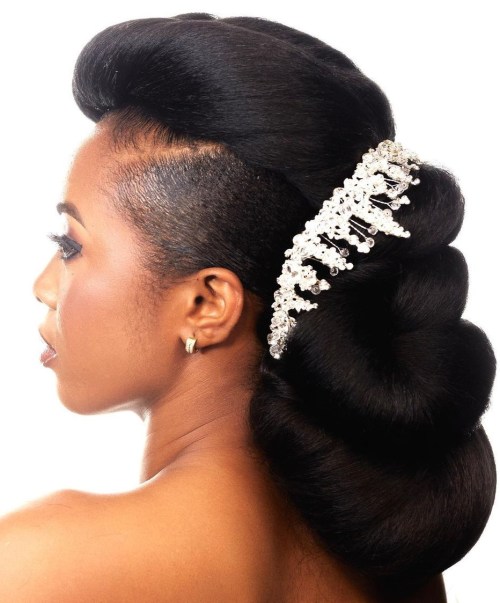 Box Braids With 24 Inches Hair
There are times when you don't need to make things too perfect. These loosely tied box braids look especially cool when they are not too well done. You can randomly clip up areas to attract emphasis to your bone structure and/or some really nice gems.
Bold and Beautiful
This style is ideal for women with extremely thick and long hair. With this style, all of the hair is neatly and securely pushed back into a large bun, which appears sassy and effortless.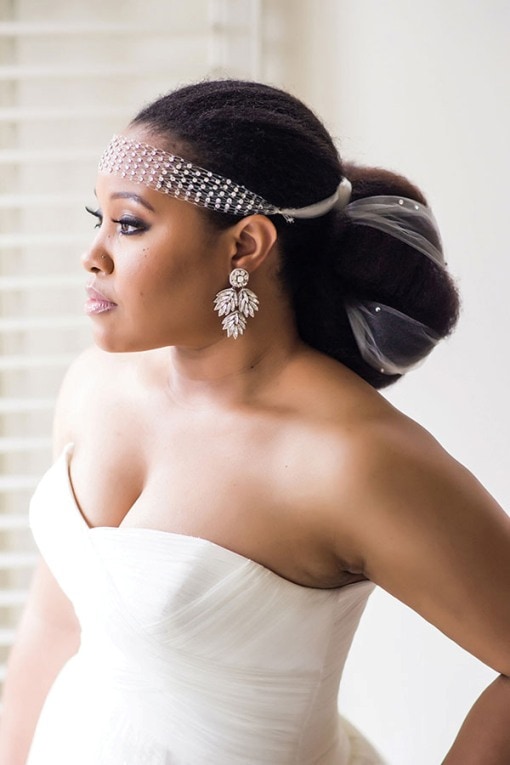 Loose Curls
Though loose hairstyles aren't the most popular wedding hairdos among African women, there are certain women who like to wear their hair down and look stunning. Others prefer dreadlocks or natural curls, while others straighten their hair to achieve gorgeous Hollywood locks. Yet, if you want a loose curly hairstyle for your special day, we recommend utilizing a statement headpiece to showcase your beauty and add a classy vibe to your hair.
Flowery Loose Braided Hairstyle
The loose braids make an accent on your hair structure while highlighting your hair length and volume. And to add some romantic charm to this wedding look, you can adorn it with beautiful flowers along the braid.
Blonde Updo with Wispy Bangs
Do blondes have more fun than brunettes? It depends, but there is one thing for sure: this blonde updo hairstyle is really lovely. It has a lot of texture and wispy face-framing bangs, which give a lot of interest to the style. If you've always wanted to try blonde, this wedding style is the way to go.
Straight Updo with Waves
With pearl accents and big bangs on each side of the head, this wedding updo is incredibly stunning. For extra appeal, you can create more tendrils near the back of your head. This style looks wonderful on everyone and goes with almost any wedding gown or theme!
24 Inches Natural Straight Black Weave Hair
Bubble Mohawk
The bubble mohawk is definitely a novel wedding hairstyle for you. From the front of your head to the nape of your neck, style your hair in a mohawk formation with bubble-like portions. This is a good pick for anyone looking to experience a style that is brand new and special.
Conclusion
Every girl wants to achieve a perfect look at their wedding. And getting the perfect hair length for a charming wedding hairstyle is one of the first steps to go. With 24 inches hair, you can shine your beauty with many different charming hairstyles. Don't worry if your hair does not have such length. BigG Hair is here to bring you our latest hair extensions that can turn you into the most beautiful and happiest bride ever!
Just Whatassp BIGG and you can get support any time!