If you're interested in getting a weave or making a wig, a natural look is an absolute need! You've already got the bundles, but now you have to decide if you'd like to finish your look off with a closure or frontal. How do you know what is right for you? More importantly, what is the difference between frontal and closure? Is one better than the other? 
What is the difference between frontal and closure?
Before figuring out the difference between frontal and closure, we're here to help you break down all things closure vs frontal, so you have an easier time understanding how these hairpieces help you complete your look. Here's all you need to know when it comes to understanding the difference between closure and frontal. 
What is frontal?
Frontal is a half wig that goes from ear to ear that is put on the top of your head. They are used to sew it with 3-4 bundles of hair to make a wig and complete your look. The base frontal is an illusion the scalp consists of a piece of lace fabric with numerous hair strands attached. The standard size of a frontal usually comes in 13×4, 13×5, or 13×6 inches. Frontals are usually more expensive a bit but you also need some hair bundles. The main types of lace frontal are the middle part and the side part. Also for those of you who just can not decide there are free part frontal allowing you to part your frontal in multiple ways.
What is closure? 
Similar frontal, closures are also placed at the top of the head to protect your natural hair and close off the style. They can be added to your sew-in or a wig. However, The size of lace closure is smaller than frontal lace. They usually come in square or rectangular-shaped pieces and various sizes 4×4, 5×5, 6×6, 7×7, 2×6, etc. The ideal size is 4×4 for anyone who wants a full-coverage weave.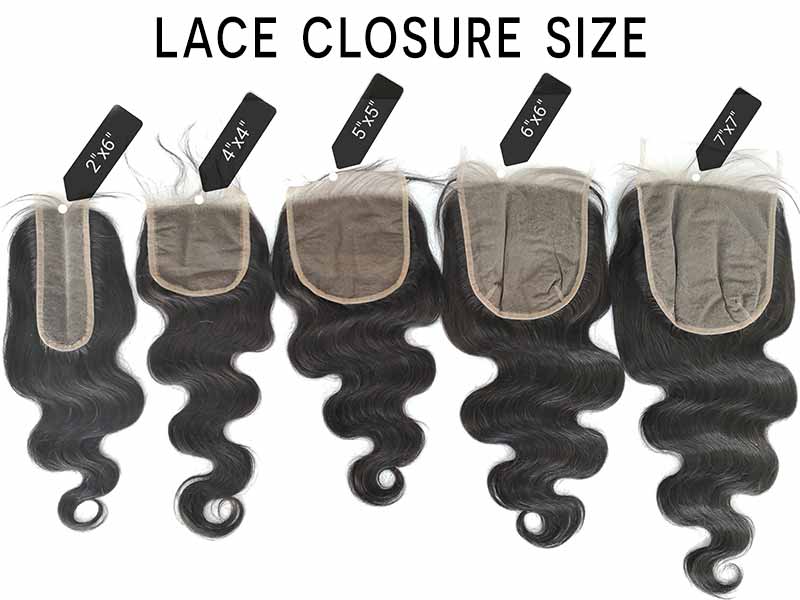 The difference between frontal and closure?
Beside closure vs frontal have some similarities such as easy-to-change part style or easy installation when sewn in or constructed into a wig, they also come in noticeable differences in size, versatility, and cost. 
The most obvious difference between closure vs frontal is size. Lace closures

hairpieces

are typically 4×4 inches in size and are placed in the middle of the head or on the side for a side part whereas lace frontals

hairpieces

are normally 13×4 inches, and go from ear to ear, which gives better coverage, allowing you to be able to style the hair more flexibility.

Frontal is more

versatile than closure. Closure lace only covers a small portion in the front of the head, so it is impossible to pull back the sides without exposing tracks. A lace frontal covers the entire hairline and is able to allow you to achieve a styling option that a closure does not. 
Cost is the next major difference. Lace closures are much cheaper a bit than lace frontal, due to

frontal lace has more lace and hair material.

However,

closures are the best choice for simple everyday looks. 
Why closure and frontal are necessary?
The reason most women need lace closure vs frontal is to use it to make a wig for a natural-looking hairstyle. Because the lace closure can be the same as our own scalp. The lace will cover a part of most of the front of my head and it will give your look real and natural. They also allow us to freely part the hair into any one side. So frontal vs closure are very useful to make a wig.
Which one is the better? 
At the end of the day, how to know which one is the better option for you. The choice between frontal or closure depends on your personal preference and the look you want to achieve! The best choice is the closure or frontal that looks most natural on you. Both will give you a full install with the delusion that hair is growing directly from your scalp. Either way, they both will enhance your install or wig by giving it the natural look that we all go for!