Wig maintenance does not stop at the washing and conditioning process. The way you store your wig also takes part in keeping its fresh look and lifespan. Learning how to store a wig is another step you need to do during the process of using a wig. And this blog post will give you the best tips for wig storage.
What do you need to do before storing your wig?
After you take off the wig, don't straightly put it away, especially if you are not using it soon. Before you store your wig, make sure that it's clean and dry completely. This will help the wig last longer and retain a vibrant look. Below are several things you should keep in mind before storing your wig:
Wash and condition your wig: Washing and conditioning your wig every week or two, especially before storing it, is the only way to keep it looking as new as possible.
Detangle your wig: Detangling your wig before storing will prevent frizz and shedding while giving your wig the best look for the next use.
Dry your wig completely: If you store your wig when it's still wet or slightly damp, it will attract dust and get mold and mildew. When working with human hair wigs, you can speed up the drying process by using a blow dryer (and heat protectant), but synthetic wigs should be thoroughly air dried to avoid any damage.
Keep your wig out of the heat, direct sunlight, and high humidity: Heat and direct sunlight will fade the color of your wig and weaken the hair strands, making it dry and fall apart. Besides, a place with heat and high humidity is a great condition for mold and mildew, which will harm your wig. Therefore, it's necessary to put your wigs in a dry and cool place.
How to store a wig?
Wig stand/wig head
Wig stands and wig heads are the best places to store a wig. Even if you don't have enough space for several wig stands, it's worthwhile to get at least one for the wig you wear the most frequently.
Using a wig head or wig stand, you can keep the shape and style of your wig. You will surely appreciate it when you wear it the next time. These items are also a great place to dry your wig. So, you don't have to make the hair fully dry if storing your wig with these items.
There are different types of wig heads like canvas heads, and Styrofoam heads. Just choose the one that fits your space and you feel easy to use.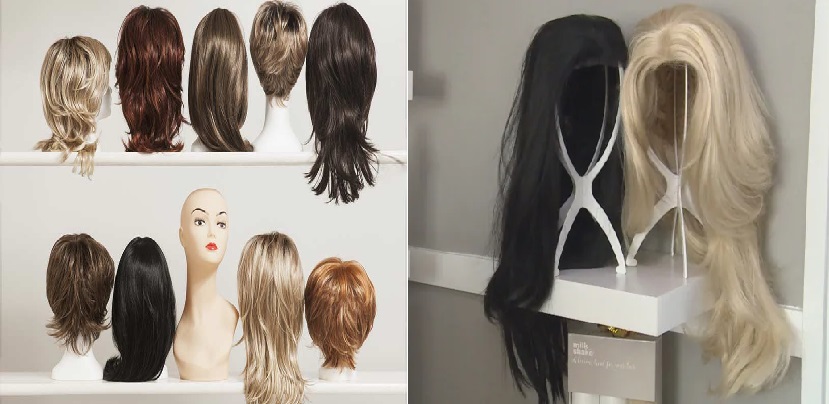 Wig hanger
If you have multiple wigs, storing them in a wig hanger is a great way to save space. Wig hangers can be used for both long and short wigs. You no longer have to use different wig holders for your short and long wigs. Long wigs have more space to hang without tangling, which extends their life.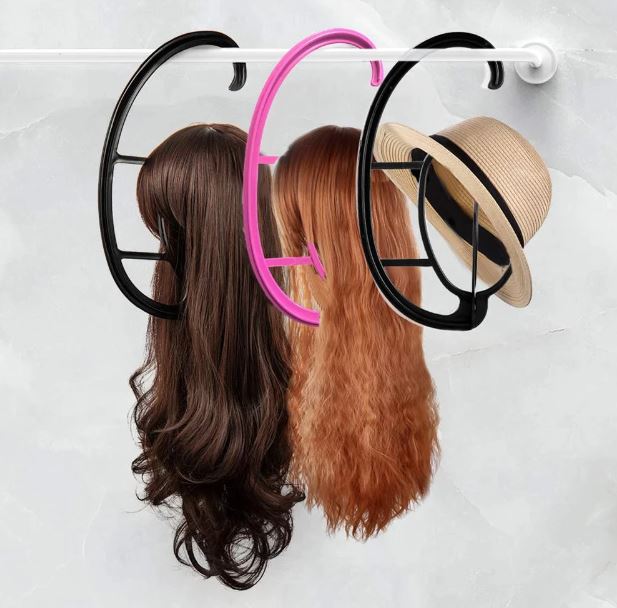 Shoe boxes/storage boxes
Once your wig is dry and detangled, you can store it by laying it flat in a shoe box. If you don't have any shoe box around, any storage box can be used for easy storage.
Silk or satin bag
A silk or satin wig bag is another fantastic option for wig storage. Storing your wig in a silk or satin bag will maintain a silky look for your wig and keeps it from tangling.
You can easily find these bags on the Internet or you can make use of your old satin pillowcase for wig storage. Another marvelous thing about this method of storing wigs is that it takes up almost no room.
Wig storage bag and hanger
Wig storage bags and hangers are a combo to kill which is specially made for wig storing. You can easily search for these items on Google search and make an order. They are available on many e-commercial sites.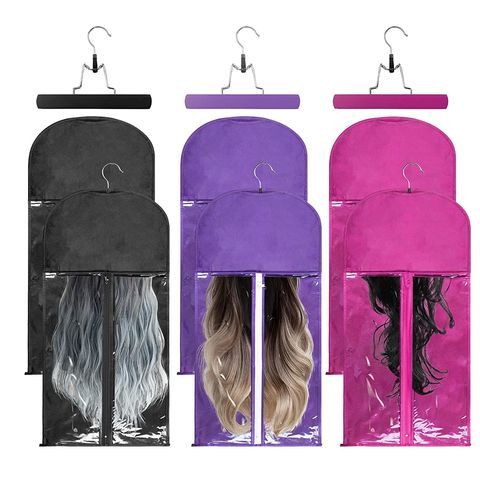 Fold your wig
Folding your wig is a wonderful option if you don't still have your wig box or if you need to store it while traveling.
Your wig should be folded properly by folding it in half from ear to ear and placing it inside a new plastic bag. It's also better to stuff the wig with tissue paper to help it maintain its shape in the bag.
The better you treat your wig, the longer it will stay with you. So, take our tips on how to store a wig whenever you put it away. And don't forget to visit BigG Hair's website for more updates on human hair wigs and things to know!