It is important to keep your human hair wig clean in order to ensure longevity and the best look. Maintaining and washing human hair wig is not difficult; it just requires attention and gentle care. 
To help you know how to wash human hair wig more easily, let's get started with the washing human hair wig process through 5 guiding steps below. Hope that the guidance would be useful for you. 
Preparing 
Here is a list of all the materials and tools you need for the wig cleaning process: make sure you have everything on hand before starting taking care of your 
Shampoo and

condition

Wide-tooth brush 

Clean Towel 

Sink

Hairdryer
How To Wash Human Hair Wig
Step 1 Brush 
The first step you need to brush and disentangle any knots that may have built up through everyday wear. Use a wide-tooth comb or finger to gently comb out the knot of the hair. It is best to start from the bottom and move carefully to the root. 
Step 2 Soak 
Fill sink or basin with cold water. Place the wig gently into them and soak wig for five to ten minutes or a little longer depending on how soiled it is. The soil would be naturally removed. Even wig is quite soiled remember do not twist, rub or wring it. After soaking, remove excess water by your hand and get ready for the next step.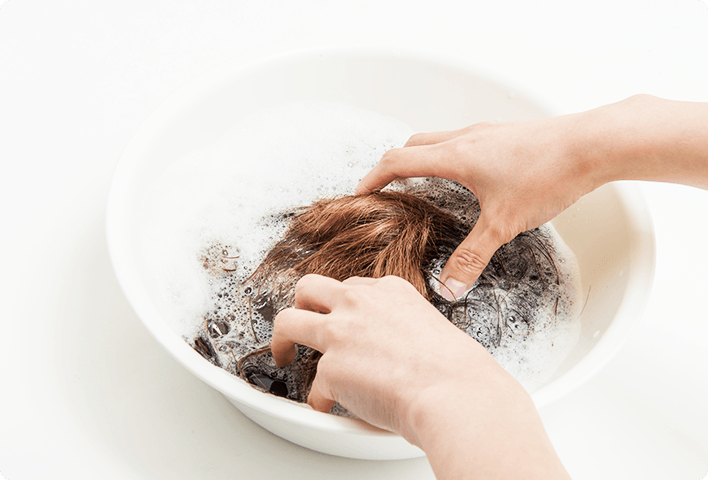 Step 3 Shampoo 
After the five minutes of soaking, place a small amount of shampoo into your hand (like as you were washing natural hair) and add to the hair from root to the ends. When it comes to the cap, you should apply shampoo in circular motions for better cleaning or use a small toothbrush to clean the cap gently. 
After shampooing, rinse your wig thoroughly in cool water to remove all of the soap. Make sure that the shampoo is all gone before moving to the conditioning step. 
Step 4 Condition
Applying to condition is an important element of the wig-washing routine as it helps to keep it looking great and lasting longer. To condition, pour clean, cool water into your sink or basin. Immerse the wig in the conditioner solution, gently working the solution through in hair. Leave the conditioner on for a few minutes (3-5 minutes) before rinsing, to allow it to penetrate and nourish the hair.
Remember to apply conditioner from the middle to the end and keep the conditioner away from the top of the cap, especially with any knotting in lace or hand-tied cap. The conditioner can easily loosen the knotting and cause the hair to fall out.
Step 5 Dry
You should hang your wig on a wig stand in order to avoid tangling when the hair is wet. Dry your wig after the hair gently squeezes the water out using a clean towel. Start by drying the wig cap first and then dry the rest of the wig. Keep in mind that never comb your wet wig, as it will not only frizzy it but also cause it to be damaged. You should not dry completely and use a comb to smooth your wig at the end for styling. If you want, you can also decide to spray some conditioning on your wig to complete your wig-care routine. 
How Often You Should Wash Human Hair Wig?
It is not easy to tell you how often you should wash human hair wig, as that will depend on personal choice. However, it is recommended to wash a human hair wig every 7-14 days of wear. Each time your hairpiece is washed, the lifespan of your wig is reduced. For this reason, the wig should not be washed too frequently. The key is to figure out the right routine for your wig. 
Tips to prolong your wig's lifespan
To maintain your wig to get the longest longevity, Beside 5 steps how to wash human hair wig above, we also recommend some tip to below:
Avoid rinsing with hot water will damage the cap and can cause the hair to become dry.

We recommend keeping the heat around 280 degrees when

styling your human hair wig.

Wash or rinse all human hair products and styles before wearing them. Human hair is not ready to wear out of the box.

Do not recommend, showering, sleeping, or swimming while wearing the wig.

Avoid brushing the hair when it is wet to prevent damage. 

Any cutting or styling of your human hair wig should be done in professional stylist.
To prolong the longevity of your wig, we would love to share some tips for you. If you found this helpful, don't hesitate to let us know, as we will be more than happy to hear that we helped you!