The last thing a wig wearer wants while using a wig is their wig falling off or sliding off the head. Therefore, it's a must to know how to secure a wig on your head so that you can confidently walk out with it. There are two main ways to secure a wig that involve using glue and non-glue methods. So, let's dwell on it in this post.
Secure a wig using wig glue
Wig glue is one of the most common methods for wig installation. It's a very secure technique of wig attachment and it is pliable (it will move with your skin rather than staying stiff in one area). Wig glue is a transparent, stain-free roll-on adhesive. You can use water and alcohol to remove wig glue.
How to secure a wig with wig glue
– Dampen a cotton swab and run it gently along your hairline to remove oils and buildups.
– Gently apply the glue along your hairline
– Put on your wig slowly and carefully, working from front to back
– Once your wig is on straight, press it firmly down
– Gently press the hair down onto the glue and wait for about 10-15 minutes to make sure the glue is completely dry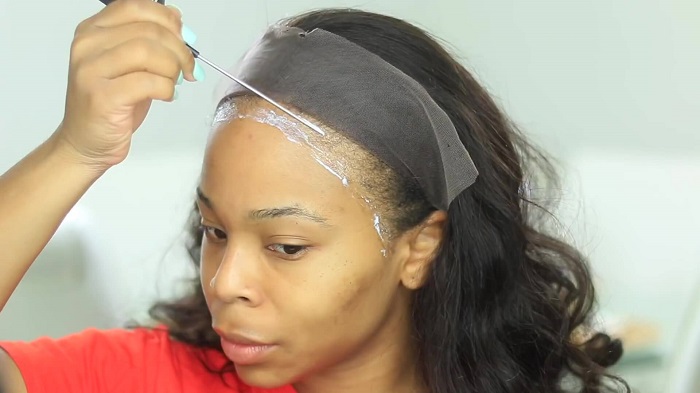 Pros and cons
Pros
Cons

Wig glue lasts a long time
Wig glue is a cheaper installation method
It's effective and can secure your wig tightly on the head
Easy to apply

Cannot remove the wig throughout the day since removing and reapplying a wig with wig glue can be time-consuming and difficult.
Not an option for sensitive skin
Can be overheated while you wear the wig
You may risk ripping or tugging at the skin if not removing the wig properly.
Secure a wig with the non-glue method
Wig tape
Wig tape is the double-side tape that is used to attach your wig to your head on one side and your head to the other. It offers the best assurance possible so that your wig won't slip off. Because wig tape is effective, celebrities favor it over all other application techniques.
However, if you wear a wig on top of natural hair, wig tape should not be an option.
How to secure a wig with wig tape?
– Cut the tape into the desired number of strips
– Apply the tape in any way that feels secure around your hairline. You can apply the tape all over your head if you have a bald head for a very strong hold.
– Slowly attach the wig, beginning from front to back
– Check the wig in the mirror to see if it's aligned with your hairline
– Press the wig down firmly and hold it for several seconds for better hold
Pros and cons
Pros
Cons

Your wig is extremely secure with wig tape. Wig tape will make wearing a wig less stressful if you exercise while wearing it or are attending big events.
A budget-friendly option since you can use a roll for a long time

If you want to take off the wig during the day to cool the head, wig tape should not be your choice.
You may feel overheated throughout the days
It's not easy to remove wig tape. You will need liquid solutions to take it off. Yet, if something gets stuck, the removal process won't be easy.
Wig grip
Wig grips are simple to use and ideal for both women with and without hair.
Wig grips are made of double-sided velvet and have one side that clings to your skin or hair and one side that grips your wig. The majority of wig grips have an adjustable strap that allows you to change the grip's size.
How to secure a wig with a wig grip?
– Smooth down your natural hair with hairspray, especially your baby hairs and flyaways.
– Put the wig grip on top of your hairline. Then, use the velcro strap at the back to adjust the grip to fit your head
– Place the wig on your head and check if it is straight in the mirror
– Shaking your head gently to check if the grip holds your wig tightly enough. If not, take off the wig and pull the grip tighter.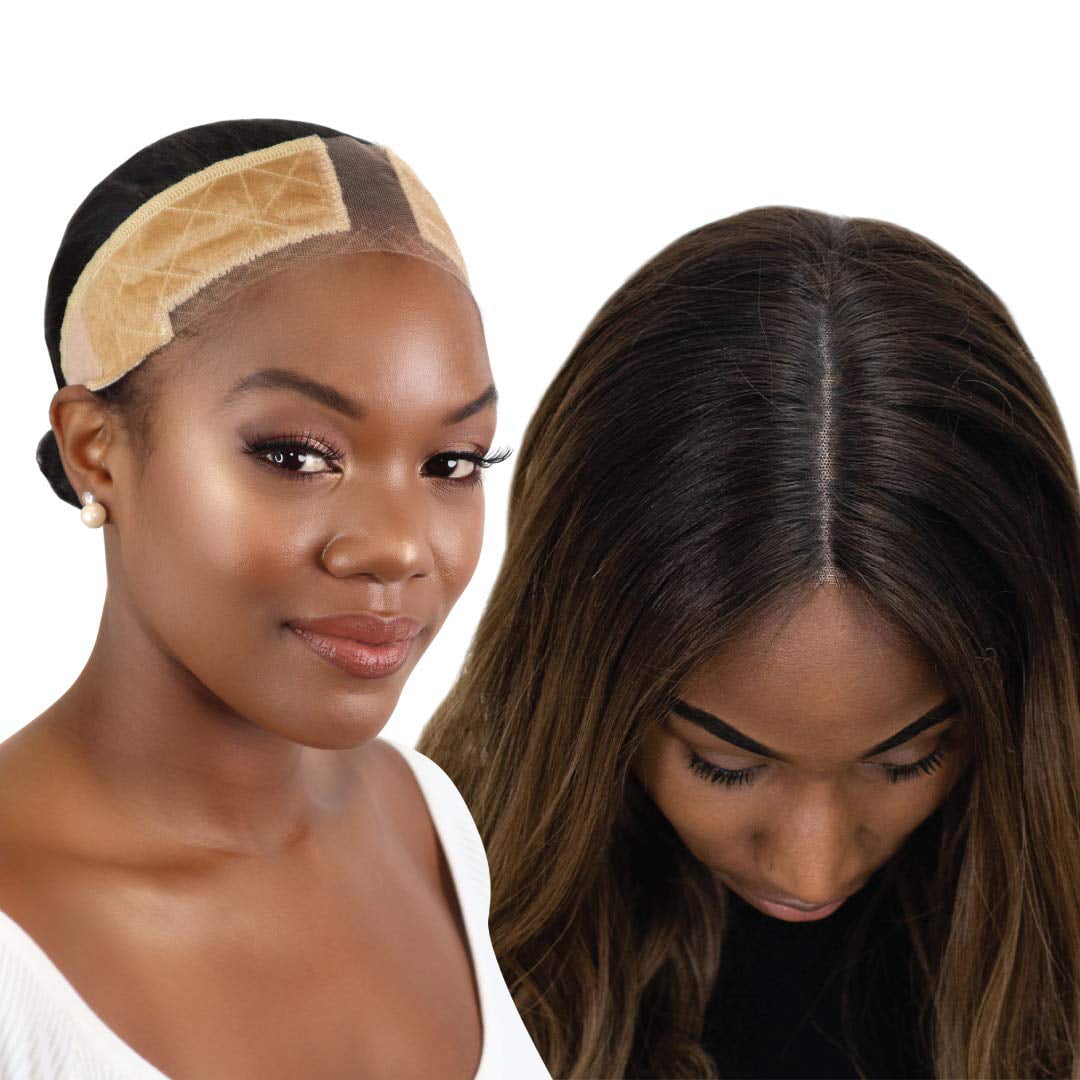 Pros and cons
Pros
Cons

Easy to wear and take off during the day
Gentle on sensitive scalp and skin, therefore, suitable for people with hair loss or those who want to grow hair out
Reduce the risk of headache since there are no clips used

 Wig grips can stretch over time, thereby providing an increasingly less secure hold.

Not a budget-friendly option
Wig cap
Wig cap is an ideal choice for both ladies with and without hair. It sits on top of your head, underneath your wig, and grips your skin on the inside layer to hold the wig in place.
How to secure a wig with a wig cap?
– Dab a cotton ball in rubbing alcohol and run it along your hairline to remove oils, makeup, and dirt that can make a wig cap slip around.
– Use both hands to stretch the cap slightly. Place the wig cap on your head, starting at the front and working your way to the back.
– Smooth out the cap to make sure there is no lump and bump
– Put your wig above the wig cap and adjust it until you get the right look with it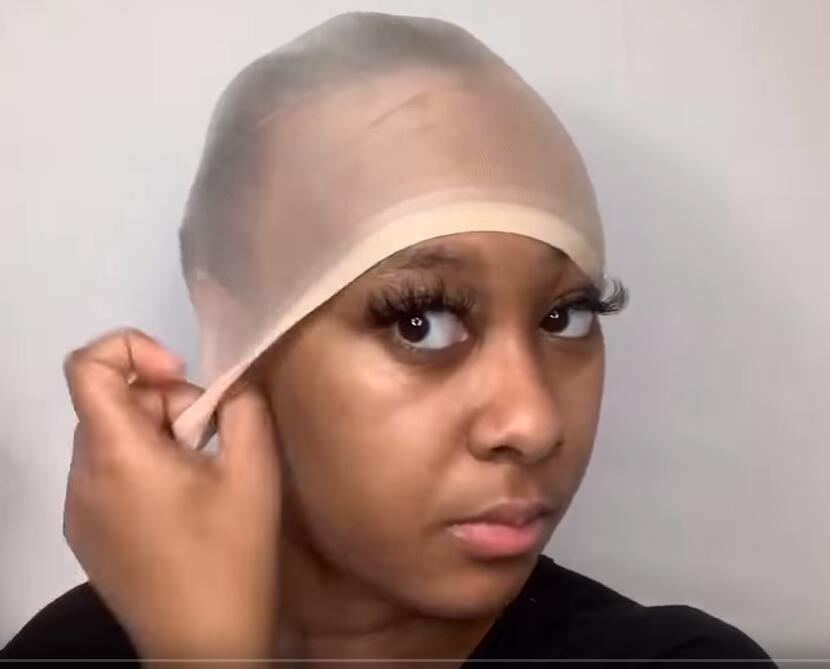 Pros and cons
Pros
Cons

Your scalp will be free of oil buildup since wig caps separate your scalp from your wig
Wig caps keep the hair in place underneath the wig
Wig caps add extra warmth in winter

Wig caps will stretch out over time and make the wig slip off if you don't replace it.
Make you feel overheated during summer
Sweat and oil can build up in a wig cap, which may affect your skin
Bobby pins
Bobby pins are one of the oldest ways to secure a wig. They offer a strong hold for your wig from the moment you insert them into your hair until you take them out. However, this method is only recommended for people with fine and thick hair. Thin hair cannot hold the bobby pins and they will slide off your hair.
How to secure a wig with bobby pins?
– Choose a suitable type of bobby pins for your hair
– Prep your hair by tying or braiding down your natural hair. Smooth out baby hairs with gel or hairspray to make your hair as flat as possible
– Put the wig into your head and adjust it
– Insert the pins into your own hair and through the wig's wefts. Make sure you insert enough pins to hold the wig firmly in place.
– Slightly shake your head to ensure that the wig is secure.
Pros and cons
Pros
Cons

A cheap option for securing a wig: Bobby pins just cost less than a dollar
Easy to buy: You can find bobby pins at most grocery stores
 An ideal choice for women with sensitive skin

Your wig may fall out during the day if you don't use enough bobby pins.
Bobby pins may cause a headache if you secure the wig too tightly.
Using too many bobby pins may irritate your scalp or even pull out your natural hair.
It's may take time to put on and off the bobby pins.
Bobby pins are not recommended for lace wigs since they will break the lace.
Wig clips/combs and elastic bands
To make wigs more user-friendly, wig makers have now attached some wigs combs and an elastic band inside the wig. This helps wearers to secure the wig on their heads without using any other solutions.
If your wig does not come with wig clips, wig combs, and elastic band, you can easily sew them inside your wig.
How to secure a wig with wig clips/combs and an elastic band?
After you prep your hair and place the wig into your head, slide the clips into your hair, starting at the front of your head.
After that, adjust the band to fit your head. Check that everything is in place by shaking your head side to side, and you're set to go!
Pros and cons
Pros
Cons

Wig clips and elastic band secure your wig without yanking your hair out.
They often come in wigs, so you don't have to pay for them.
Elastic bands do not need too much hair to stay in place. Hence, it's ideal for those with sensitive hair or hair loss.

           They can pull against your scalp if not applied properly. The elastic band can rub against your hair and cause breakage.
What is the best way for you to secure a wig?
It depends on your personal choice and current skin and hair status so that you can choose a suitable method.
People with severe hair loss or bald: If you are bald, you can have many options for securing a wig. Among these above methods, wig glue, wig tape, and wig cap are the best options for you.
Short hair: Short hair has the most options for wig securing. Using wig clips/combs or bobby pins will be simpler if you have a small amount of hair. Additionally, it's easy to tuck short hair under a wig cap. The finest method for short hair would be wig grips, elastic bands, bobby pins, and wig clips. To provide a solid hold, you can also add tape or glue around the edges.
Long hair: If you have long, thick hair, wearing a wig could be a little trickier, but it is definitely possible. The most crucial thing is to keep your natural hair lying flat underneath the wig. Once you've done prepping your hair, put on the wig cap and secure the wig with bobby pins and wig clips. Then, finalize the hold by using wig glue around the edges.
Learning how to secure a wig is a crucial step while using a wig. With a wig firmly hold in can head, you can raise your confidence and show off your beauty. Thanks!