Curly wigs always being fashionable and never go out of style. But as we know, they require a little more maintenance than straight hair, so in this post, we will share with you how to keep curly wig moisturized. Let's get started!
Why Did Wig Become Dry And Tangled?
Dry, tangled, and frizzy is problems that wig wearer absolutely hate to deal with. The problem is inevitable due to human hair wigs are quite different from the natural ones. Although the wigs are designed in such a way that natural human hair looks, the nature of human hair wig that is not growing in their natural scalp environment so they do not get any natural oil from the scalp. As a result, with time, they become very dry and tangled. when wigs lack of essential oil cause them to become weak to prevent harmful factors such as the sun, seawater, and chlorine. Even a curly wig is more difficult to maintain than a wavy or straight wig and curly wig lovers need much effort to avoid tangling and frizzy.
To your human hair wig last long and especially keep your curly wig moisturized, the best solution to this problem is to take care of your wig carefully and frequently. There are some easy tips to know how to keep curly wig moisturized. Hope that it might useful to you!
How to keep curly wig moisturized?
1. Wash It and Apply Moisture
Curly wigs don't naturally moisturize themselves. That is the reason why they require extra moisture. If you use your wig regularly, it is quite natural for it to start looking dry and frizzy. In such a situation, you need to use wig specific cleansing products that provide your wig with moisture. If you don't, regardless of wig hair type, your wig will dry out. You can try washing it with good shampoo and conditioner. Apply a detangling conditioner and leave it on for an hour or two. It will help you brushing your hair easily. Besides applying  shampoo and conditioner in washing your human hair wig process, you also should apply hair oil as a supplement to help hydrate, and enhance curly texture. We highly recommend using olive, coconut, and avocado oils.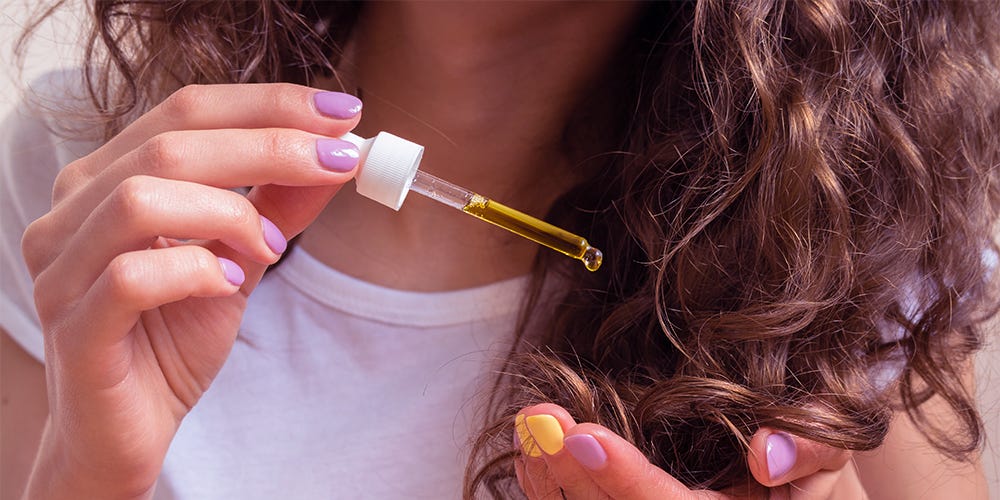 After each time washes your human hair wig, there is number of oils and then apply them to the hair. When moisturizing curly wigs, it is not easy to penetrate through the curls while using solid oil hair products so you can also use spray bottles to help you penetrate through the curls.
2. Detangle The Knots
Curly wigs are made to replicate natural hair, and they get dry faster and detangle with a lot of knots. detangle process is really important to the curly wig. The wig will last for a long time and look more attractive comparing the detangle wig. When you do the process of detangling, remember to use water and a conditioner to help you untie the knot and smoothen your wig. Curly hair is easier to detangle when your hair is wet and applied conditioner. Remember to divide your wig into sections, grab your wide-tooth comb and gently glide it through your hair starting at the bottom with the patient. detangling the knot is not difficult as you imagine.
3. Restore the Curls
After you removed  tangles or knots from your wig, you should restore the curls back to their original style. Depending on the type of curls your wig has, or that you want your wig to have, device the hair into sections (smaller sections for tighter curls, larger sections for looser curls or waves). Use the curling iron to restore your curls gently, and allow them to fall back into their original curl pattern.
Read more: How to wash curly wig and reshape the curls.
4. Store Your Wig Carefully
To take care of your wig, you should store your wig carefully. Cover the wig gently with a hair net to keep the curls in place and to prevent further tangling. Then, lay your wig flat into the box or bag in which it arrived or place your wig into a plastic, sealed box to stop it from getting dusty. Never throw your wig on the floor or counter as this can easily lead to your curls becoming tangled and knotted.
5. Do Not Abuse Heat Products
The final step in how to keep curly wig moisturized is to limit the use of heat. Due to convenience, women tend to dry out the wig frequently, which leads to burning it and making it frizzy. So make sure that always use heat products (hairdryers, flat irons, etc.) with the heat on the lowest setting and only increase the temperature if you really need to.
when you have our guidance and advice on best practices for curly wig maintenance, how to keep curly wig moisturized, and how to take care properly. Curly hair is a timeless style, but curly wigs need the right type of care to keep them looking healthy for longer!
If you need any help, do not forget to contact us via WhatsApp BigG Hair or visit our representative offices in USA, Germany, England, and Nigeria!