For ladies who fall in love with the sleek look of straight hairstyles, going bone straight is a marvelous way to have a major change in your look. You may think it's impossible to get the look with your coarse and curly hair. But in fact, there are still ways to get bone straight hair, heat or heatless, for people with 4a to 4c hair types. And if you are looking to get this fashionable hairstyle without spending a large amount at hair salons, let's follow BigG's step-by-step guide on how to get bone straight hair naturally even if you have curly and coarse hair.
How to get bone straight hair using heat tools?
Step 1: Prepare needed tools
Some hair clips
Paddle brush
Wide-tooth comb
Plastic cap
Mirror
Heat protectant spray
Blow dryer
Shampoo and deep conditioner
Leave-in conditioner spray
Hair flat iron (preferably 1.5-inch width) with temperature control
Step 2: Prep your hair
Washing
Product buildup will make your hair dirty and ruin the straightening process. Accordingly, it's important to wash your hair before you start to straighten it.
But what type of shampoo should you use?
It's better to choose the right shampoo for your hair texture. We don't recommend you use shampoos with harsh chemicals that are designed for hair straightening and those that contain alcohol as the main ingredient since they will dry your hair, making it hard to straighten the hair. You should opt for a shampoo that is gentle enough for your curls and hair texture.
After applying shampoo, rinse your hair 2-3 times to make sure your hair is completely clean with no residue. And don't forget to use a wide-tooth comb to detangle your hair before you wash the hair.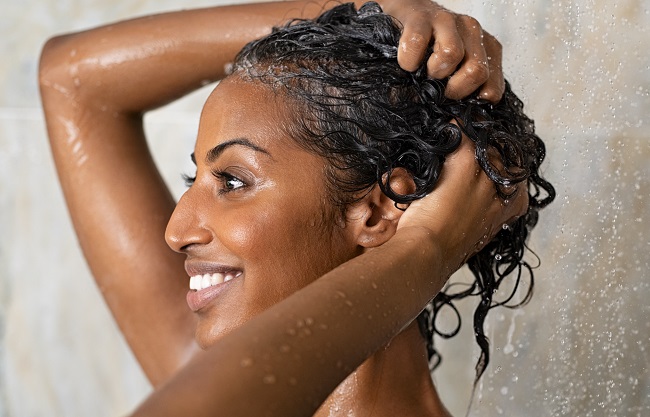 Conditioning
After washing your hair, you should also use a deep conditioner to add moisture to your hair. For curly hair, this step is more important since it helps smooth out your kinks, making it easier to straighten the hair later.
To condition your hair, let's section your hair first, then apply your deep conditioner evenly into the hair, starting from the hair ends to the roots.
Wear your plastic cap and wait for about 15 minutes for the hair to absorb the nutrients
Rinse your hair with clean water and use a wide-tooth comb to detangle your hair
Step 3: Blow dry your hair
You can use a sideways blow dryer to dry your hair since they perform nicely with curly or coarse hair.
Firstly, spray your leave-in conditioner all over your hair
Select the proper heat setting of your blow dryer based on your hair texture. For example, low heat mode for thin and damaged hair, and medium or high heat mode for thick and coarse hair
Blow-dry your hair from root to tip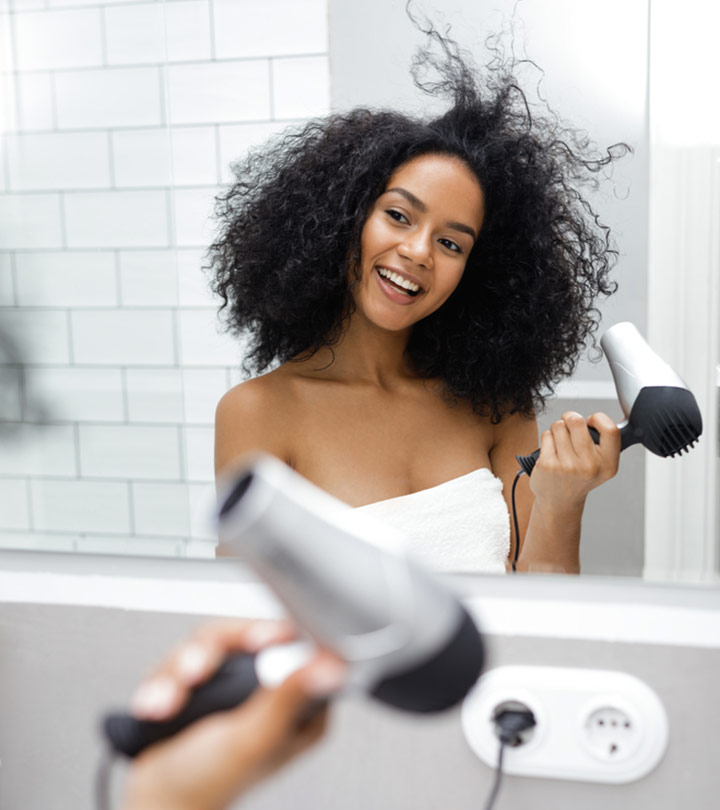 Step 4: Section your hair
You can divide your hair into small sections or make a large section pinned down with a hair clip, then pull out small sections as you straighten your hair.
You'll be more successful if you separate your hair into smaller sections because you won't have to straighten your hair more than twice with the right straightening tool.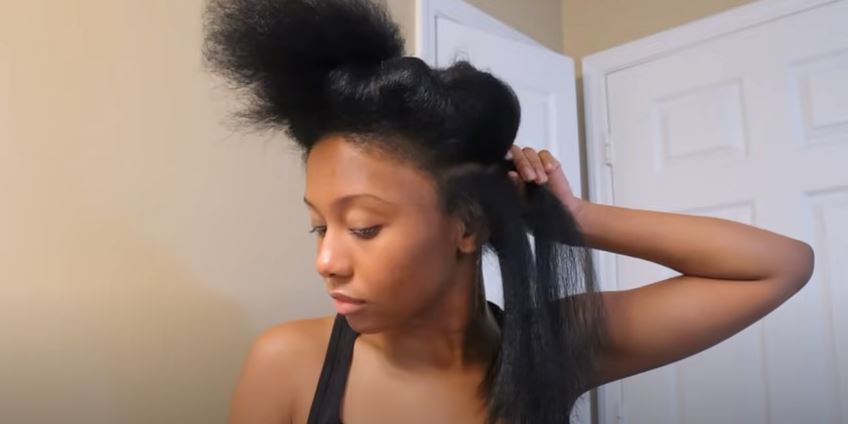 Step 5: How to get bone straight hair with your flat iron
Take a small section of your hair and spray heat protectant all over it
Turn on your flat iron and start to straighten the hair from the roots, then slowly move down to the tip
Repeat these above steps until you finish all the hair sections.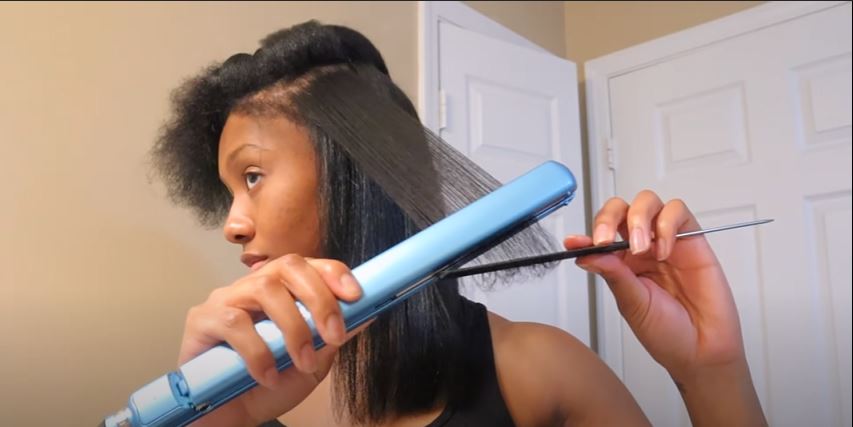 Note: – You should select a proper heat setting depending on your hair texture.
– For normal wavy hair, you can put some tension while flat ironing your hair to achieve the right bone straight look. Yet, with curly and coarse hair, it's not a good idea to put too much heat on the kinks since it's the weakest section of your hair. Putting too much heat will damage it.
 Step 6: Complete your look
After you've straightened the hair, let's use your paddle brush to comb through your hair from root to tip. You should also apply some moisturizing products to keep your hair straightening longer.
You can add some sheen spray for a shinier look, but if your heat protectant is a good one, you can skip this.
And finally, let's dress up and enjoy your new look now!
How to get bone straight hair with a heat-free method?
If you want a friendlier method for your hair, you can straighten your hair without heat. Going bone straight with a heat-free method is a bit more challenging, but if you don't want to harm your hair with heat, there are several ways you can try.
You can do the same process for hair cleaning.
Using a towel:
Take an ultra-absorbent towel to dry your hair
Keep brushing your hair until it's dry
Apply some nutrient oils to your hair to make it smooth and moisturized
Turn on the coolest setting of your hair blow dryer to dry your hair
Wrap method:
Let your hair stay wet for the whole process
Freshly comb through the hair and divide it into small sections
Pin each section against your head using bobby pins
Cover your head with a wig cap or silk scarf and leave it overnight
Note: These no-heat methods are meant for those who don't have thick or extremely kinky hair. If your hair is really curly and coarse, it may not bring out the best result.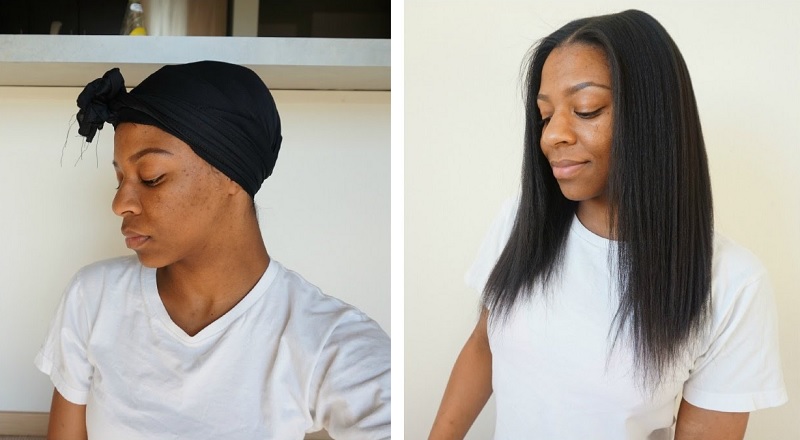 Bone straight hair weave
Another choice for those who want a completely no heat method is using bone straight human hair weave. The application of weave hair does not involve heat and you can totally get a natural look.
Bone straight weave hair in the market comes in various lengths and trendy colors, so you can diversify your style without damaging your natural hair. But this option will cost you much more than the above methods. Therefore, we recommend you do some research before you buy a bone straight weavon.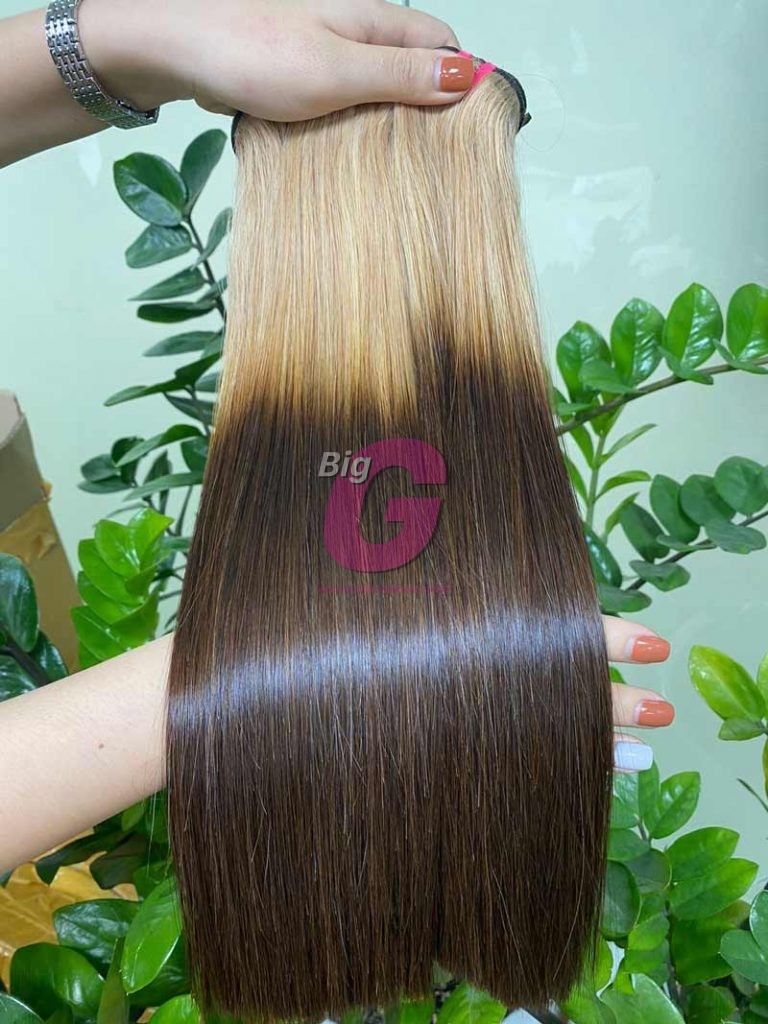 Conclusion
To conclude, if you are on a budget and don't have much time, you can do it yourself with your flat iron. Yet, this method is not good in the long run since it will damage your hair, especially if you have thick and kinky hair.
Going bone straight by using heat-free methods is a good idea to get this classy hairstyle without damaging your hair. Some simple methods like using an ultra-absorbent towel or wrap method are easy to do and don't cost you much. However, the downside of these methods is they are preferably for people whose hair is not thick and coily. If you have curly or coarse hair, they may not bring the exact look you want and the hairstyle does not stay long.
So if you are not on a tight budget, let's invest in some bundles of bone straight human hair weave to get the exact look you've desired while protecting your real hair from damage. Yet, before you make your first order, let's check our blog post: Quick 5-step guide on buying a bone straight weavon for the best tips.
And above is our guide on how to get bone straight hair with and without heat. We hope that you can do it successfully and enjoy your new look. And don't forget that BigG Hair is here to bring you premium bone straight hair at the BEST price available. Feel free to Whatsapp us if you have any inquiries about bone straight hair!