It's awesome to wear hair extensions to change your look. However, hair extensions do not always come cheap, especially human hair ones. And since they are an investment, you may wonder how long can they last. The answer is it depends on the type of hair extensions you are using. So, how long do hair extensions last? Let's figure it out now!
How long do hair extensions last?
Each type of hair extensions can be used or applied to your head for a certain period. Knowing how long each type of hair last can help you remove it properly and avoid damage to your hair and scalp. At the same time, you can decide on which type to wear if you are new to hair extensions.
Weave hair
Depending on the method that you use to install weave hair, it can last between 6 weeks to a year. If you use weave hair to make a sew-in weave, you will need to remove and re-install the hair every 6-8 weeks.
Other styles can last for different periods. For example, if you weave hair for glue-in installation, it can last four to eight weeks. Weave hair can last 6 months to a year if you treat it well and detangle it gently.
Xem bài viết này trên Instagram
Tape-in hair extensions
Tape-in is another popular type of hair extensions. It can last between four to six months with maintenance visits for upkeep every six weeks.
This hair extensions method makes use of adhesive weft tape, which not only doesn't require heat but also makes it simple for your natural hair to keep growing. And just like other types of hair extensions, you should take really good care of tape-ins to keep them last longer.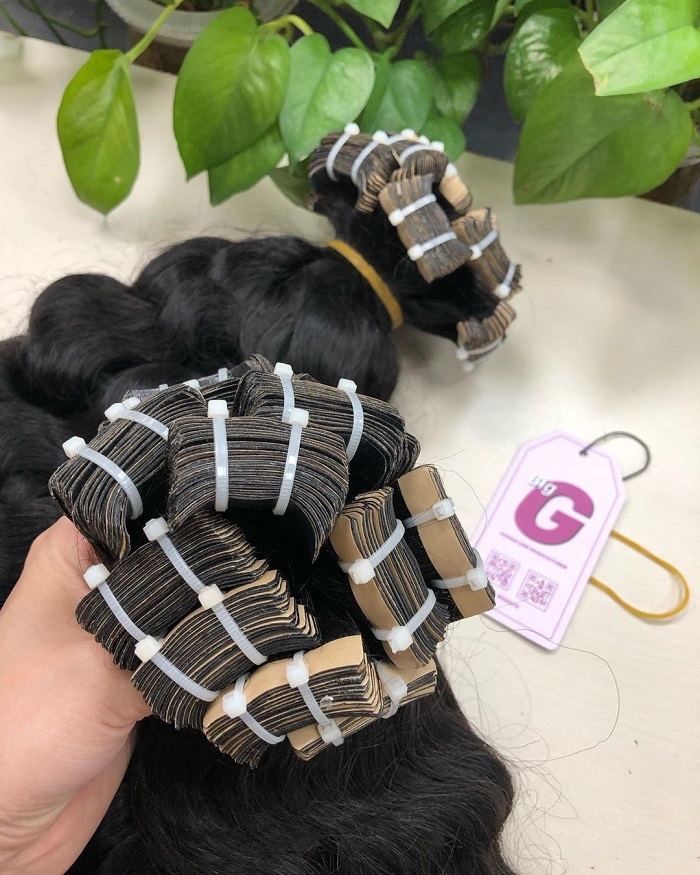 Clip-in hair extensions
Clip-ins are temporary hair extensions. You can put them in and out every time you want. However, you should only wear them during the day and remove the hair before going to bed. Sleeping with clip-in hair extensions will hurt your head and harm both your hair and the clip-ins.
Normally, you can use clip-ins for 3-6 months, but if you treat your clip-ins well, it can last up to a year.
Fusion hair extensions
Fusion hair extensions are bonded to the root of the hair shaft using a keratin bond and low heat. This enables the extension to match your natural hair perfectly. These hair extensions will last for three to five months. They will survive longer if you treat them well. If you take good care of your extensions, they should last considerably longer for you.
Microlinks
Microlink hair extensions can last three to four months.
When combing your hair with microlink extensions, you should take special attention. For microlinks, extension-friendly brushes are ideal so that you don't unintentionally pull on the beads. Moreover, avoid applying heat on the beads, especially if your hairstylist uses keratin tip extensions. The keratin can melt and heat can twist the beads.
How to make your hair extensions last longer?
The better you treat your hair extensions, the longer they last. Below are some tips on caring for hair extensions to make them last:
Wash your hair extensions properly with sulfate-free shampoo and conditioner
Always be gentle when combing the hair
Set up a weekly conditioning treatment for your hair extensions
Avoid using heat as much as possible
Use a heat-protectant product on your hair extensions before using heat-styling tools
Detangle the hair before washing and after you remove it from your head
Don't sleep with wet hair extensions. If you use clip-ins, take them out before you go to bed.
Avoid making the hair frizz while sleeping by wearing a satin cap.
Keep your hair extensions dry and store them properly when not in use
In conclusion, each type of hair extensions has a different lifespan. If you want it to stay longer with you, make sure to take good care of the hair. And while caring for your hair extensions, don't forget to treat your natural hair well. That's the secret to a wonderful look.