Two French Braids are a classic hairstyle that is favored among braid lovers, and for more reasons than one. Some of them are appropriate for formal situations, while others are more appropriate for everyday use. However, we need something new and more trendy? Keep scrolling to the end to know top 10 ideas to style two French braids with color extensions and consider which style you try first! 
What are two French braids?
The two French braids or double Dutch braids is a hairstyle that you braided the hair on both sides into a long, neat plait.
to create a bit of height, you often pull apart the braid at the end for added volume. Then, ribbons or flowers were often interwoven into the braids to add a pop of color.
At first this style may take a while to perfect, but after some practice you should be able to whip up this look in about five to ten minutes.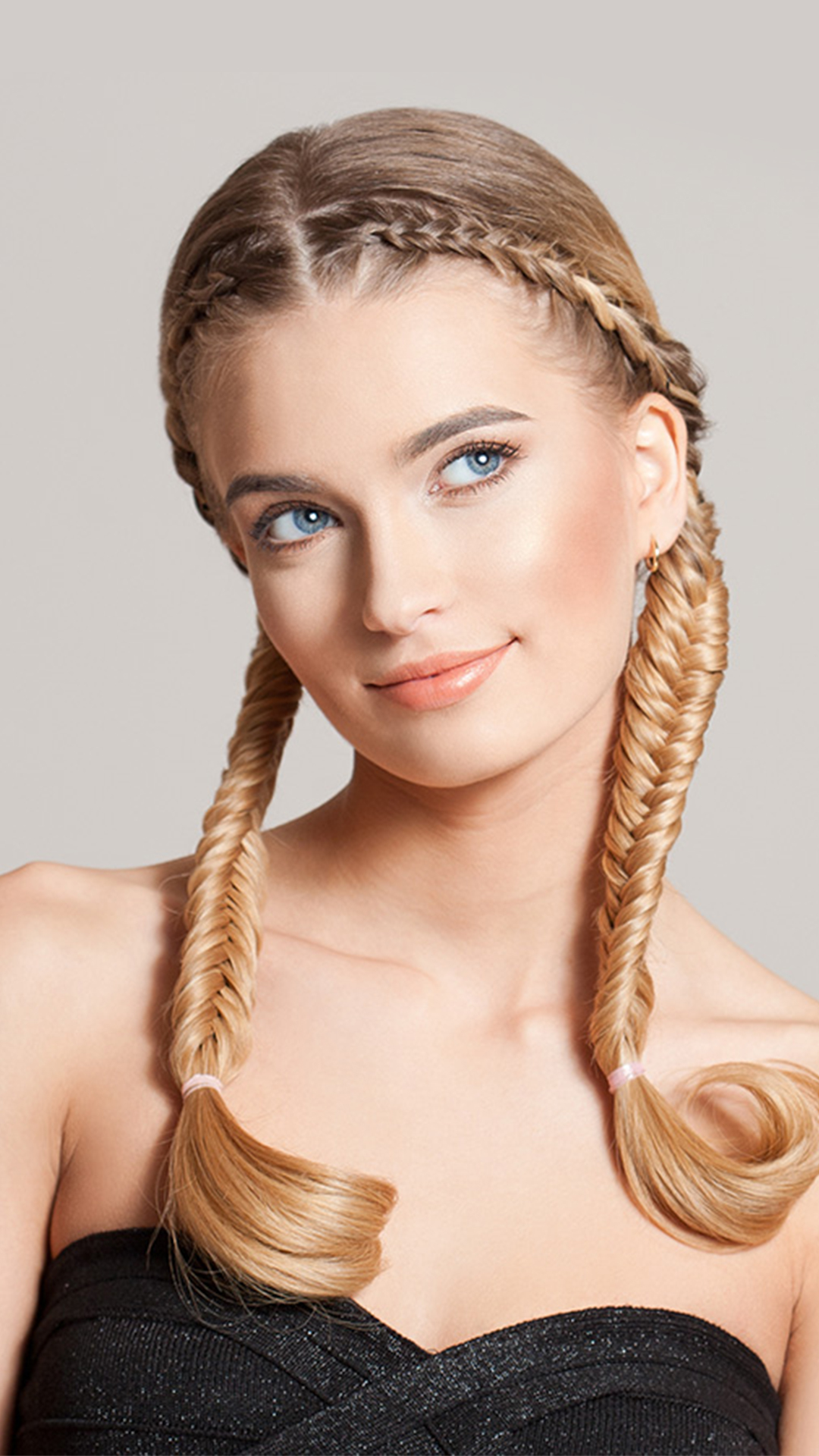 Top 10+ ways to style two French braids with color extensions
1. Two French Braids With Long Hair
One of the most common ways, women wore their hair was in a single, long braid that fell down the back with black color.
This simple look was considered a staple and is still worn by many women today. It's also versatile and can be worn by women with thin or thick hair.
2. Two French Braids with color extensions blonde
Now ready to venture out into some lighter shades? For those girls who have dyed, hair we have some good news!  Especially if it is highlighted with blonde color! A great combination of two French braids with blonde color will do its magic to make you look romantic. Make them loose and enjoy the results.
3. Two Blue French Braids
A new tendency is to add a bit of color to your hair. So why don't you try adding some blue? Dyed hair or just extensions in blue will make your French braid hairstyle look super colorful and creative!
4. Two Pink French Braids
As a general rule of thumb, those with lighter hair and fair skin will usually suit either a soft pink shade, which gives your natural color with just a hint of pink, or, a crisp and vibrant pink color to keep your look fresh and bright. And the combination between pink color with two French braid are good choice. Let's try it!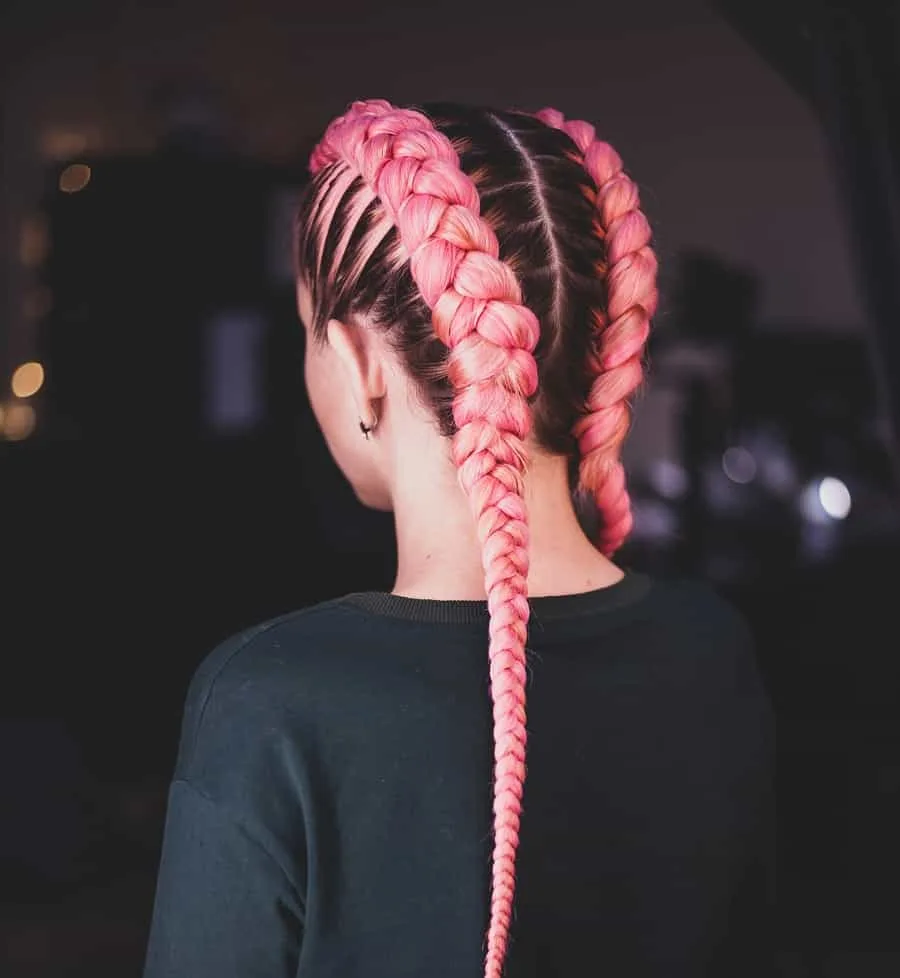 5. Two Yellow French Braids
The eye-catching orange hair colors is consider one of the hardest hair colors to conquer. However, it is outstanding enough for girls with strong personality.
  10-step guide: How to dye your hair blonde to black?
6. Two French Braids with Red
Like other vibrant box braid combinations, red is also an option—and not just vibrant reds. We know that trying out a new hair color can be intimidating, especially when you think of a standout color like red. But we want you to know that depending on your skin tone and level of comfort, your options are plentiful, so there's a red shade out there that could work for you.
7. Two French Braids with purple
Purple braided are known as a summer hairstyles. However, you totally wear it in all seasons of the year. You can rely on this look to dress up your casual pieces such as a simple top, denim shorts, and sneakers, or wear it to complement your more fashionable ensembles; a stunning black bodycon dress comes to mind.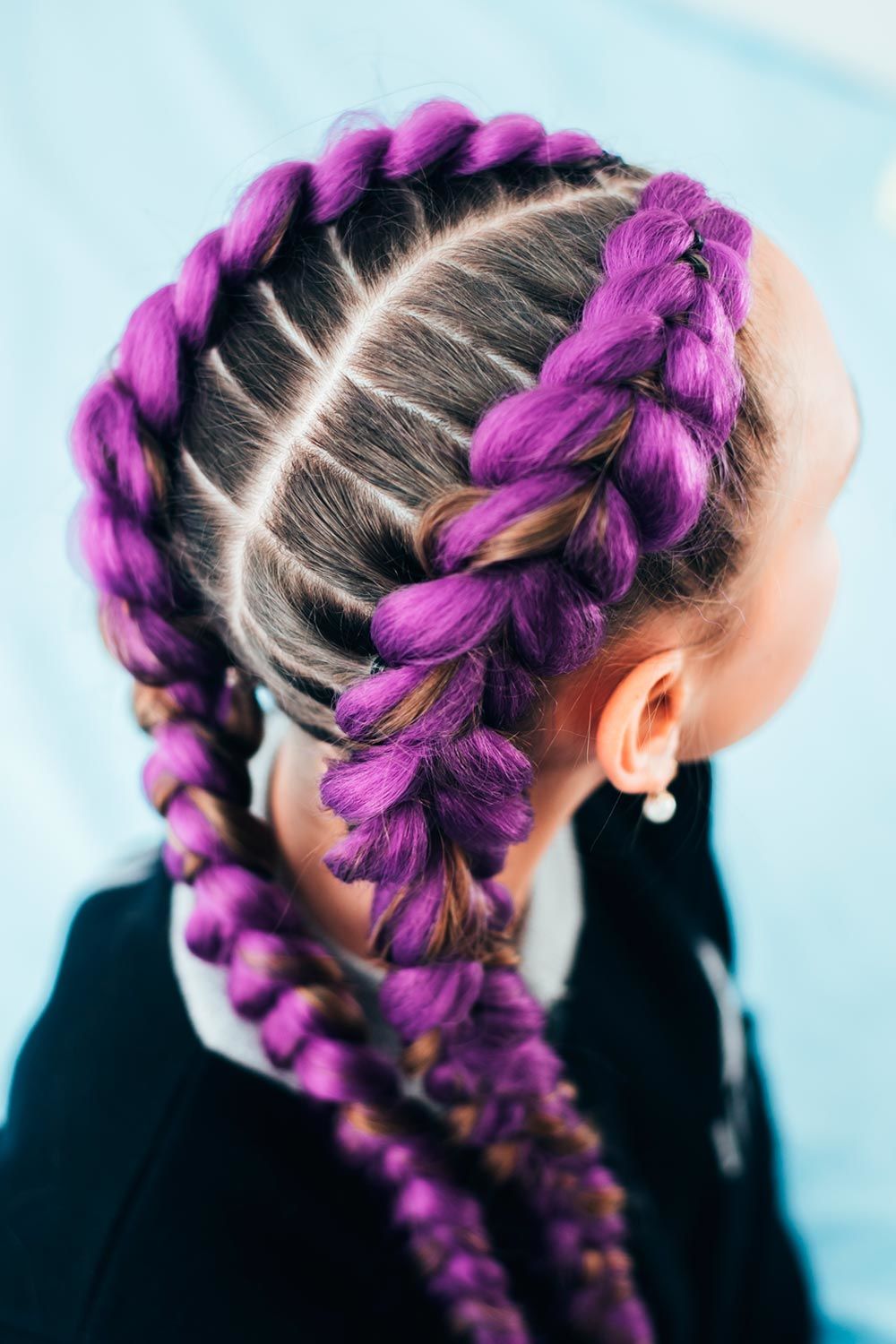 8. Two French Braids with Green
Green is one of the treasured shades of the fall season but you can enjoy this earthy hue all year round. It's an intense shade with a warm nuance, allowing your braids to fit suitably amidst a number of color schemes.
9. Two French Braids with orange
The rich tones of this sublime sun rising orange color have a ravishing glow. They are a perfect fit for a bold girl like you who is not afraid to stand out and wear the orange French braids with pride wherever she goes.
10+ stunning box braids hairstyles for ladies
10.Burgundy two French braids
Burgundy is one of the most ideal shades for your two French braids with hair extension because it has such a classy and mellow tone. Consisting mainly of brown and red, burgundy sits right between a warm and bold undertone, forming a blend that's sophisticated, easily suiting short hair.

11. Two Ombre Braids
Ombre hair has a color melting effect, in which the root area is dark and gets lighter towards the hair ends. These baby pink braids ombre will have you staring in the mirror for extended periods. A little personal but still very sweet, two in one, isn't it great!
11. Two Rainbow Braids
Rainbow hair includes several different bright colors in your hair and we think it looks just incredible. Leave your roots your natural color, then choose a selection of vibrant colors to add throughout. This lady has gone for red, yellow, blue, purple and orange too. Curl the hair to show off this rainbow style!
12. Half and half color
Torn between two of your favorite shades for the season? Choose both! This girl is rocking half of her jumbo braids in blue and the other half in pink with her edges beautifully laid.
14. Two French Braids with mixing color
Mixing hair color can be a fun and creative way to change up your look. There are a variety of hair colors available, so you can find the perfect one for your personality. You can also choose to mix different colors together to create new shades. With so many options available, there's no reason not to experiment with hair color. It is better to mix hot and cold color together or pastel color!
You love two French braids with color extensions. Of course, you needn't dye all of your hair with rainbow colors if you don't quite want to! BigG supplies hair extensions with the variety of color which help you chance your appearance quickly without damage your natural hair. Do not hesitate to contact us to place order vis WhatsApp: +234 913 396 5598.