Due to the blooming of hair extensions, many people enter the business with the hope of gaining potential profit. The first thing they do is to search for a hair vendor list and find a wholesale hair vendor to buy hair. In recent years, hair vendor lists are traded for new retailers, but are they really reliable? Where can we find the best wholesale hair vendors? Let's scroll down to figure it out.
What is a hair vendor list?
A hair vendor list includes numerous hair suppliers who will sell you wholesale hair extensions for your business. The number of hair suppliers varies on each list. In recent years, as more people engage in the hair extensions industry, there exists a new trend of selling hair vendor lists that can cost up to $1,000.
Are hair vendor lists reliable?
A common question is whether the hair vendor list you purchase includes good wholesale hair vendors. The answer is that it depends.
There are so many vendor lists out there. Anyone can create their own within minutes. That means not every list is reliable. What you need to do is to find a good source for the list.
Normally, if the list comes from a hair vendor, it can be a bit biased. Therefore, it's better to get the list from a site without sponsorship and not belong to any hair brand.
Top 5 websites to find wholesale hair vendors
Instead of buying a hair vendor list, you can do your own research to find reliable hair vendors. Below are 5 websites where you can find wholesale hair vendors:
Alibaba
Alibaba offers a platform for online shopping where anyone can purchase goods. You can buy practically anything from Alibaba, which has hundreds of product categories.
Using Alibaba's platform, buyers may communicate directly with goods manufacturers. Alibaba offers a platform for buyers and sellers to interact; it does not produce anything itself.
Customers of Alibaba can also choose to use dropshipping. You can sell goods in a foreign country without leaving your native country by using dropshipping.
AliExpress
AliExpress is a well-known online retailer where customers may purchase items at considerably lower prices. It is regarded as a trustworthy location for you to purchase things at a lower cost. AliExpress is a part of Alibaba Group. Customers who purchase goods from AliExpress can get complete refunds if their orders arrive damaged, late, or never at all.
Amazon
Amazon was a massive online retailer with a market value that surpassed $268 billion USD by 2018. As an online retailer, Amazon enables both private sellers and commercial enterprises to list and sell things online.
As one of the most well-known online marketplaces, Amazon is accessible in numerous countries and languages and is used by both consumers and companies.
Ebay
eBay is a popular online marketplace for its auctions and direct sales to consumers. It is also incredibly well-liked by internet retailers who use it as a sales channel. It is possible to access eBay in numerous countries. However, you can enter the zip code to look for things in your neighborhood. As an alternative, you can look for goods that are sold locally or abroad.
SaleHoo
Unlike other product sourcing sites, SaleHoo verifies every supplier included in its directory, setting them apart from the competition. Vendors must pass rigorous testing against SaleHoo's requirements before being re-listed in the directory.
You can save yourself from dealing with a dishonest source by finding things in the SaleHoo directory.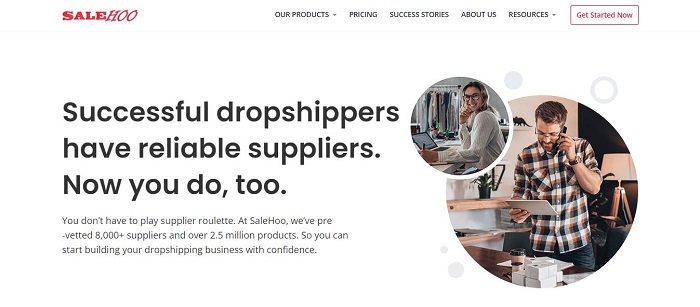 Once you've got to know where to find wholesale hair vendors, it's essential to learn "How to identify the reputation of the hair factory?" before you decide which hair vendor to work with.