Closure is a stunning hairpiece that closes off your wig or a particular style. There are different types of closure in the market now and each one has a separate price range. So in this let, let dwell into types of hair closure and how much is closure.
Different types of closure
Just like other types of human hair extensions, closures come in a variety of shapes, sizes, colors, and even hair textures and types.
Let's take a closer look at the different types of closure, so you will be able to see all your options. Within this post, we will talk about type of hair closure based on lace size, base material, and parting styles.
Different types of base
Closure comes with two types of base, namely silk base, and lace base. The one on the left is a silk base closure, while the one on the right is a lace base closure.
Silk closure: A silk base has the advantage of being more durable and hence, able to withstand the test of time. Silk closure is a little thicker than a lace closure, so it doesn't lay quite as flat. To obtain a more scalp-like appearance, you'll probably need to color the base.
Lace closure: A lace base closure is the other type of base for closure. Lace closures provide a natural-looking scalp. They are more adaptable and will readily suit any head. The hair closure strands are linked to a lace foundation with a woven grid line. Because they aren't as thick as the silk base, they are more ventilated and the lace won't trap hair products into it. Yet, you will need to handle lace closure more carefully than the silk base since the lace base is thinner than the silk base.
Various sizes of base
When it comes to closures, there are many sizes and dimensions. The size and dimension we mean here are the size of the base. The common types of size for closure are 2 by 4 closure, 2 by 6 closure, 4 by 4 closure, and 5 by 5 closure.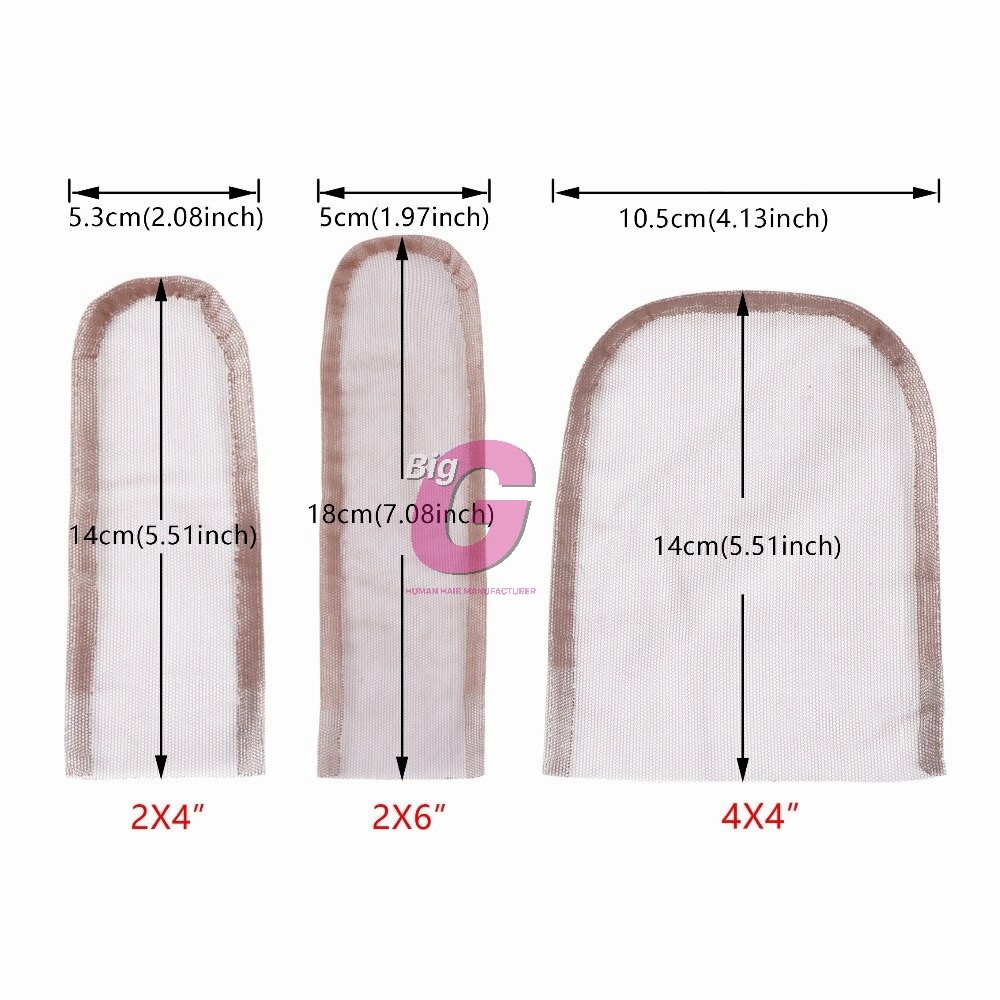 Lace closure 4×4 runs from temple to temple. It's a perfect square, measuring 4 inches long and 4 inches wide. Closure 2×4, 2×6, and 5×5 are available if you require a deeper parting space.
Read more: 4×4 closure and things you should know
Knowing the different closure sizes can make a big impact, especially if you are a wig maker. It is critical for skilled wig makers to take accurate measurements of their clients' heads. Knowing your clients' head sizes and what size closure they prefer will help you to create very particular custom wigs for which you may charge an arm and a leg because they are not only one of a kind but also quite expensive.
Different parting styles
Closures come in different parting styles to suit your needs. There are now three main types of closure based on parting style, including middle part lace closure, three part lace closure, and free part lace closure.
Closure can be parted in one way or multiple ways. The middle and three part closure are the two most common types for those who want to part in one way like the middle part and side part. And for those who cannot decide how to style your hair, there comes free part closure that allows you to part in numerous ways.
There are also a variety of textures to choose from, including straight, wavy, kinky, and curly, allowing you to accomplish practically any look with a natural-looking part.
How much is closure?
Closure has a lot of advantages and it is one of the most popular hairpieces. People often buy closure with bundles of human hair weave to make their own closure wig or closure sew in weave. So, how much is closure?
The price of a closure depends on the types of closure, hair texture, color, and length you purchase. At BigG Hair, the price for our transparent lace closure starts at just $12. Longer closure with trendy color will cost more.
WhatsApp BigG Hair now to get the latest price list of human hair lace closure.
Conclusion
So now that you've got to know different types of closure based on types of base, size of the base, and parting style, you can choose the best closure. And don't forget that BigG Hair is here to provide you with the best lace closure from Vietnamese human hair and delicate Swiss transparency lace. Come see us and check the hair quality or WhatsApp Us Now to get instant support.