Braiding hairstyles are among the most popular hairstyles in the world, and for African women, they are an integral part of their life. They use braids to protect their hair from environmental damage while having change to try many different styles. Braids not only allow you to be creative, but it also gives you an everyday look to a glamourous style. And many girls have now been crazy about long braiding hairstyles. So today, BigG Hair summarizes a list of 10 trending braiding hairstyles with 26 inches hair for you to diversify your look.
How long is 26 inches hair?
If you have 26 inches hair, you can be proud of yourself for putting in a lot of effort so that your hair can reach this length. Although how long is 26 inches hair looks depends on your hair texture and height, it still belongs to long hair length.
26 inches straight and bone straight hair may reach your tail bone, while 26 inches wavy hair falls at the hip and 26 inches curly hair reaches your lower back.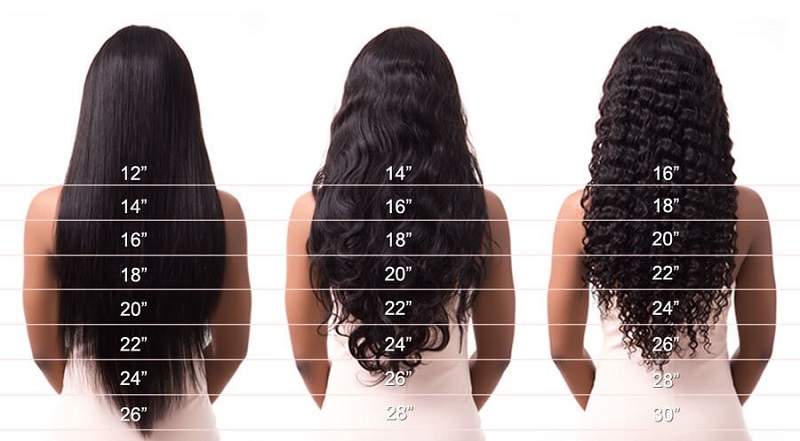 Though it takes a lot of time for your hair to get this length, you will be satisfied with so many hairstyle options. And don't be sad if your current hair is not 26 inch. There are not many girls who can grow their hair to 26 inches. With the blooming of the human hair extensions industry, you can always add 26 inches hair extensions and enjoy a new jaw-dropping look with it.
And below are some chic braiding hairstyles you can do with 26-inch hair. The reason why we include braiding hairstyles in this post is that they are the most popular hairstyles among black women.
Top 15 trending braiding hairstyles with 26 inches hair
Braided Double Bun Half Updo
The nineties are back in style, and a braided double bun half updo is a great way to incorporate your hair into the trend. This type of updo braid is fantastic since it reminds you of Bantu knots, another cute and enjoyable protective style.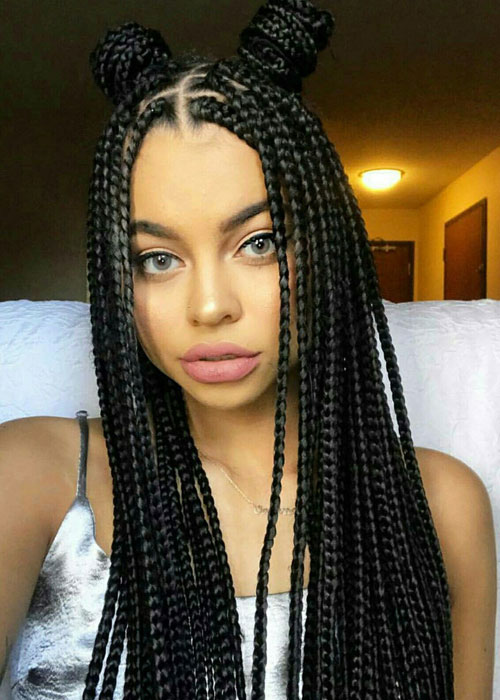 Pulled-Back Cornrow Braids
African braids come in a wide range of shapes and designs. Take a look at this beautiful lady and store the idea for later!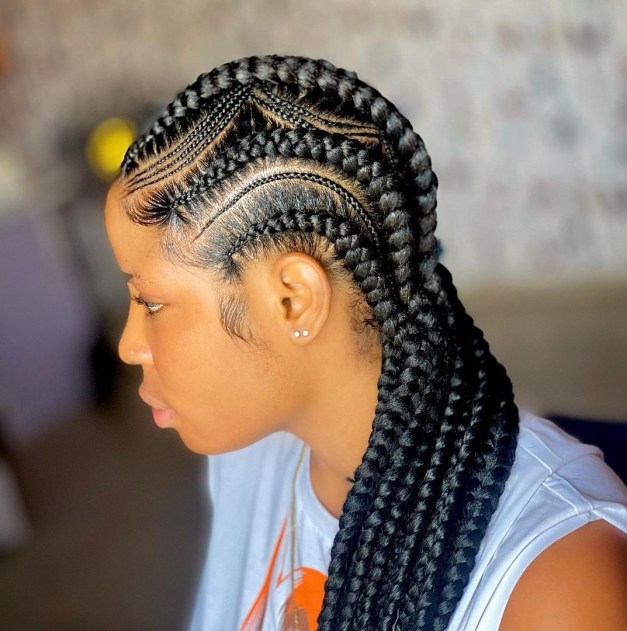 Black Braids with Red Highlights
Whether you choose intricate black braided hairstyles or simple back braids, you'll have the comfort, protection, and beauty that any modern women desire.
By adding a streak of red to your hair, your braiding style will look more special. And make sure you let some hair strands fall loosely for a chic and feminine look.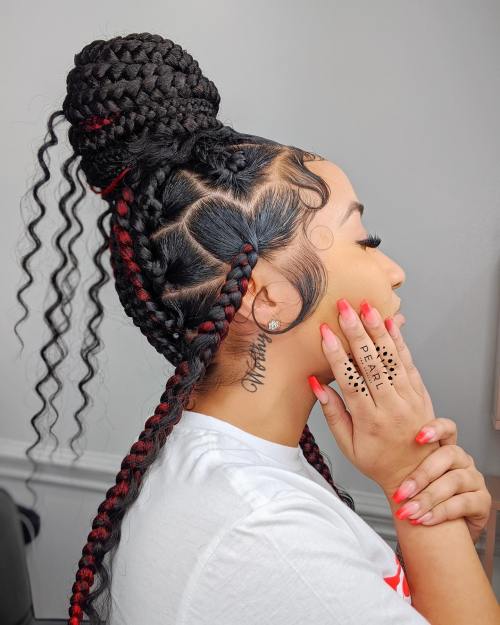 Micro Braided Buns
Though micro braids take the longest to master, once you do, you'll be able to experiment with a variety of designs, like these adorable space buns.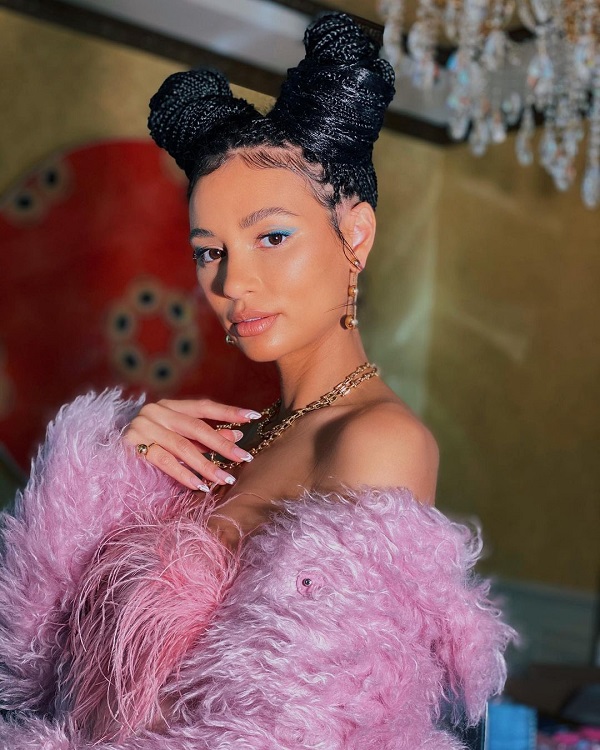 Feed In Ponytail Braids
A ponytail is possibly the simplest and most basic braided updo hairstyle. With this hairstyle, you can show off how seamless the transition from your braided cornrows to your box braid extensions is. And to add some glitter to this simple style, let's put in hair cuffs or other adornments.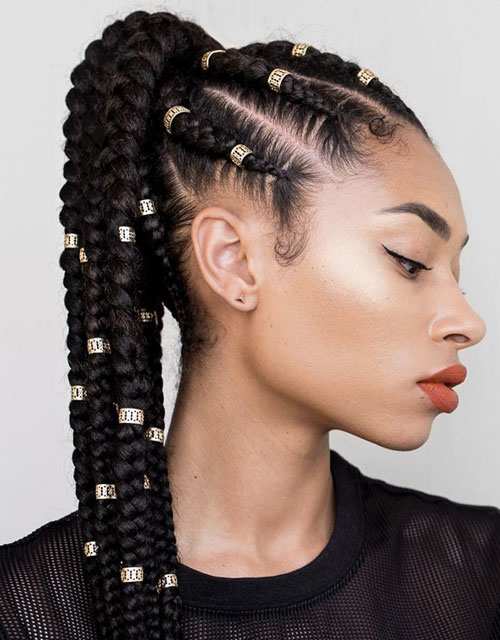 Chunky Braids
The bigger the braids you make, the more attractive the style can be. Hence, opting for this chunky braid style will be a perfect choice if you want to stand out in the crowd. This massive, middle-parted plait style is sure to get you noticed.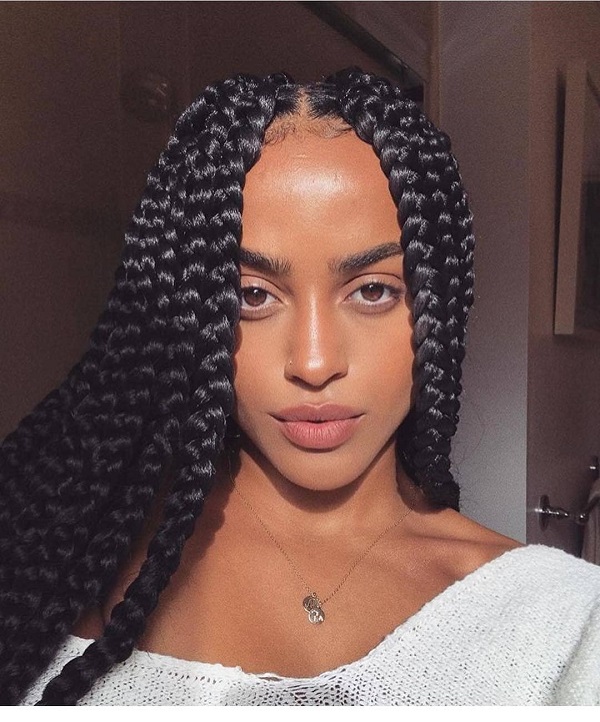 Cornrows for Long Hair
Cornrows is a traditional braiding hairstyle that every black girl has once tried. So, how to make it look more special while keeping the great protective style?
Wrapping a scarf that complements your dress or hair color around your long plaits will instantly add intrigue and completes the look.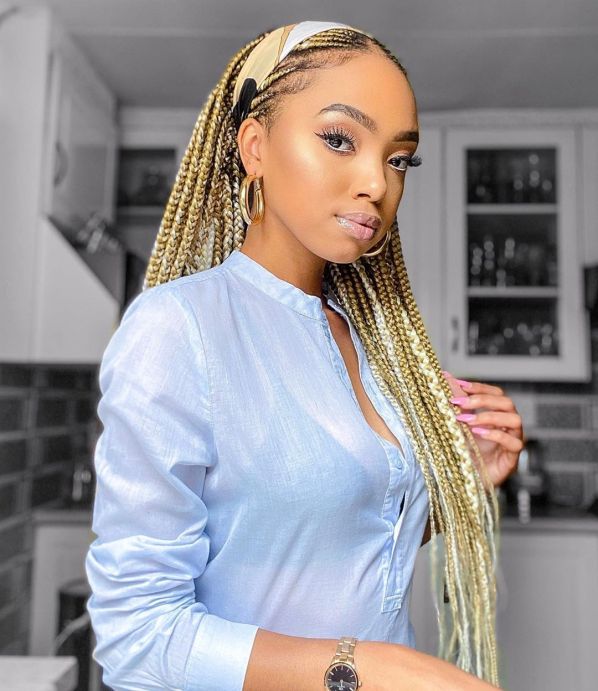 Goddess Braids with 26 inches hair
Similar to cornrows, Goddess braids have a long history as a braiding style in Africa. People see Goddess braids as a thicker version of cornrows. And just like cornrows, Goddess braids are braided near to the scalp and can be used to secure hair extensions.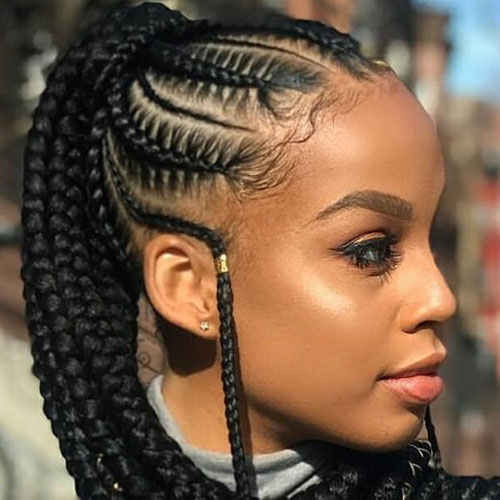 Jumbo Parted Box Braids
For women who dare to be different, this braided hairstyle is for you. It comes with many disconnections to put a twist on classic box braids. And to soften the sharp feel of your parting, you can add some sweet baby hairs.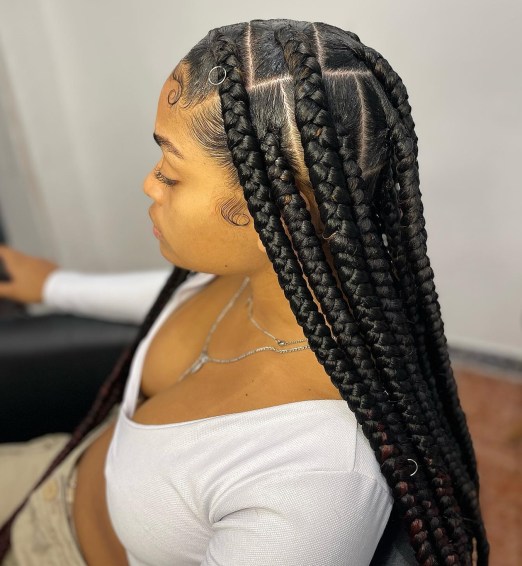 Long Lemonade Braids
Lemonade braids acquired their name from Beyonce's 2016 visual album Lemonade. They can use a variety of braiding techniques, including Fulani, Goddess, and others. The only absolute requirement is that they be braided to the side. Lemonade braids are also very adaptable: they can easily be transformed into exquisite updo hairstyles.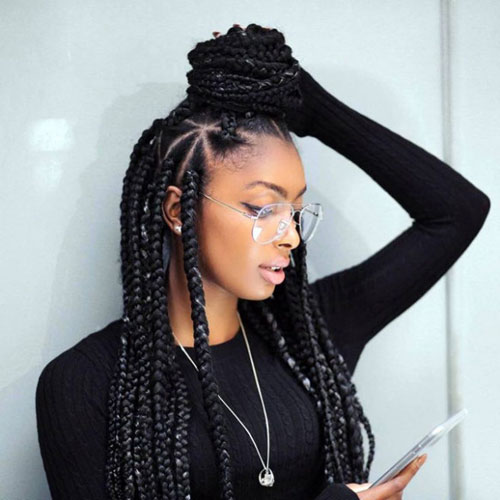 Multicolor Braids
One of the best things about box braids is that you may try out new styles like multicolor braids. If you worry about the chemical dye damaging your hair, you can buy hair extensions and get them colored to the hue you like.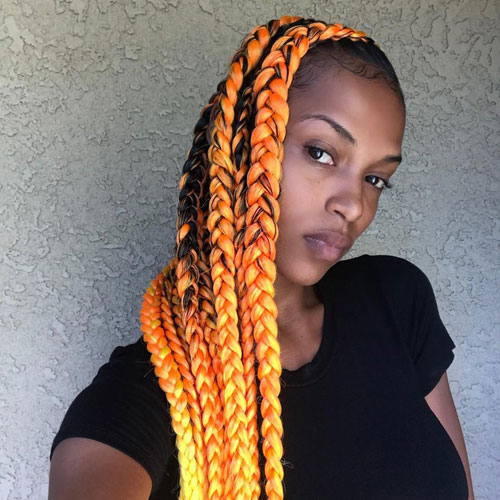 Arianna Braided Pony
Ariana Grande has contributed as much to the hair industry as she has to the music industry. While her limitless selection of beautiful hairstyles provides endless updo inspiration, we think this braided pony really takes the cake.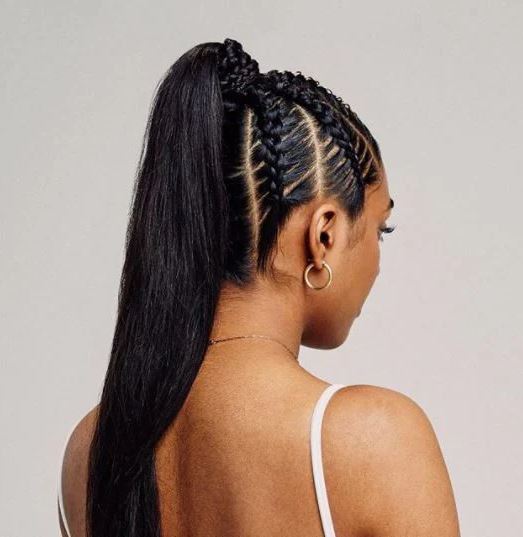 Tree Braids with 26 inches hair
Tree braids are a protective style for black hair, similar to cornrows and goddess braids. Tree braids are also known as invisible braids since you won't see the braids when you add extensions. With tree braids, you can only see the extensions that have been added to the braids. This braiding hairstyle is popular among busy ladies since they take less time than twists or box braids.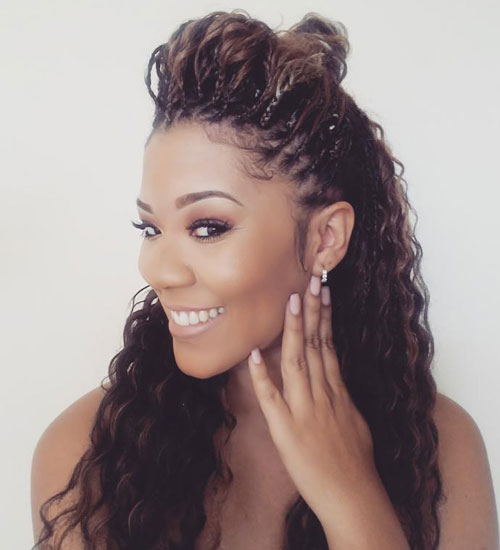 Fishtail Braids
Fishtail braids are a lovely alternative to three-strand braids, so keep this braided hairdo in your back pocket for a special event.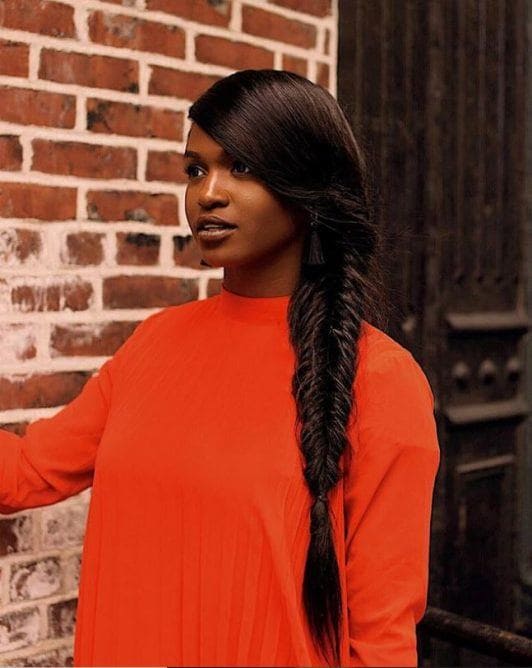 Long Twisted Braids
Long twisted braids appear sophisticated, yet they are a simple alternative to traditional three-stranded braid patterns. Twist braids use only two sections of hair, each of which is twisted separately before being twisted together. The final look is cool, relaxed, and laid-back with lots of fascinating textures.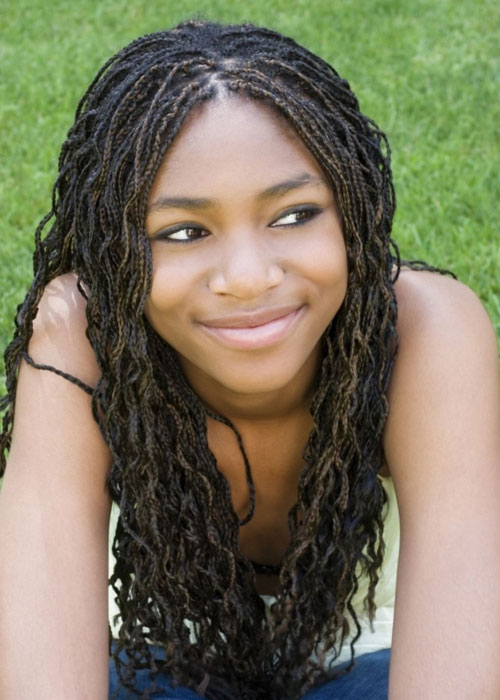 Conclusion
Braiding hairstyles look the best when it comes to long hair, and 26 inches hair is simply the right match. And above is the top 15 braiding hairstyles that surely keep you in trend. We hope that you can find one to refresh your look. And don't forget to check BigG Hair's latest hair items if you want that much-needed length and volume for a chic braiding hairstyle.
Thanks for reading!