Nigerian hairstyles are stunning and unique. That demonstrates how the women in Nigeria care about their looks. Young women are becoming more conscious of the different hairdo options available to them and attempting to be more creative with their hair. And that's the reason why Nigerians have seen had a huge hairstyle fashion trend in recent years. Apart from weavon styles, there are so many alluring hairstyles for Nigerian women we should try now. Take a look at the list below!
10 Nigerian hairstyles to try now
Blunt bob with a weave
Bobs may go out of the style, but it can then come back stronger than ever with a bang. This blunt bob is one of the excellent weavon styles that any Nigerian woman should try.
Nigerian Box Braids
Box braids hairstyles are also a popular choice among Nigerian hairstyles. It is quite simple to care for and can last for a long time with proper maintenance.
If you want to give your hair a little break, this style is an ideal option. With box braids, you can forget about styling your hair for a month or more and allow it to recover from damage.
Shuku and all-back
Shuku is a haircut that isn't popular at first but grows on us as we get older.
With this shuku and all-back hairstyle, you will have the top half of your hair braided into shuku and the rest of your hair braided into free-flowing cornrows with no bun (all-back). To make it more appealing, use some attachments or try to mix colors.
Barrel curls
Who doesn't fall in love with a hairstyle with a full body? To achieve this look, you can get pre-curled weaves, or use supersized flex rods or roller sets. Whichever way you choose, you will definitely enjoy the look.
Patewo – classic Nigerian hairstyles
Patewo, the Yoruba version of the English word 'clap,' is a Nigerian hairdo that resembles clapped hands. The hair is braided horizontally to the partition and separated vertically down the middle. Patewo is similar to a mohawk, but it is braided and does not include shaved hair. It can be paired with all back and a fringe (base) to make it more fascinating.
Ash Blonde Weaves
So far, ash blonde and ash brown have swept over the hairstyling world. This gorgeous color looks well on all sorts of hair and ladies of all complexion tones. You can also get ideas from the haircut in this photo.
Nigerian Twist Braids
This is one of Nigeria's newest hairstyles, as it is thought to provide more protection for women with naturally curly hair.
To look stunning, shape your hair into a braided bun on top with twisted braids on the lower side.
Very Long Straight Hair
Do you have a thing for really long hair? Dare to put it on and let it shine! While more time is necessary for styling, care, and upkeep, the results are nothing short of spectacular.
Bone straight hair is now in craze in Nigeria. Getting this look will keep it a fashionable look with the latest hair trend.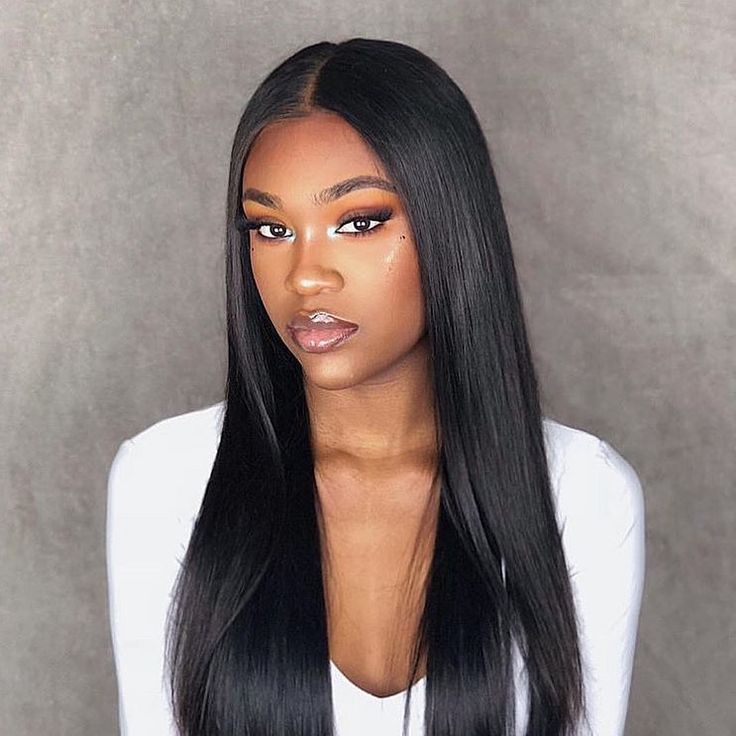 Bone Straight Human Hair Weave 
Slicked Back Low Puff
Whilst the high puff says carefree, adorable, and chic, the low puff, on the other hand, suggests classy, beautiful, and elegant. If that's the appearance you're striving for, a slicked-back low puff is a good place to start. You can choose kinky curly hair, loose curls, waves, and other styles. Straight hair can also be used, but it will no longer be a puff, but rather a low-do. In any case, you will surely love the look.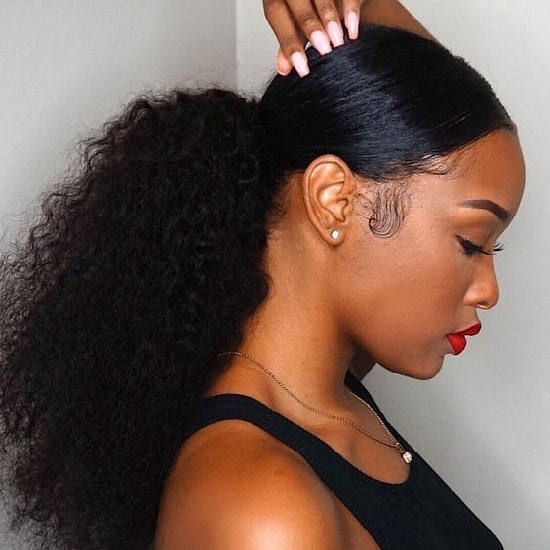 Fulani Braids
If you want a hairstyle that will make you feel and look like a princess, try these stunning Fulani braids, which are embellished with gold cuffs and distinctive patterns.
To make it more unique, try braiding it in a similar technique or adding additional beads, cords, and cuffs in different colors.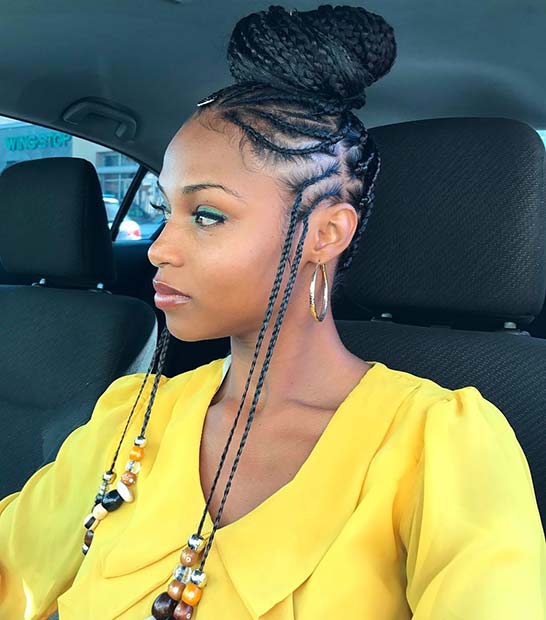 Nigerian goddess braids
Goddess braids, like the box braid, are a version of a basic braid, essentially a thicker, bolder version of the classic cornrows. The hairstyle is ideal for any woman who wants to keep her hair healthy while also looking stylish and fashionable.
Where to buy hair extensions for stunning Nigerian hairstyles?
If you walk down a crowded street in Lagos, you can easily see almost Nigerian women wearing most, if not all of the hairstyles with hair extensions. So, where can be the right place to buy weave hair for marvelous Nigerian hairstyles?
It depends on your taste and budget to choose a suitable hair vendor. Yet, it will be much greater if you can personally visit their store to try the hair as well as test its quality before making an order. Otherwise, it's necessary to make thorough research if you intend to buy in bulk.
BigG Hair is proud to be the VERY FIRST Vietnamese human hair extensions supplier that has an OFFICIAL STORE in Nigeria. Since June 2022, our first store in Nigeria is opened to welcome customers to come and experience our premium human hair extensions.
So, come see us at 6 Ome close, Canal view layout, off Osolo way, Ajao Estate, Isolo via Airport Rd, Lagos
Opening time: 8 am-5 pm, Monday-Saturday
And above are 10 fascinating Nigerian hairstyles you should never miss to achieve a stunning look. Let's try it now and visit BigG Hair's store to get the best hair weave for creating these styles.