Wigs, especially long and curly ones, can get tangles easily. While knots and tangles give your wig a dull look, tangling cannot be solved by impatiently combing it vigorously. You will risk damaging the wig if you don't follow the right ways to remove the tangles. So, how to detangle a wig correctly? Check our guide below!
Why do wigs get tangled?
There are a number of reasons why wigs tend to tangle and knot a lot compared to natural hair.
Lack of oils: Our natural scalp oils, which prevent the strands from drying out and knotting, are one reason why our natural hair does not experience the same level of tangling as wigs. Whether human or synthetic, hair on a wig does not benefit from the natural oil on the scalp, making the strands dryer and more prone to tangling.
Rubbing and sweat: Due to sweat and the wig pushing against the neck, you may notice additional tangles in this area. Increased tangling may occur when certain materials, such as wool or other thick materials, rub against the wig.
Low quality of wigs: Higher quality wigs are considerably less likely to tangle, knot, and frizz than lower quality wigs, whether they are made of human hair or synthetic hair.
Heat styling and improper care: Heat styling and improper wig maintenance can harm your wigs. When a wig's fibers are damaged, tangling is considerably more likely to occur.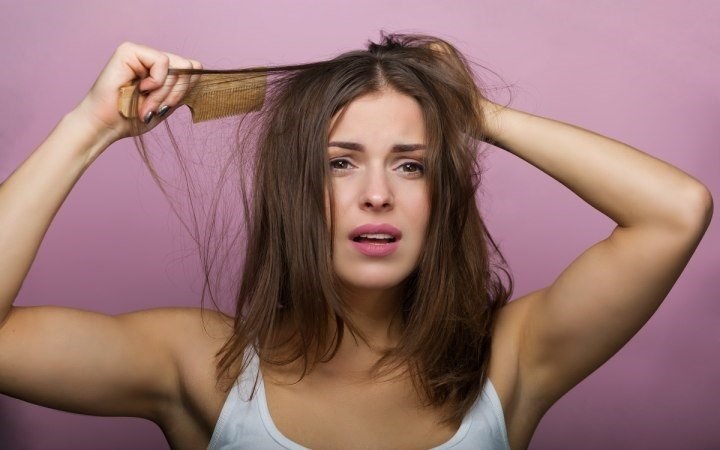 How to detangle a wig?
Step 1: Gather the right tools
You will need the following tools and products for the detangling process:
A wide-tooth comb
A spray bottle
Wig brush
A wig head or wig stand
Leave-in conditioner
Detangling spray
Pins
Step 2: Put the wig on the wig head or wig stand
Place your wig on the wig head and use some T-pins to keep it from falling off the wig head.
Step 3: Divide your hair into smaller sections
Divide the wig into four or more equal sections, depending on the density of your wig and how tangled it is.
Step 4: Spray detangler over the wig
As you detangle the wig, the spray will make the hairs slippery, so they can easily slide past one another.
Spray the detangler onto the hair until it is completely saturated. The product won't function as intended if you don't use enough of it.
If you don't have any detangling spray, you can make your own detangler at home by mixing a leave-in conditioner with water at the ratio of 1:4 in a spray bottle. Shake the bottle thoroughly and then spray it on the hair.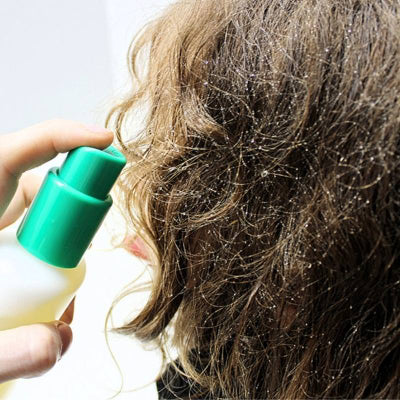 Step 5: Remove the big knots with your fingers
Larger knots should be at least partially untangled by hand. You can feel the tangles and untangle them better with your hands rather than a comb. To make the work easier, let's detangle one section to another.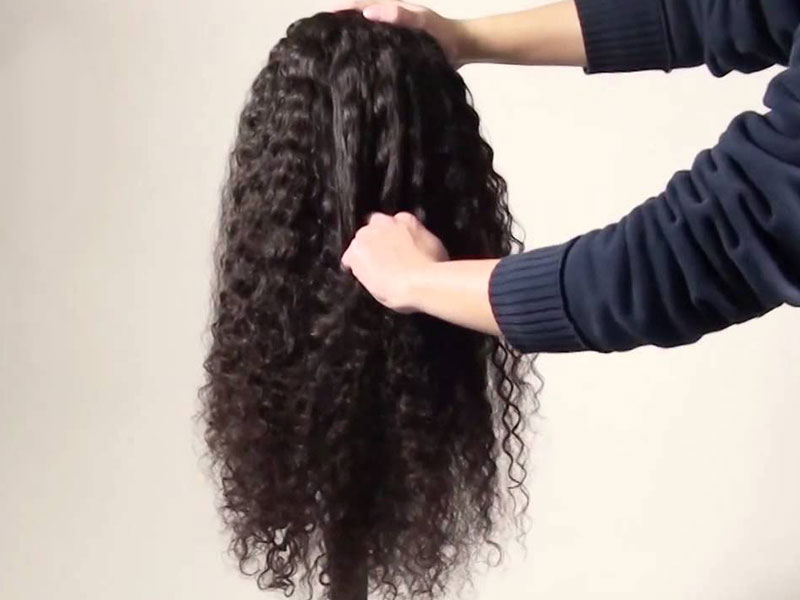 Step 6: Detangle your wig with a wide-tooth comb
Use the wide-tooth comb to go through one of the sections from the tips to the roots. Work your way up to the mid-lengths and then to the roots after the ends are clear of tangles.
Repeat this step for the remaining sections. When the comb can move through the hair easily, you can stop combing.
After most of the knots and tangles are gone, use your wig brush to smooth out the wig. At this point, you can brush it from roots to tips.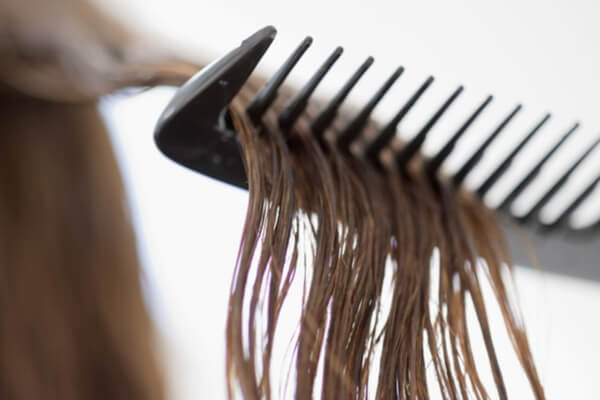 Step 7: Co-wash your wig
If you've used quite a lot of conditioner or detangler on your wig, you need to co-wash it to bring back its body and shine, especially for straight wigs.
Your wig can end up looking greasy if you skip the washing process after detangling it.
Check the post: How to wash a wig to get the detailed tutorial.
Step 8: Dry your wig
Let your wig air dry or blow dry your wig if you are in a hurry.
Step 9: Style your wig
After your wig dries, you can style it as you like. You can use a flat iron to straighten it or a curling wand to give it some mesmerizing curls. And now, put on your wig and enjoy your look!
How to prevent your wig from tangling?
Dos
Invest in high-quality wigs and products: High-quality wigs are human hair wigs that are made of Virgin hair or Remy hair. They are less prone to tangle like other wigs. Also, do invest in high-quality wig care products. You should buy specialized shampoos, conditioners, and other hair care products for your wigs. There are two detangling hair tools that you'll need, whether you have a wig made of human hair or synthetic hair: wig comb and wig brush.
Add moisture to your wig by using oils, serum, and conditioner.
Comb through your wig before washing
Wash your wig properly: You need to wash your wig regularly to give back its vibrant look, but don't too much washing will also harm the wig. Wash it depending on how often you use the wig.
Store your wig on a wig stand
Use a spray conditioner to prevent tangles and smooth out any frizzy tresses.
Don'ts
Don't forcefully detangle your wig since it will damage the wig cap
Don't sleep with your wig. Sleeping with your wig is the easiest way to make your wig tangled terribly.
Don't comb your wig while it's still wet since it will stretch out the locks, making it prone to tangle.
So now you've got to know how to detangle a wig. Let's try it on your wig and treat it with care.
Don't forget to visit BigG Hair's website for more updates and our official store in Lagos to check out the latest hair items!