Whether you purchase human hair wigs for personal use or to open your first hair business, it's important to know the different types of human hair wigs. BigG Hair attempts to bring you everything about the world of wigs so that you may shop with knowledge and confidence. So in this post, we are sharing with you a full understanding of the types of human hair wigs.
There are two basic categories for human hair wigs classification: types of hair (also known as hair fiber) and cap construction.
Types of human hair wigs based on types of hair
Based on types of hair, we can categorize human hair wigs into 3 types: virgin hair wig, Remy hair wig, and Non-Remy hair wig.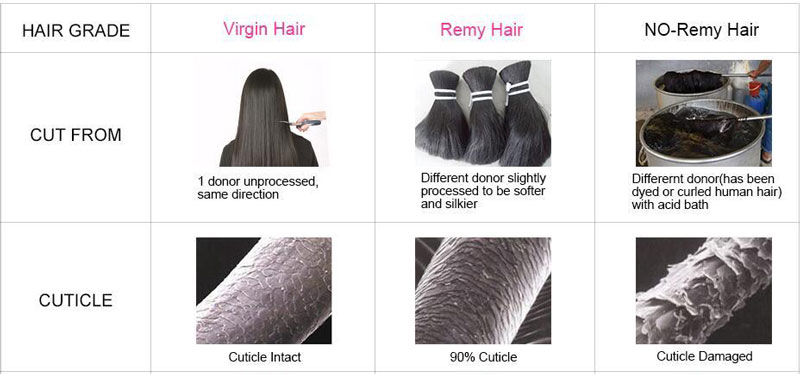 Virgin human hair wig
Because it has never undergone chemical processing, either while on the donor's head or when making wigs, virgin human hair is more expensive than basic human hair wigs. This type of human hair wig is more expensive because it is more difficult to obtain virgin hair donations and the supply is always limited.
Virgin human hair is considered to be one of the greatest options for wigs because of its excellent quality. You should invest in a virgin human hair wig that hasn't already been harmed by chemicals if you intend to chemically modify your wig to personalize it.
Remy human hair wig
If you want real hair, another choice is a wig made of Remy human hair. Human hair that has been donated and collected in a bundle with all hair strands pointing in the same direction is known as "Remy hair."
The hair seems glossier, smoother, and more natural when all the fibers run in the same direction. Additionally, it's softer and less prone to tangling. Real Remy hair lasts up to two years, longer than any other wig hair fiber due to these factors.
Non-Remy human hair wig
Non-Remy human hair is hair that has been gathered from many different places, making it impossible to ensure that the root and tip ends are moving in the same direction. To prevent the hair from tangling, this hair must be processed to remove a piece of the cuticle (the hair's outermost layer). Therefore, the hair is prone to damage and not durable as Remy human hair. This type of wig is the cheapest among the three types.
Types of human hair wigs based on the cap construction
Lace wigs
Of all the wig types, lace wigs are one of the most popular options. When you wear one of these wigs, the transparent lace base will help it match the color of your scalp.
With lace wigs, the hair strands are individually linked to the sheer lace material, thereby providing a more realistic appearance like natural hair. You can select between lace front wigs and full lace wigs when purchasing lace wigs.
Lace front wigs
As its name suggests, these wigs only have lace in the front of the unit. To ensure that the wig stays in place while you're wearing it, the rest of the cap is a little sturdier and may even have clips sewed into it. For women who enjoy wearing their hair down and experimenting with the center and side parts without revealing the edges of the wig, lace front wigs are fantastic.
Lace front wigs can be lace closure wigs or lace frontal wigs.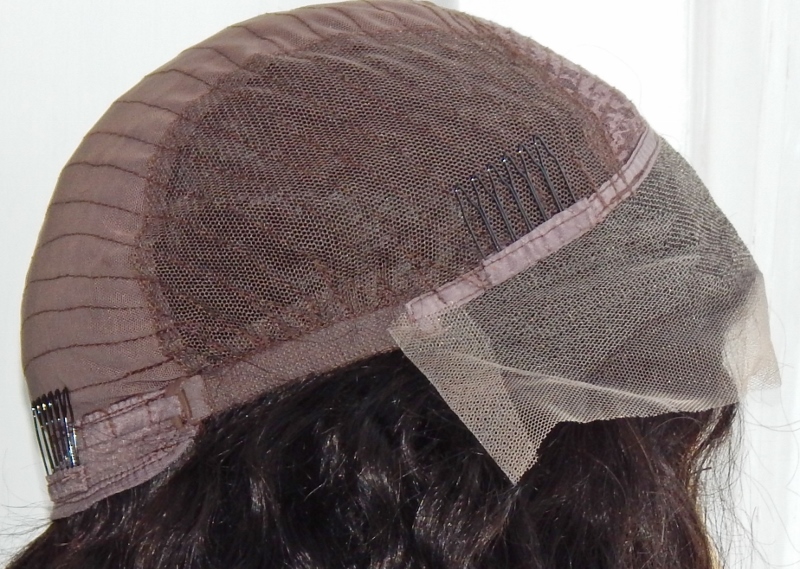 Full lace wigs
Full lace wigs are more expensive than lace front wigs but have the most natural appearance and style options. In a full lace wig, the entire wig base is covered in sheer lace. As a result, you can separate your hair any way you choose or pull it back into a high ponytail without showing the wig's foundation. Women who enjoy a wide range of haircuts (up and down) and want the most natural appearance may opt for full lace wigs.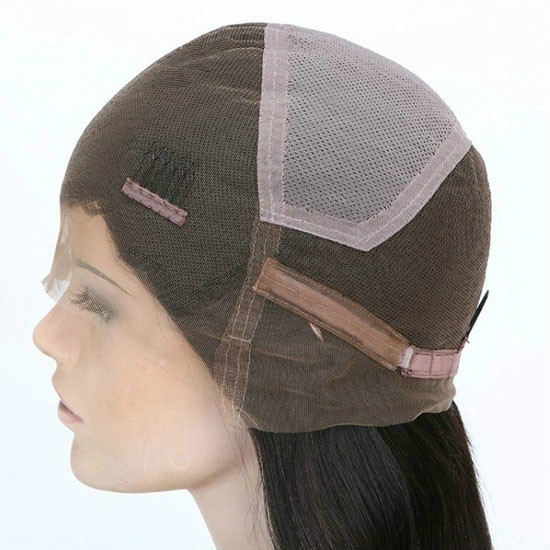 Capless wig
This basic wig cap is also known as a wefted or open-cap wig. To create capless wigs, human hair wefts are machine-stitched onto strips of thin, elastic cloth to create the cap itself. It is "capless," nevertheless, which permits airflow because it is not a solid surface.
The wefts are separated by spaces, which allows air to flow and prevents your scalp from overheating. With this type of human hair wig, you can get full coverage.
Capless wigs are the most cost-effective variety of human hair wigs, making them ideal for those on a limited budget. Capless wigs are popular because of their low cost, but they don't have much to offer in terms of natural appearance.
From a distance, the machine-sewn wefts might appear somewhat natural, but at a closer look, people can recognize the wig. This is so because capless wigs lack any kind of lace or mesh to represent the scalp. Additionally, without hand-tied hair strands, the pattern of the weft strips in capless wigs is relatively noticeable.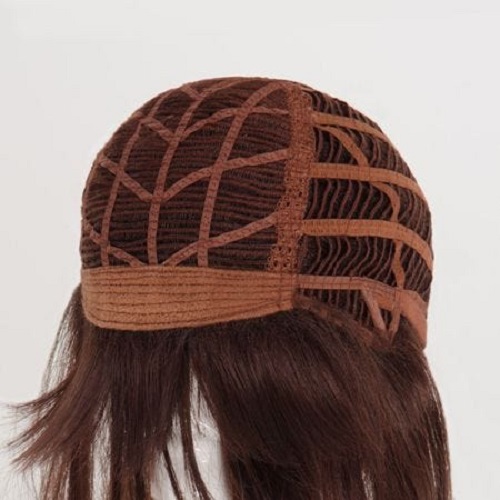 Monofilament wigs
In this type of wig, individual hair strands are manually affixed to either polyester or nylon micro mesh in this style of wig. It may even be divided or brushed in any direction, and it even has the same appearance as the skin that surrounds your hair.
They are ideal if you have thin, thinning, or balding hair or a sensitive scalp because the material used is much softer than the regular caps. You can choose from single monofilament, double monofilament, or less expensive combination wigs with a monofilament top, crown, or parts.
There are typically fewer hairs attached to monofilament wigs than other types of human hair wigs because each hair strand is hand-tied.
Monofilament wigs are excellent if you want to experiment with sleek haircuts on your wig, but it's less advantageous if you want voluminous, thick hairstyles.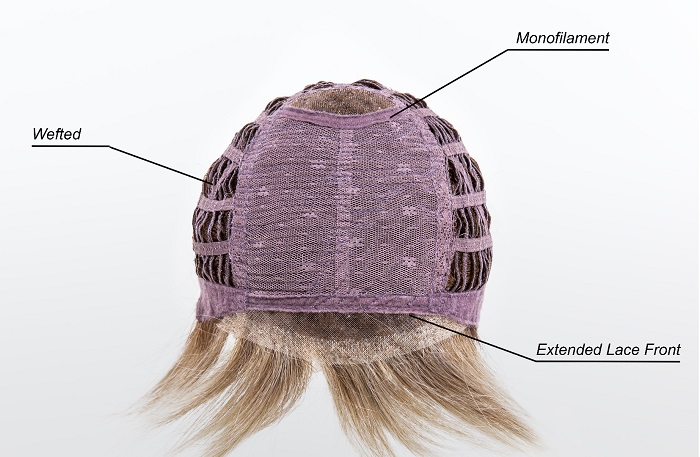 Fully hand-tied wigs
Hand-tied wigs are wigs where each strand is hand-tied to the cap of the wig.
Because it more closely resembles the texture of actual hair than a machine-made wig, this method of producing wigs gives them a more natural appearance. You also have more style options and create different parting styles.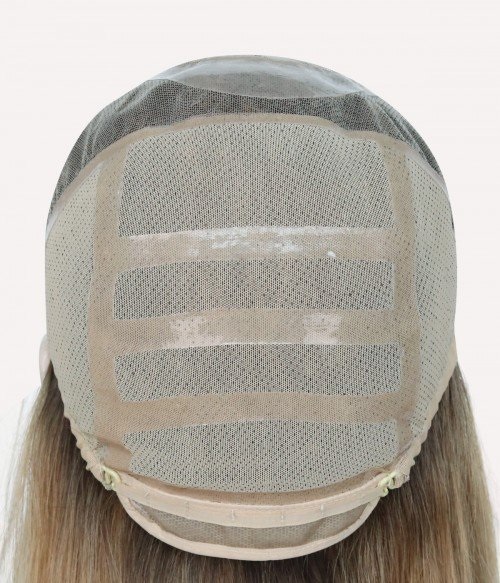 Summary
Above are different types of human hair wigs. Let's take a look at the following table so that you can compare the pros and cons of each type. Then, choose a suitable type of human hair wig for your purpose.
Types of wigs
Pros
Cons
Based on the hair fiber
Virgin hair wig

Securing the most natural look
Act, feel, move like your own hair

Expensive and does not come in bulk
Users may buy fake hair if not clearly know

Remy human hair wig

A more affordable option
Come with a natural look

Suppliers scam: You may buy fake Remy hair

Non Remy human hair wig

It is widely accessible because of its high availability.
Comparatively inexpensive to Remy hair.

Easy to shedding, tangling, and matting.
The silicone coating's artificial sheen may gradually fade after washes.
Not durable and cannot be reused
Does not respond well to heat and hair treatments

Based on the cap construction
Lace front wig

Bring a natural hairline
Lightweight and breathable
Various styling options

High ponytail hairstyles are not an option
Quite expensive
May require customization before wearing
It could be challenging to remove glue or lace tape

Full lace wig

Secure a natural look
You can part and style the hair off the face thanks to a natural hairline
High ponytails and updos are possible
Lightweight, breathable, and comfortable wear

Costlier than standard capless wigs
Must handle with care to avoid breaking the lace base

Monofilament wig

Natural look
Part your hair any way without disclosing wig foundation
Protect sensitive scalps
Durable
Lightweight
Cool material for comfortable wear

More expensive
With fewer hair fibers, the overall density and volume are thinner.

100% hand-tied wig

Bring the most natural look and movement
Good for sensitive scalps
The most comfortable cap construction

A luxury option
Must handle carefully to avoid damaging the delicate materials
It may feel warmer on the scalp since it is not ventilated like a basic cap

Capless wig

Breathable and cooling to wear
Most affordable type of human hair wig
Durable and require lower maintenance

Bring the least natural look compared to other types of human hair wigs
The volume and height of the hair can look artificial
Now that you have a clearer look at different types of human hair wigs, you can make a better selection for your look. If you run a hair business, you can decide to import the right items for your target market.
At BigG Hair, we supply high-quality lace front wigs and full lace wigs with delicate Swiss transparent lace bases. For wholesale prices and discounts, please WhatsApp BigG Hair or visit BigG Hair's Lagos office. Thanks for reading!