As you know, the good thing about wigs is that they are convenient to wear and take out. Therefore, if you would like to rock a new color then a wig will be the way to go. And it is not too hard to wear a wig once you know the type of wig to buy. Just read below and you should have a pretty good idea of how to put on a wig for beginners.
I. Something you need to know about putting on a wig for beginners
1. Can you wear a wig every day?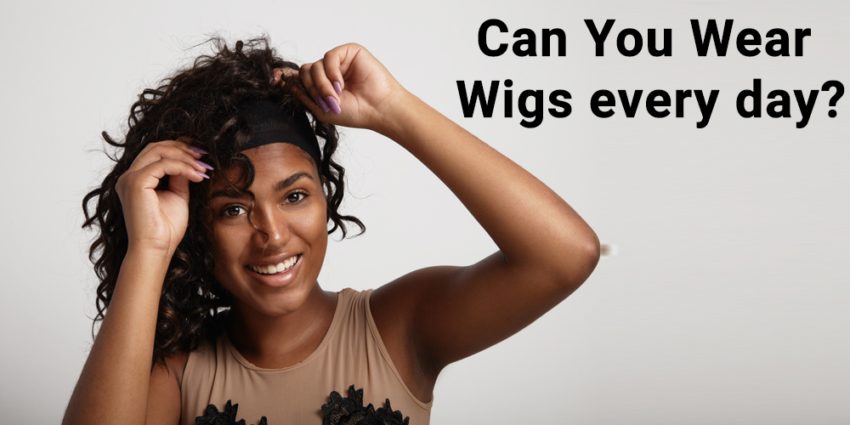 As long as the hair behind the wig is taken care of, wearing a wig every day is acceptable. In order to avoid dirt accumulation, make sure to regularly wash both the wig and your real hair. However, using the same wig every day will eventually wear it out. When a person doesn't have an illness that causes hair loss or a condition that causes it, is it completely appropriate for them to wear a wig? If the wig had been a little strange, would you be harsh with anyone? If they are bored with their hair and don't want to color it or trim it, what if they don't wear it every day and only use it occasionally? Yes, a lady can wear a wig every day as long as she takes care of the hair that is woven below.
2. How do I keep my wig from slipping?
When wearing wigs, you must ensure that they are correctly secured to prevent movement. Every wig ought to include adjustable straps and internal combs to keep it in place. If this is your first time wearing a wig, be sure to ask the vendor these questions. The normal wig size, a medium, will suit most heads, but there are also small and big sizes available. You may gauge the size you need by counting the circumference of your head (from the front hairline, behind your ear to the nape of your neck).
BIGG has a lot of different hair textures, all of them are beautiful hairstyles and are the latest trends, you can choose the size that suits you best.
3. Can wearing a wig damage your hair?
Without making any long-term alterations to your hair, wearing a wig is a terrific alternative for your appearance. However, if you're not careful, they can harm your scalp and hair and result in or induce hair loss. However, if you use a wig in the manner described below, you won't have to worry about hair damage:
* Avoid wearing the wrong size.
* Do not disregard your hairline.
* Try to stay away from adhesives.
* Useless items that irritate the scalp should not be used
* Remember to take breaks because, despite their convenience, wigs might cause us to neglect taking care of our hair. You should take the time between wearing your wigs to deep condition your hair and receive frequent trims.
II. How to put on a wig for beginners
When it comes to knowing how to put on a wig for beginners, we need to use a wig cap. Whether or not beginners should wear wig caps is still up for debate in the wig community. When wearing a wig, a wig cap is often required, especially if the user has little to no hair because it helps to hold the wig in place. We also recommend wearing a wig helmet if you have a sensitive scalp because it creates a barrier of protection between your head and the wig and helps to lessen itching. Wearing a wig cap is always recommended to evaluate if it enhances overall wig comfort and gives you a more secure, confident feeling. 
In actuality, wig hats can be worn no matter what, even hair length! Keep in mind that choosing to wear a wig cap is purely a question of personal preference; as long as it works for you, there is no right or wrong way to do it. For instructions on how to put on a wig cap, including how to do it with long hair, please watch the video below.
Looking at the illustration below, you can see how simple it is to use a wig cap:
Do I need to wear a wig cap under my wig?
Cap Type
Once you've decided on the color type of wig you want, all that's left to do is select the cap style, wig size, and hair quality. Although there are many different cap types, lace front and full lace wigs are the most popular. Make sure the lace matches your real skin tone when you get a lace cap wig, though. Use your foundation or a powder that matches the color of your skin if you need to darken or lighten the lace material to achieve the desired shade. A full lace wig is made by hand-knotting 100 percent human hair into a lace cap that covers the entire head. Since lace front wigs are only constructed with lace on the front, they are not as versatile to wear. It can be less adaptable than full lace but can also be incredibly realistic. It is typically created to produce a specific style.
Step by step to put on a wig for beginners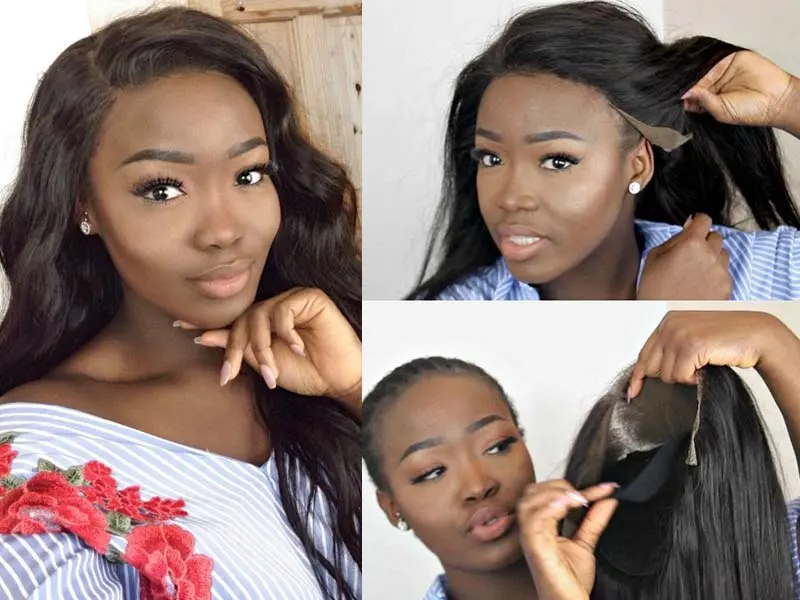 1. First of all, put on your wig at this time. With both hands, unwrap your new wig and hold it out in front of you, making sure the label is on the back. You can wear a skin-toned nylon wig cap or a net wig cap. The skin-toned hat replicates the color of your scalp beneath your wig, while the net cap allows for a little bit more ventilation. Apply the cap by gently stretching it over your head, making sure that all of your hair is tucked underneath it so that it properly lines up with your hairline. Put a few bobby pins around the edges to hold it in place.
You must wear a wig hat underneath your wig, regardless of whether you have long or short hair. It's not necessary to do this if you don't have any hair. It's not necessary to assist smooth out the hair area, but it may help avoid any wig slippage.
2. Secondly, you should put the wig on your head. Hold your finger in the wig's location around the middle of your forehead. With your finger positioned in the middle of your forehead, place it over your head and gently place it on your scalp. The rest of the wig should then be carefully pulled over your head. As much as you can, keep the sides away from the adhesive to prevent it from sticking before you're ready.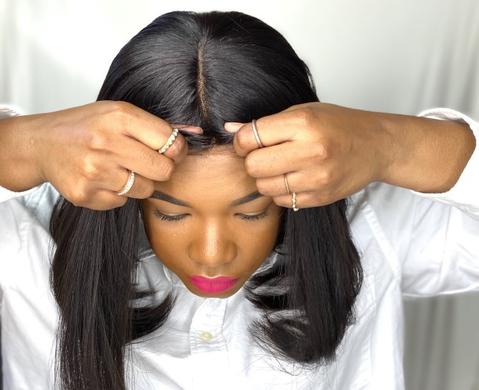 Don't stoop and put your wig on backward. This will make your wig appear off-center and could cause some of the hair to adhere to the adhesive material before you are ready. If it's your first time wearing a wig, give yourself enough time to get it just right before you need to leave the house. To get it perfect, you might need to practice.
3. Thirdly, secure the wig. You must fix the wig to your head, regardless of the glue you chose to use. Use a fine-toothed comb to gently press down the front edges of the wig once you've placed it where you want it. Make sure the lace portions of a lace wig are smooth against your head and create a natural hairline if you're wearing one. Wait 15 minutes for the front portion of your wig to set once you have secured it. then perform the same actions as for the front portion on the back. To make sure the wig is firmly in place, wait 15 more minutes before styling.
To make your wig feel more secure, you can also add bobby pins. In order to secure your wig cap and hair below, insert bobby pins through the top of your wig. Do this more in the middle to make sure they are hidden.
Once it's in place, make sure there isn't any glue left behind under the wig. If there is, take care to get rid of it by gently wiping the affected regions with a cotton pad dipped in an alcohol solution.
If you struggle to position your wig properly the first time, gently scrape the area with a Q-tip dipped in an alcohol solution to separate it from your skin. Reapply and reposition your wig.
4. Next, you should accessorize and style your wig. You can style your hair as you like once your wig is fully secured. You can be as entertaining and daring as you like. You may style wigs as you like—braid them, curl them, and add accessories. Avoid heating the strands of a synthetic wig since they could melt or become damaged.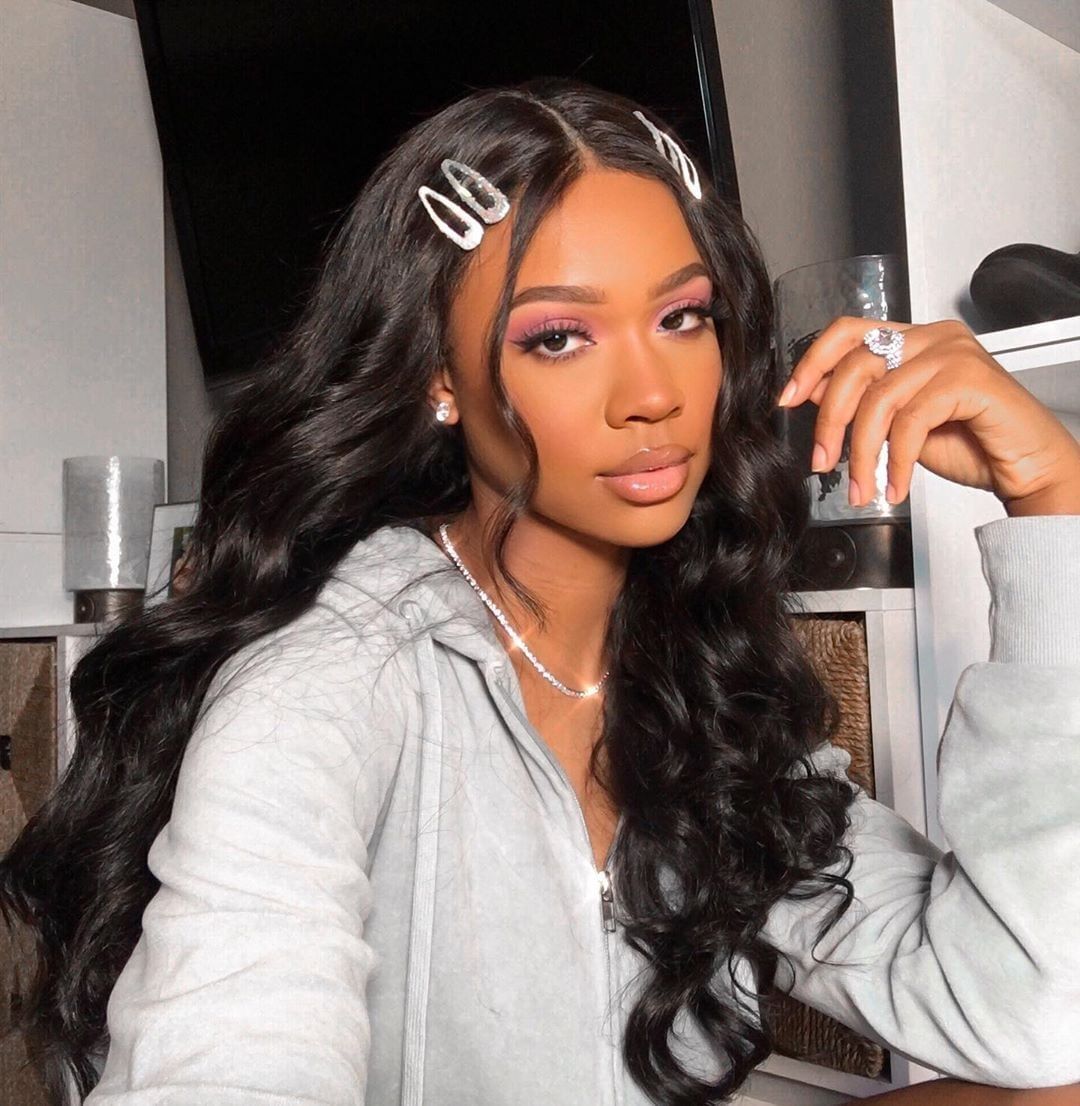 Before applying your wig, you can have it styled to fit your face. The wig will feel more like you and look more natural on your head as a result.
Always keep in mind that less is better. Avoid using too much product because it leaves a residue on your wig, regardless of whether it is made of human hair, animal hair, or synthetic materials.
Hopefully, this article will be useful to girls who are using wigs for the first time. Follow BIGG to stay updated on other beauty news!
Hurry up!!! You can invite your friends to visit our website to buy products with amazing offers.
BIGG Hair