While there are so many new hair trends out there, long wavy hairstyles are still the common options for ladies with long tresses. Even short-haired girls once wish to try the charming look of long wavy hair. And below are some stunning ideas if you want to go for a long wavy hairstyle.
Wet and wavy
Many women with afro-textured hair fall in love with the sleek and wet look of wet and wavy hair. Though the hair in this photo tends to be curly, it is still clear how a wet style can add elegance to your look.
Natural wavy hair
If your hair is naturally wavy, you don't need to go through all that styling. Just choose a strikingly bright color and a layered haircut to make your waves stand out. You can always opt for a stunning dark red shade, especially if you have a fair complexion.
Or pick up several bundles of natural wavy weave hair for a marvelous sew-in hairstyle.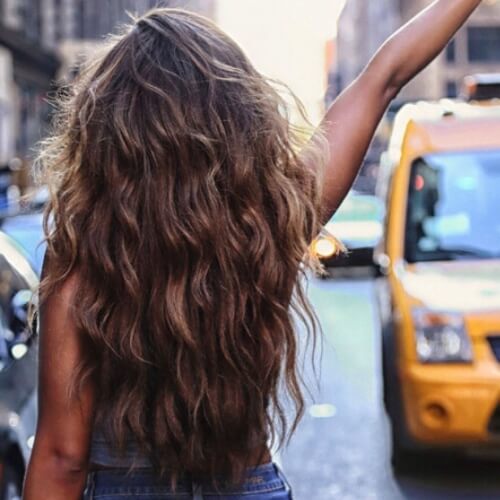 Long wavy perm
You don't necessarily need a curling iron every time you want to create long wavy hair. Instead, choose a wavy perm hairstyle that will last for months to save all that time and effort. If you want to get a carefree and smooth look, you can maintain your natural hair color.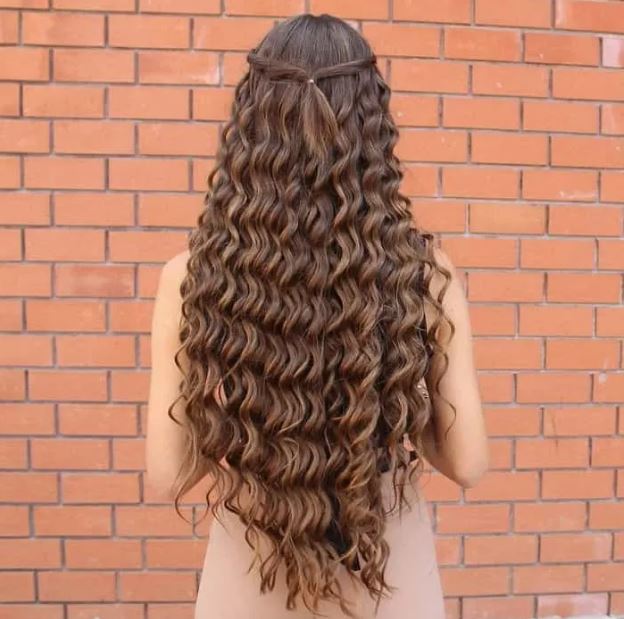 Big waves on black hair
Style your hair with big waves is a great way to achieve a natural finish. It can create stunning volume and movement without pulling your hair. For a shiny and healthy look with the style, we suggest using some oil on your black hair.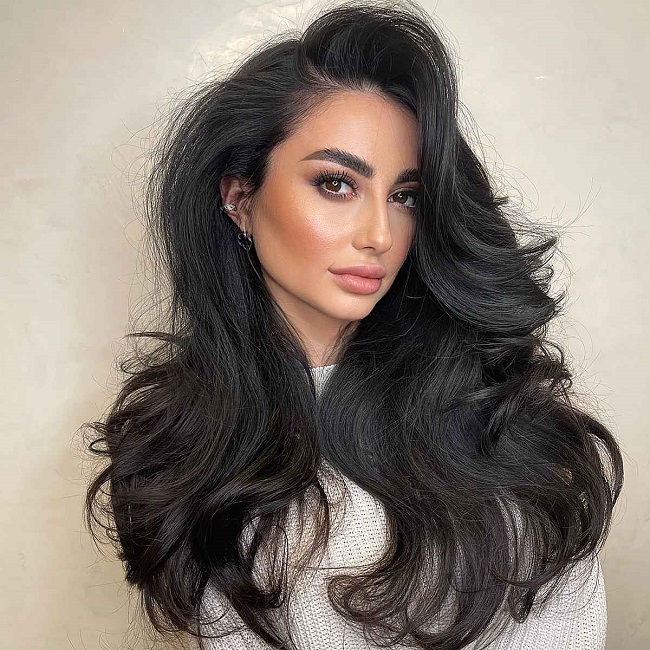 Cute long wavy hair
If you want to show your playful side, don't skip this cute hairstyle for long wavy hair. This half-top knot will enhance your lovely smile with its innocent and pleasant sheen.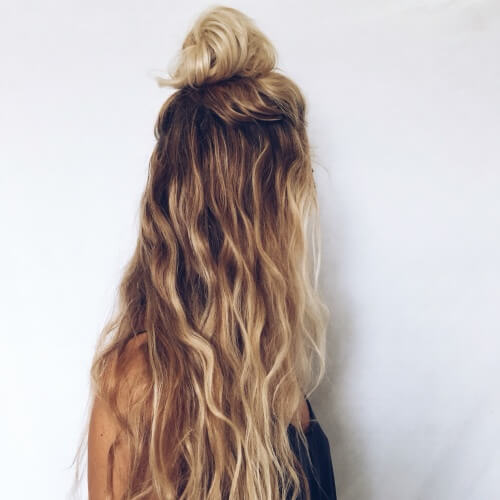 Textured soft waves
By visually creating an updo at the back of the head, you may create smooth, graceful waves on long hair. Allow the waves to follow their shape naturally and part your hair in the center or to the side. Put one side behind the other's ear or secure it with pins. The back hair will fall over, giving the appearance of a massive crown.
Long waves and blonde balayage
Long waves and blonde balayage look really great together. The long waves create dimension and give shape to your hair. To maintain the blonde balayage, make sure to schedule all of your color glaze appointments to keep the blonde vibrant and fresh. Also, always ask your colorist or stylist for advice on specific products.
Charming updo
Longer wavy hair allows you to explore the amazing world of updos. An updo hairstyle like this one can go with you on all formal occasions, including weddings, prom, homecoming, cocktail parties, and more!
High ponytail
Putting your hair in a high ponytail is another way to display the beauty of the long waves. Simply make a high, messy ponytail out of your hair, you can see it gives your overall style more volume and texture.
If you want a messier look, just use some hair spray.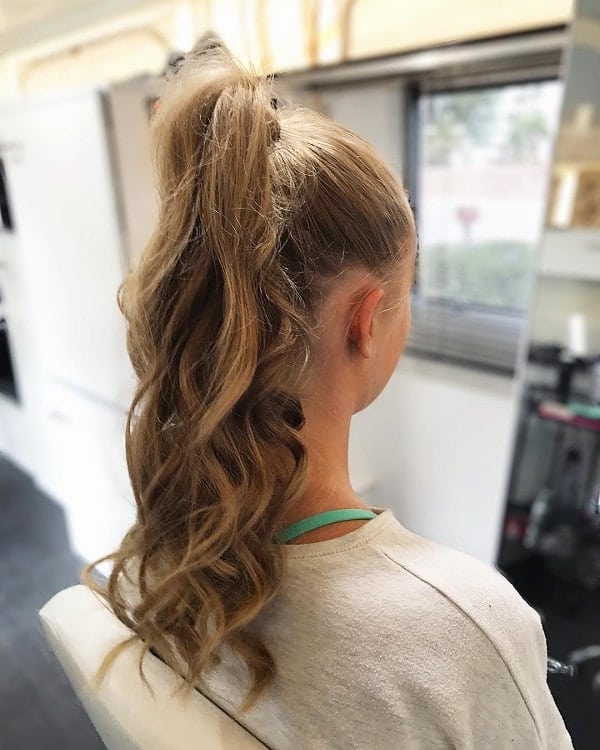 Long wavy hairstyle for weddings
The preparation of a bride's look for the wedding day typically takes a lot of time. Yet, with this hairstyle, you can also achieve a stunning look with simpler work.
This beautiful hairdo combines an overlapped traditional braid with a waterfall braid. And the flower adornment completes the look.
Wavy hair with bangs
Your next hairstyle should be wavy hair with bangs. The key to a decent cut is making sure it appears excellent with little to no styling, even though this is obviously a very polished style.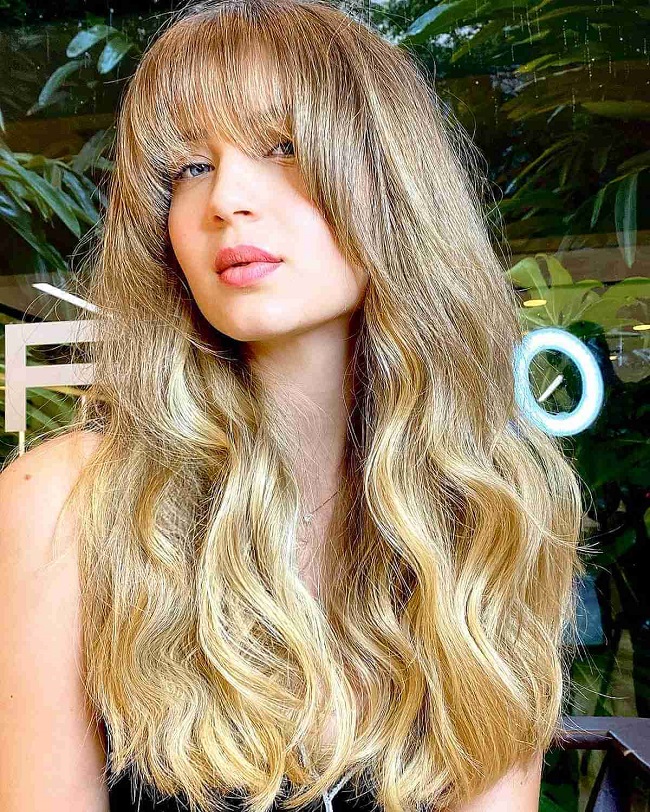 Bouncy waves
This hairstyle is all about the thick, gorgeous, bouncy curls. The secret to this style is to create a delicate wave with a ridge that requires twisting the hair as you wrap it around the barrel.
There are so many styles you can create for your long wavy hair, and the above list just includes some of them. With long wavy hair, you are not limited to what style to get. And if you want to add length to your current hair to get one of these styles, don't forget to pick some wavy hair weave bundles and enjoy your look!