Are you struggling with finding flattering hairstyles for chubby square face? If yes, this post is just for you. Let's scroll down and find out some hairstyling tips and inspiring hairstyles for your chubby square face.
Hairstyling tips for chubby square face
Create volume at the roots: If you have a chubby square face, it's important to pay close attention to the volume at the roots when styling your hair. This helps correct your facial proportions and make your face look.
Use light waves: It's also great to use gentle waves and smooth out textural transitions, so you can create an illusion of an oval shape for your face.
Color options: If you intend to dye your hair, we recommend dying individual locks or choosing ombre. Make sure to avoid defined borders between the hues. Your goal should be to achieve softness and smoothness.
Haircuts: When it comes to haircuts for square faces, you have a wide range of options. Both elongated pageboy hairstyles or haircuts for long hair can be a choice, but the best one for a square face is a haircut with loads of layers.
10 hairstyles for chubby square face
Wavy bob
A wavy, mid-length bob can exude your femininity and make your look more vibrant. This is one of several excellent short hairstyles for chubby square faces. This hairstyle looks fuller on thick hair. It gives the face a pleasing smoothness.
If you have thin hair, ask your stylist to add some discreet scattered layers to your cut to create a strong texture and body.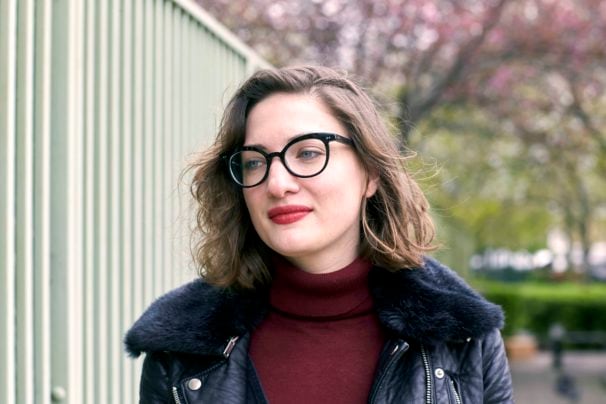 Mid-length layered hair with dirty blonde
With a square face shape, you can proudly display your amazing bone structure rather than attempting to conceal anything or add anything. This jagged and piecey lob highlights the high cheekbones while softening the prominent chin.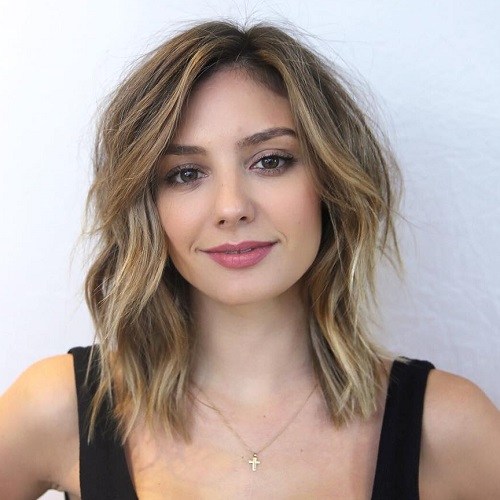 Angled bob
If you are not a fan of short, choppy layers, try an asymmetrical cut with longer face-framing pieces. These face-framing layers will become shorter towards the back of the head and make your face look longer.
This angled bob is super easy to do, so it especially suits women who want to save time for hairstyling in the morning.
Chest-length choppy hairstyle for thick hair
This chest-length choppy hairstyle is perfect for people with thicker hair because it allows uneven layers that help control any excess volume.
Uneven chin-length bob with side bangs
An asymmetrical tousled bob is another choice for short hairstyles for chubby square face. The swopping side bangs add more face-framing and look great with glasses.
Long dark hairstyle with choppy bangs
Any woman can enjoy the gorgeously trendy look of long hair with bangs. Your entire appearance is brought together by the depth of the dark hues and the texture of the bangs and layers.
Wispy lob with root lift
Your hair's natural volume can be greatly altered by opting for the right cut. And this wispy lob is what you should try to get a terrific on-the-go haircut. It's better to tease the roots for a more lift and adorable messy touch.
Mid-length shag and center part
Another attractive haircut for ladies with square faces is a mid-length shag with a curtain fringe. The long curtain fringe and layers naturally frame your face, providing more roundness around your cheekbones. To ensure that your hairdo lasts all day, don't forget to comb it out and add some hairspray.
Long middle part shag with curtain bangs
A shag with curtain bangs can completely frame your square face. Curtain bangs are gorgeous because they curl around your face's widest area and flick outward. The fringe balances your face by blending in with the shaggy haircut's layers.
Edgy combed-over wavy hair
There are many different lengths, shapes, and colors for flattering haircuts for square faces. You can wish to make a powerful impression by softening your facial shape or, on the other hand, by going for a funky, edgy look.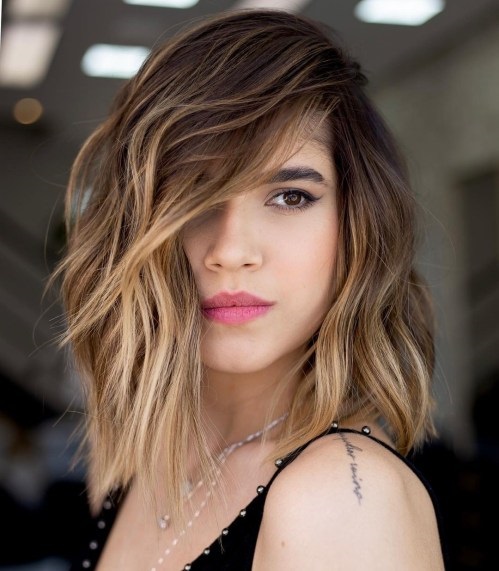 Which hairstyles for chubby square face do you like? Leave your comment below and don't forget to follow BigG Hair for more updates!